---
Myanmar Fellowship Forms
The new Myanmar AG Fellowship is striving to reach the 193,000 Burmese people living in the U.S.
The U.S. Assemblies of God has its newest official distinct ethnic/language group, the Myanmar AG Fellowship, serving Burmese people living in America. On Dec. 9, the six-member AG Executive Leadership Team officially signed papers with the four officers of the new ethnic group at the AG National Office in Springfield, Missouri, to make it official.

The 21-member Executive Presbytery approved the formation of the Myanmar AG Fellowship in November, marking the 24th ethnic/language group in the denomination to receive such a designation.

Officers in the new ethnic fellowship are President Chin Khua Khai, pastor of Myanmar Full Life Mission Church in Alhambra, California; Vice President Cin Khaw Kham, pastor of Far East Mission Church in Tulsa, Oklahoma; Secretary Zam Sian Piang, pastor of Life Myanmar Church in Lombard, Illinois; and Treasurer Do Sian Pau, pastor of Burmese Assembly of God Worship Center in Lake Worth, Florida. By virtue of leading the new ethnic fellowship, Khai — who also is a U.S. Missions Intercultural Ministries missionary associate — also becomes a general presbyter.

According to the U.S. Census Bureau, 193,000 Burmese are living in the U.S. Around half of them Buddhists, the dominant religion in Myanmar. The majority have immigrated in three waves since 1989, when the ruling military government renamed Burma as Myanmar. Although Christians comprise just 6 percent of Myanmar's population, a much larger ratio of Burmese who have moved to the U.S. are Christian refugees fleeing persecution.

There are 30 Assemblies of God Burmese congregations spread across the U.S.

Scott Temple, director of the AG Office of Ethnic Relations, began discussions with various AG Burmese pastors about organizing such a body in 2011. Temple notes that with a record 44 percent minority makeup, the Assemblies of God is the most ethnically diverse denomination in the U.S.

"These fellowships are an important part of what God is doing in the Assemblies of God," says Temple, 65. "Now 24 groups like this have a seat at the table. This is a good time in our Fellowship."

Khai, 64, first came to the U.S. in 1989 to study at Fuller Theological Seminary in Pasadena, California. Although he intended to return to Myanmar after graduation, the increasing number of Burmese refugees in America convinced him to plant a church in Alhambra.

"It's best for Burmese to reach Burmese, so I decided to stay in the U.S.," says Khai, who had been an AG district official in his native land. Since living in California, Khai has been training Burmese church planters to return to Myanmar, recruiting new pastors and helping them gain ministerial credentials, and returning to preach in his native land. There are 230,000 AG adherents and four AG Bible schools in Myanmar.

Initially, most Burmese coming to the United States did so for educational, entrepreneurial, or high-tech purposes. Increasingly, refugees entering the country have been unskilled laborers seeking political asylum.

Kham also originally came to the U.S. for higher education (he now has two master's degrees). He pastors the largest AG Burmese church in the U.S. Far East Mission Church is on 8 acres, attracts 1,100 congregants regularly, and has seven pastors on staff. Kham, who had studied Global University materials in Myanmar, planted the church in 2007. The majority of churchgoers are factory workers, restaurant employees, and housekeepers, drawn by plentiful jobs and a low cost of living in Tulsa.

The church has attracted followers in part because of assistance offered to newly arrived immigrants. Church members who have learned English translate for Burmese speakers who register children at public school, obtain a driver's license, have a baby in a local hospital, or venture forth on a job interview.

Kham, 62, has fully integrated, but investing in world missions is an important part of the church's budget.

"I am a U.S. citizen, this is my country," says Kham, who has a perpetually jolly countenance. "At the same time, I don't want to forget Myanmar."

Kham attributes the growth of the church primarily to an emphasis on prayer. For a four-hour block every Tuesday and Saturday, dozens of people gather at Far East Mission Church to pray. Prayer times also are held daily the first 10 days of each month.

Both Khai and Kham note a generational gap in their congregations. The older folks tend to resist learning English, while the younger set, eager to acclimate, want to speak only English. An English-language service for youth is held on Saturdays at Far East Mission Church.

"We're trying to bridge the generation gap as much as possible," says Kham, who has invited police officers, attorneys, physicians, and schoolteachers to teach seminars at the church. "Young people are facing many temptations: vaping, hard drugs, sex."

Far East Mission Church plans to open a Bible college on campus in March, with both on-site and online classes. A total of 72 diploma-level subjects will be taught in Burmese in conjunction with Global University.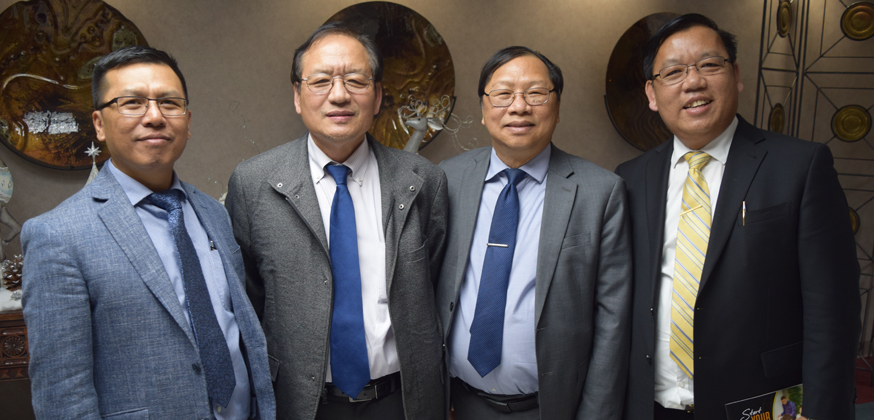 Top picture: Scott Temple (center) signs the document in the presence of ELT members and Myanmar Fellowship representatives.
End picture: Myanmar Fellowship officers are (from left): Zam Sian Piang, Chin Khua Khai, Cin Khaw Kham, and Do Sian Pau.