---
Trailblazing Trail Servant
Missionary associate Brad Sasser is laying the groundwork for a network of volunteers to minister to hikers along the Appalachian Trail.
S. Brad Sasser just wrapped up his first full season as an Assemblies of God U.S. missionary associate chaplain to hikers along the Appalachian Trail. He's already preparing for improvements to better minister to recreational enthusiasts next year.

Sasser, under his ministry Trail Servants, worked most often near Shady Valley Tennessee, 15 miles south of Damascus, Virginia, which is considered Trail Town U.S.A. Sasser sets up at road crossings or gaps and provides "trail blessings" — socks, adhesive bandages, and meals of hamburgers, hot dogs, potato chips, and a drink — to a peak season of 60 hikers a day.

Yet it's difficult to form a lasting bond in such a brief encounter. So Sasser, 40, spent much of 2021 driving to other states and tent camping along the 2,200-mile trail, which runs from Georgia to Maine. By repeatedly visiting with the same hikers at various spots, he builds rapport. His wife, Michelle, and their two home-schooled children, 15-year-old Lane and 12-year-old Meredith, went along with him for stops in Virginia, Pennsylvania, Massachusetts, Vermont, and Maine.

"It's important to be mobile to continue relationships," says Sasser.

But Sasser plans to change his strategy in 2022, in essence multiplying himself in other locations. He is busy networking with other like-minded Christians who want to voluntarily minister to trail hikers. Sasser has a list of 20 potential volunteers who could periodically perform similar kindnesses to hikers.

Sasser plans to train the volunteers as part of the Trail Servants network and to help them financially. Sasser, who this year lived with his family in a 16-foot camper, intends to build a permanent residence at his property 4 miles off the trail. Outside that small log cabin, walkers will be invited to stay a little longer than just the short interludes he typically has on the trail stops.

"It will be a relaxing spot where hikers can have a meal, put their feet up, sit around a fire, and have conversations," says Sasser, a native Alabaman with a resonating bass voice. "By staying on the lot with us, we will better be able to build relationships. The goal is to see disciples who make other disciples."

ESTABLISHING RELATIONSHIPS
Hikers represent a broad spectrum of religious or irreligious beliefs. Sasser tries to steer the dialogue to spiritual matters. For those who have fallen away from the Lord, he urges them to return. For those who believe all religions are equal, he points out the exclusionary truths about Jesus. And for the many who have no grasp of the gospel, he introduces his reason for what he does: Jesus' words to His disciples in Mark 9:35 declare, "If anyone wants to be first, he must be the very last, and the servant of all."

Sasser stays in touch with those who express an interest in the Christian faith via social media plus the Trail Servants app that features devotionals. He is in the process of adding podcasts to the app that will feature interviews with pastors who are outdoor/hiking enthusiasts. Hikers have has a cellphone number for questions about faith.

"A lot of hikers like to listen to podcasts while they are walking," says Sasser, who goes by the trail name "Shep," as in Shepherd. "I just want to talk hiking and Jesus."

There are eight hostels within 90 minutes of Sasser's property and some of those allow Sasser to cook meals and engage in conversation with hikers. Such a busy setting has its limitations, though.

"I can't really control the environment at a hostel, but I can at my own spot," Sasser says.

The Appalachian Trail season runs from February through October. The rest of the year, Sasser relocates to Florida to minster to hikers along the Ocala National Forest.

Sasser became a U.S. missionary associate in 2020 after working five years as a bivocational pastor. He pastored New Haven Assembly of God in Brundidge, Alabama, while also selling insurance. He first became interested in long-distance hiking a decade ago while a youth pastor at Bethel Assembly of God in Ariton when he walked across the state of Alabama to raise funds for Speed the Light.

MINISTRY POSSIBILITIES
One of those interested in ministering along hiking trails is Stephen Hawley, 48-year-old lead pastor of Faith Assembly of God in Hyannis, Massachusetts, since 2008.

In 2015, U.S. missionary Gil Banton, Chi Alpha Campus Ministries pastor at the University of Connecticut, invited Hawley on a three-day backpacking adventure in the woods of Vermont.

"I was hooked," says Hawley, who earned the trail moniker Father Time. "Gil kept having to wait for me because I ran out of breath." Banton goes by the trail nickname Faster Pastor.

The experience led Hawley to more hiking, including a 103-mile trek in the wilderness of Maine with no resupply lines. During a 2019 sabbatical, Hawley hiked in Glacier National Park, the Grand Tetons, Yellowstone Park, and the Appalachian Trail through Georgia. He sensed the Lord directing him to engage every hiker he met at a water source or rest stop who wanted to talk for as long as he or she wanted.

Hawley did so, and found hikers invariably interested in conversations about God. Since then, he consistently has asked hikers questions designed to steer discussions in a spiritual direction. Last spring, Hawley contacted the AG Southern New England Ministry Network to see if anyone engaged in ministry to hikers, but he came up empty.

Then Hawley read an article on AG News about Sasser and Sasser's mentor, Steven P. Lummer, pastor of Discovery Church in Prescott, Arizona. Lummer is simultaneously an AG chaplain to outdoor enthusiasts.

"The article confirmed that I wasn't crazy," Hawley says. "There is ministry in outdoor spaces."

Over the summer, Hawley met with Sasser in Vermont about starting a ministry to hikers. The closest part of the Appalachian Trail is 3½ hours away from Hawley's home.

Hawley is in the exploratory stage of starting a hiking ministry. He will be meeting with Lummer in Arizona later this month.

"When I look at the possibilities of ministering to hikers in outdoor spaces, the opportunities are so vast and varied," Hawley says. "A generation of young people are growing up with a love of the outdoors and a desire to care for nature. Ministering in outdoor places would be a way to get them to know Christ."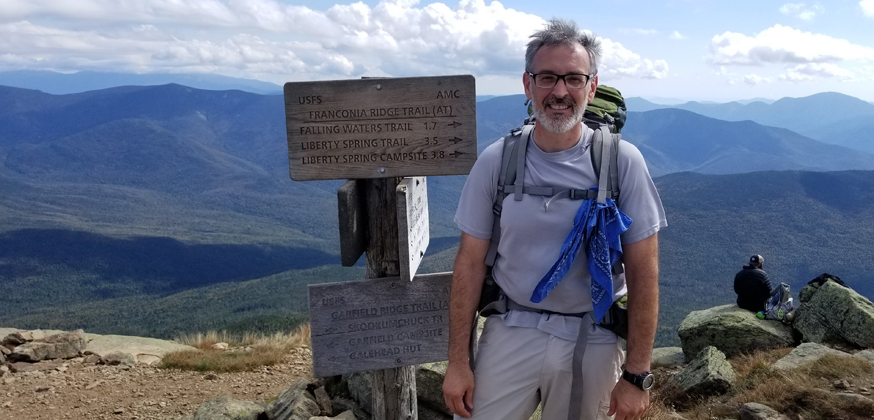 Lead Photo: Hikers enjoy a meal at a site prepared by Brad Sasser OR Brad Sasser cooks a meal for hikers.
Bottom Photo: In addition to pastoring, Stephen Hawley is now an accomplished hiker.