---
Combining Ministry and Family
Married women lead Chi Alpha on campus while raising children at home.
College campuses are one of the largest mission fields in the nation, and increasingly married women, often with children, are accepting the call to lead or co-lead Chi Alpha groups across the nation. Their efforts of combining full-time ministry with family responsibilities reflects a larger trend within the Assemblies of God, as a record number of women (27.6%) serve the Fellowship as ministers.

Three such women are Alicia Youngblood, who serves at Texas Christian University (TCU) with her husband, Andrew; Melissa Nguyen, at Central Washington University-Ellensburg along with her husband, Tony; and Jenn Bettinger, at Eastern Illinois University, with her husband, Mark. Just as each campus offers unique challenges and rewards, each family has different circumstances and needs. The three women emphasized there is no particularly correct way to balance ministry with being a wife and mother, but all expressed gratitude for the support Chi Alpha and the Assemblies of God provide.

Raised in a Christian home, Youngblood got involved in Chi Alpha through a local church, San Angelo First Assembly, while attending San Angelo State University in Texas. The emphasis on baptism in the Holy Spirit, spiritual gifts, and the focus on discipleship impressed her.

"It was an invitation for everyone to participate in the Great Commission," says Youngblood, 32. She met Andrew Youngblood, a worship leader at the church, and they wed during spring break before Alicia's graduation in 2012. They attended a Chi Alpha retreat and learned of the need at TCU. Andrew began training while Alicia taught high school geometry. They began ministry at TCU in 2013; Alicia joined Andrew as a full-time staff member the following year. In addition to an executive pastor role — handling work such as retreat planning and communication — Youngblood disciples up to 10 women students and leaders, plus she coordinates the worship team. The couple are parents to Asher, 6; Lily, 4; and Judah, 1.

Nguyen, 34, attended Western Washington University. Growing up, she went on mission trips, where God helped her see the beauty of all people and ethnicities.

"I sensed a call to missions, although I figured it would be overseas," Nguyen says. Impressed by Chi Alpha's commitment to service on her college move-in day, she interned with director Brady Bobbink in 2010-11. She met Tony Nguyen through Chi Alpha and they married in 2012. The couple have two children: Tyler, 5; and Annabelle, 2. As a full-time staff member alongside directors Brandon and Meredith Davis, Melissa's duties include leading small groups, discipling new leaders and Campus Missionary in Training interns, and serving on the preaching rotation for larger meetings. She and Tony also offer pre-engagement counseling to dating couples.

Bettinger's journey includes suffering sexual abuse from a high school teacher, which resulted in serious emotional issues. While attending Illinois State University, she cried out to God for help, which led to getting involved with a campus ministry.

In college, she met Mark Bettinger; they married in 2004. Sensing a calling, they led campus ministry at Meadowbrook Church in Champaign, Illinois, and then served in South Africa until health issues forced Mark to rethink overseas work. After interning at the University of Louisiana at Lafayette with Eric Treuil, they began ministry at Eastern Illinois University (EIU) in 2015.

INTERNATIONAL STUDENTS
Jennifer, 41, has found her ministry niche with international students attracted to the excellent technology programs in the school of just over 7,400 students. She also disciples women, trains leaders, and leads life groups, which are generally a blend of cultures. The Bettingers have three children: Mady, 15; and twins Sam and Hannah, 13.

Many of EIU's 566 international students from 56 nations come from places where traditional missionaries would be unable to go, such as where the majority of residents profess Islam or Hinduism. Bettinger regretted having to leave South Africa, but as campus ministry developed, she says the Lord spoke to her about the importance of international students.

"If we can't go to the ends of the earth, the ends of the earth will come to us," Bettinger says. She has a good relationship with the international student office on campus, and in the small, friendly farming community, international students are well-accepted. Local churches proved particularly helpful when COVID-19 restrictions prevented large on-campus gatherings, allowing students to have fellowship and practice English.

Melissa Nguyen's concept of missions likewise has evolved as a result of working with international students.

"I had a somewhat idealized view about overseas missions, rather than grasping the importance of living counterculturally right here in the U.S.," Nguyen says. As a student, Chi Alpha discipleship helped her see everyone as worthwhile, and at a ministry training event her senior year, she really started to see the college campus as a mission field.

The fact that her husband is Vietnamese also helps in international student ministry. Tony's Buddhist parents fled Vietnam after the war. He often shares his testimony about accepting Jesus.

"For students to see Tony preaching or on worship team— to see someone who looks like many of them up front as a pastor — helps them feel more comfortable," Melissa says.
Because of his Vietnamese culture background, Tony is able bridge conversations to the gospel.

"One person can go and do overseas missions, but by discipling international students, we send multiple people back to those countries to reach others," Nguyen says, citing a Japanese student who attended a Discover the Nations conference and now serves in an exchange office back at a Japanese university.

FAMILY MATTERS
While female ministry leaders no longer struggle with the stigma of years past — or outright opposition such as having rotten tomatoes thrown at them — certain questions do tend to arise. For example, male leaders are rarely asked what they intend to do about child care, but when the wife enters full-time ministry, the need is real.

The Bettingers home-school their children, integrating them into ministry life. Some small-group meetings are held at leaders' homes, making it easier to care for children while also allowing college students to experience a family setting and observe a Christian marriage. When younger, the children took books and accompanied their parents to campus, which they and the students still enjoy even though they now work more independently. The legacy of ministry is continuing as daughter Mady, who attends public school part time, recently received permission to set up a prayer table for other students wanting to pray or talk with someone.

The Youngbloods trade off responsibility for their children three days weekly, taking them along to hang out or hosting groups at home. Asher is involved in a university school program, and the two younger children attend child care twice weekly at Movement City Church, parent church of Seven City Church, where the family attends. While quality faith-based child care is a blessing, the time the children spend with their parents as they do ministry is beneficial for the students. Some TCU students are from high socioeconomic levels with busy, uninvolved fathers and controlling mothers, so observing a couple cooperatively balance family and ministry is a novel experience.

"I couldn't be a full-time minister without Andrew's support," says Alicia.

When the Nguyen children were babies, Melissa focused on mentoring and leading small groups from home; this year, however, she has returned to full time and Tony is part time, absorbing most of the child-care concerns. They take advantage of a church day care to free up time for focused discipleship and conversation with college students.

The Bettingers have an added layer of complexity as Mark deals daily with the cystic fibrosis that brought him home from overseas missions. He doesn't let it sideline him; in addition to EIU, he serves as Chi Alpha director for the Illinois District Council and leads Chi Alpha staff teams across the state. For Jenn, Mark's illness means heightened awareness of his daily health, making sure he has an emergency plan when traveling, and stepping in to cover when he must take a break.

KEEPING MOMENTUM
Just as Youngblood, Nguyen, and Bettinger have found the ministry/family balance that works for them, each has learned to appreciate joys and confront challenges posed at different campuses.

At Central Washington, ministry is still rebuilding from the pandemic, getting back into small groups after not having them, but the campus administration is accepting overall. The Nguyens have good support from local AG churches, including New Life Kittitas, which provides student transportation with a van.

"At EIU, a challenge we have is keeping momentum going through the summers," says Bettinger. "Many American students go home to work, and most international students travel or stay with family or friends in larger cities." The Bettingers try to be strategic in summer about investing in the students who do remain, to be ready for fall.

TCU, although by name a Christian university, has many students with a cultural view of Christianity, traditional High-Church background, and parents who are community and business leaders. Such students are determined, so ministry and friendships are built in low-pressure, one-on-one ways that will likely never garner the numbers possible at a public university with more staff. However, the goal is to make sure students take a solid walk with the Lord into their own professional life after graduation.
Lead Photo: Jenn Bettinger gathers with Chi Alpha students at Eastern Illinois University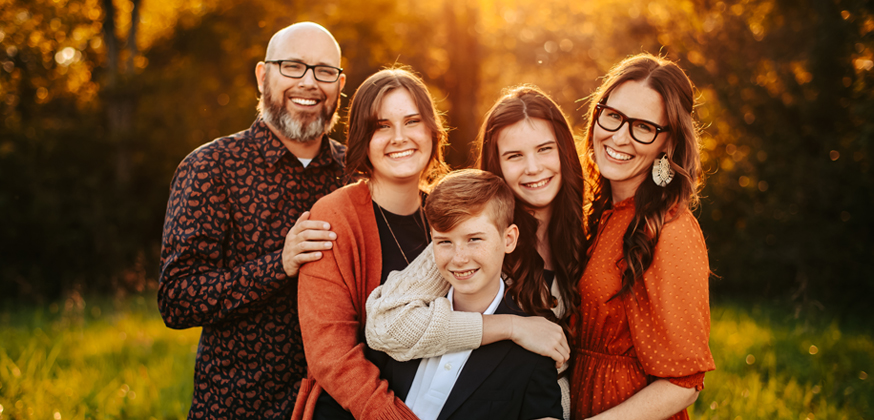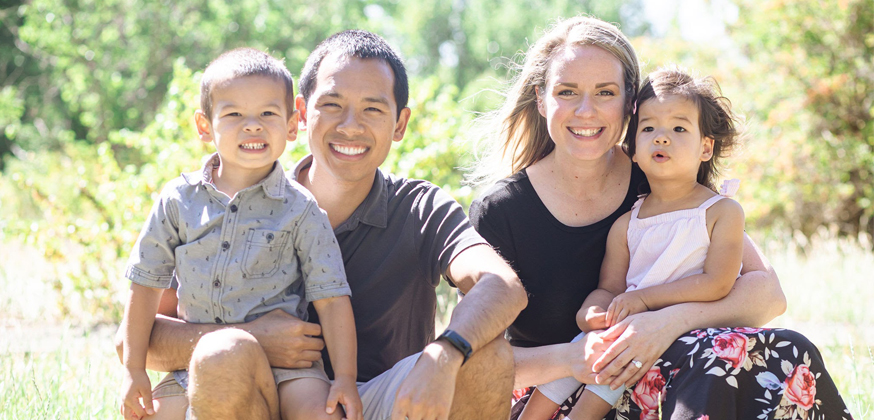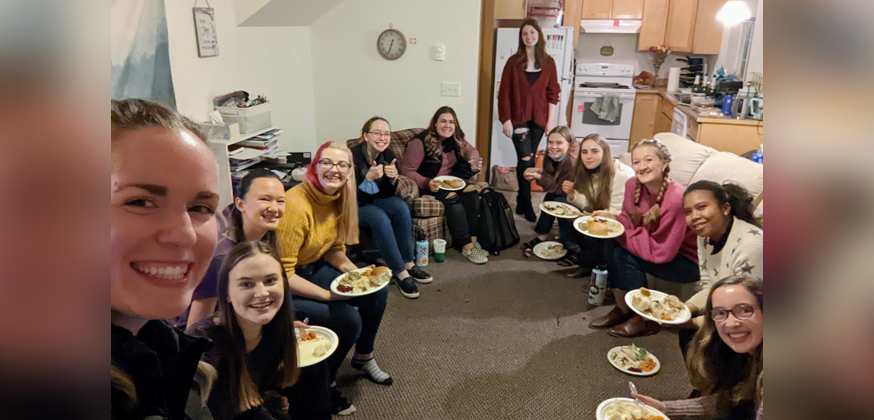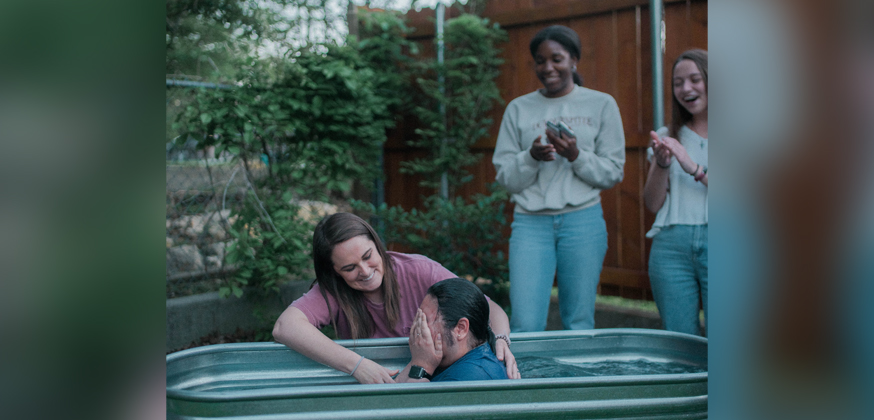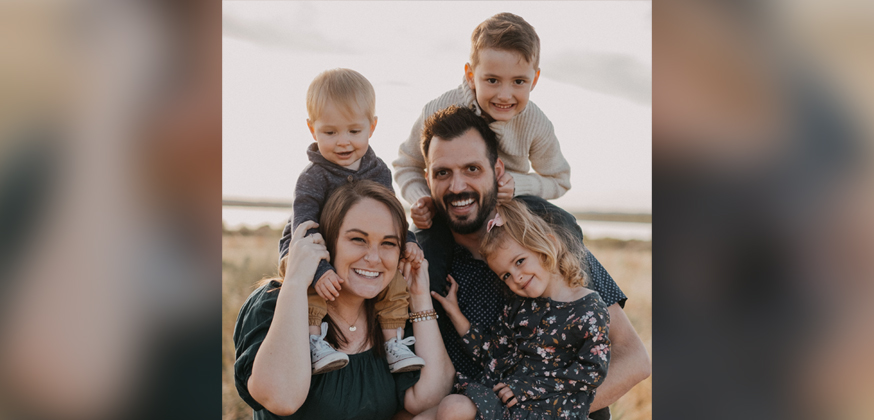 Bottom Photos:
1: Mark and Jenn Bettinger and their family.
2: Tony and Melissa Nguyen and their children.
3: Melissa Nyugen eats a meal with Chi Alpha students.
4. Alicia Youngblood baptizes a student.
5. Alicia and Andrew Youngblood and their kids.