A Sense of Community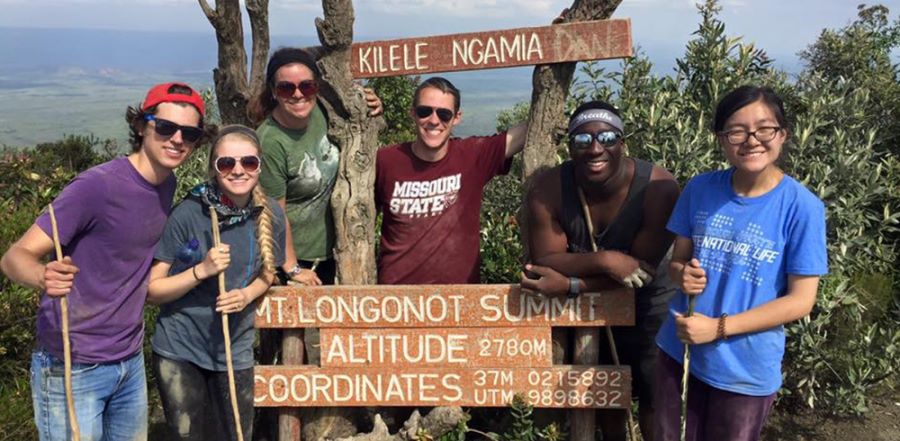 Don't miss any stories. Follow AG News!
There are plenty of Christians assembled at Chi Alpha student gatherings on the campus of Missouri State University in Springfield, yet Hindu, Muslim, and atheist attendees are sprinkled in as well. And that's just the way ministry leaders like it.
The U.S. Assemblies of God, headquartered in Springfield, established the first Chi Alpha chapter in 1953 at MSU, then known as Southwest Missouri State University. This fall, MSU has a record enrollment of 24,735 students.
Community is the watchword for both the traditional group, which attracts around 225 students on Monday evenings, and the international gathering of about 40 students on Fridays. The number of students involved has quintupled since missionary associate Andy Estrella became director of the local team in 2009.
Estrella, a graduate of Central Bible College in Springfield, notes that with the strong AG presence in Springfield, Chi Alpha -- the U.S. Missions ministry on secular campuses -- traditionally has drawn recent graduates as leaders. Sunday is national Chi Alpha Campus Ministries Day in the AG.
"There is a history here," says Estrella, a 36-year-old smiling Dominican originally from Long Island, New York. "This ministry has had a lot of influence through the years, and many who have been here are now running Chi Alphas themselves."
On the other hand, because of the presence of Evangel University just two miles away, MSU attracts a lower percentage of AG students than many state schools. Estrella figures only around one in 10 MSU Chi Alpha attendees have worshipped in an AG church, while approximately one-third have no faith background at all.
Estrella didn't attend church regularly as a youth. At 13 he was selling marijuana and learning how to cut crack cocaine. Estrella believes his unchurched background helps him relate to the dozens of students at Chi Alpha gatherings who have no religious framework.
"I didn't grow up in a Christian bubble," says Estrella, who accepted a friend's invitation to an AG district youth retreat and committed his life to Jesus. "We have to filter out arguments against church culture for this generation."
U.S. missionary associate Jesse Pingenot, 31, has been on the Chi Alpha staff for nine years, and this year began overseeing the international ministry. He started attending Chi Alpha as a student at the University of Minnesota-Duluth, where he earned a bachelor's degree in German studies.
"Chi Alpha really gave me a place where people loved me at a time when I was a bitter and angry jerk," Pingenot says.
Pingenot, who spent a year in Germany as an exchange student during high school, says he feels at home with internationals. The largest foreign contingents on the MSU campus are from China and Saudi Arabia.
"It's a huge opportunity to reach unreached nations," Pingenot says. "International ministry on the college campus is the most strategic mission field."
He believes foreign students who hang out together with caring American students quickly develop a sense of community.
"We believe strongly that discipleship by its very nature is relational," Pingenot says. "Discipleship begins before a person becomes a Christian."
The internationals meet Friday evenings at a massive stone Presbyterian church that has been engulfed by the sprawling campus.
Kim Jeyaraj Sheets is a staff volunteer who graduated from Evangel University last year with a master's in organizational leadership after earlier obtaining an art degree from the AG school. She lived in her native India until 20 and at 29 has no trace of an East Indian accent. Part of her role in making internationals feel welcome is preparing a meal for a monthly get-together, and students this month sampled her homemade chili. Last year the passionate but quiet graduate married Noah Sheets, a longtime Springfield resident.
"I know what it's like to be an international student," says Sheets, whose father is an Assemblies of God pastor in India. "I know what it's like to feel lost."
Manoj Kumar, a handsome 27-year-old India native, will graduate in May from MSU. Although he is Hindu, he has been coming to Chi Alpha events every week for a year and a half.
"I like listening to the preaching," Kumar says. Last year Chi Alpha U.S. missionary Sevo Lwali, a native of Kenya, gave Kumar a Bible and he has been mentoring him.
"If I have doubts regarding Scripture, I ask him," Kumar says.
A Middle Eastern Kurdish student says he enjoys reading religion and philosophy books, although he says he has no spiritual beliefs. He is working on his master's thesis on experimental psychology at MSU.
"I like these people," the 26-year-old student says of Chi Alpha. "I am making good friends."
A Chinese woman who is wrapping up a master's in business administration this school year, says she had no religious background in China. But last year a Chi Alpha group leader baptized the 24-year-old student.
"Now I want to tell my friends about Christ," she says. "I want to do something useful for Jesus."
Pingenot, realizing the wide range of beliefs -- and unbelief -- of the crowd keeps the teaching basic for international students on Friday nights.
"God wants to be God of all people," the gregarious Pingenot declares. "He's not just the God of the West."
On Monday nights, the entire group gathers in the ballroom at the student union on campus. Former student leader and current staff member Nii Abrahams is making assimilation easier. The 23-year-old Abrahams, who is pursuing a master's in communication at MSU after obtaining a bachelor's degree in the same field, has been a small group leader and worship leader, plus he has directed five mission trips.
One of the hallmarks under Estrella's leadership has been mission trips, which began five years ago. This school year the Chi Alpha from Springfield will embark on 13 mission trips -- all of them led by students -- from everywhere from Atlanta to Russia.
In his role as a student leader, the mature and good-natured Abrahams says he strives to get new attendees plugged into one of the 13 ongoing community groups, which meet every other week. Attendees also are encouraged to attend the hangout time following services. Leaders believe these are as important as the formal worship and teaching times because they build community.
Some of the small groups meet in the 3,000 square feet of rental office space on the southeast corner of campus. After-service hangouts, usually involving food, also are held there.
"God uses His Spirit to reach people in different ways -- from preacher's kids to atheists," says Abrahams, whose parents moved to the U.S. from Ghana shortly before his birth. "Chi Alpha values authentic community that transcends ideology."
"Countries that don't allow missionaries in are sending their students to us," Pingenot says. "These people are going to be their leaders. We have the opportunity to reach them with the love of God without government interference."
Pictured: Jo-el and Jessica Nkusi (left) and Kim and Noah Sheets help out with the international ministry. Jo-el, a native of Rwanda, and Kim, from India, both married Americans.