Anaheim General Council 1983 -- Still for Today!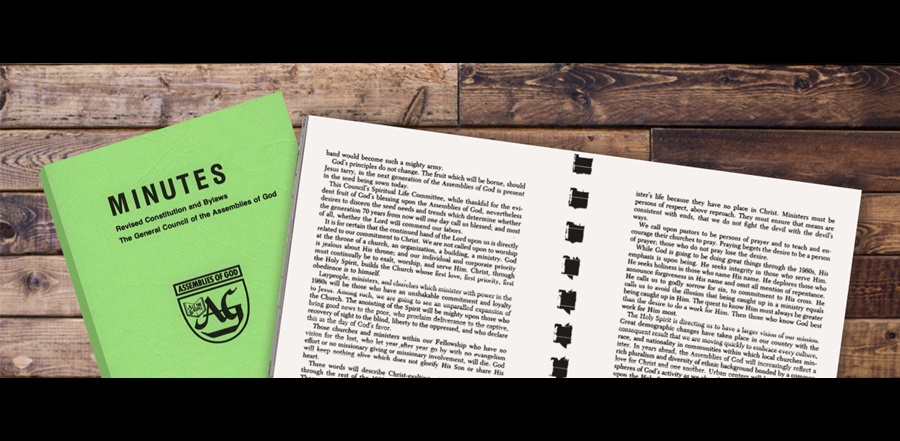 Don't miss any stories. Follow AG News!
Seventeen years before the turn of the 21st century, the Assemblies of God gathered in Anaheim, California, for the 40th General Council. As a part of that gathering, George O. Wood, the chairman of the Spiritual Life Committee, read the committee's insightful and inspirational report.
Today, 17 years following the turn of the century, the Assemblies of God has returned to Anaheim for its 57th General Council. However, much of what the Spiritual Life Committee reported in 1983 still rings true today — for both laypeople and leadership.
Following is that 1983 report, which has been taken from the official minutes of the 40th General Council:
1983 Spiritual Life Committee Report
The general superintendent requested the privilege of inserting the report of the 1983 Spiritual Life Committee. Brother [Thomas F.] Zimmerman [general superintendent] had asked George Wood to serve as chairman of the committee for this General Council. Brother Wood read the report as follows:
Every work of God which bears fruit has its seedtime — its seminal moments when what the Lord is germinating is hidden from view.
Such is the case with the founding of the Assemblies of God. Who in 1914, that was wise from the world's view, could have perceived a little band of over 300 people meeting in Hot Springs, Arkansas, had been called of God to found a Movement which would significantly reach the world for Christ? Few would have imagined that such a small band would become such a mighty army.
God's principles do not change. The fruit which will be borne, should Jesus tarry, in the next generation of the Assemblies of God is present in the seed being sown today.
This Council's Spiritual Life Committee, while thankful for the evident fruit of God's blessing upon the Assemblies of God, nevertheless desires to discern the seed needs and trends which determine whether the generation 70 years from now will one day call us blessed; and most of all, whether the Lord will commend our labors.
It is for certain that the continued hand of the Lord upon us is directly related to our commitment to Christ. We are not called upon to worship at the throne of a church, an organization, a building, a ministry. God is jealous about His throne; and our individual and corporate priority must continually be to exalt, worship, and serve Him. Christ, through the Holy Spirit, builds the Church whose first love, first priority, first obedience is to himself.
Laypeople, ministers, and churches which minister with power in the 1980s will be those who have an unshakable commitment and loyalty to Jesus. Among such, we are going to see an unparalleled expansion of the Church. The anointing of the Spirit will be mighty upon those who bring good news to the poor, who proclaim deliverance to the captive, recovery of sight to the blind, liberty to the oppressed, and who declare this as the day of God's favor.
Those churches and ministers within our Fellowship who have no vision for the lost, who let year after year go by with no evangelism effort or no missionary giving or missionary involvement, will die. God will keep nothing alive which does not glorify His Son or share His heart.
Three words will describe Christ-exalting ministries and churches through the rest of the 1980s: anointing, deliverance, and authority. These attributes will follow those who become people of prayer, fasting, and intercession.
Those who exercise authority will be under the authority of the Holy Spirit. Two areas where this will be most evident are within and outside the home.
Many ministers are doing the work of God now without the joy of the Lord because their homelife is a mass of pain. We call upon national and district leadership to continue and expand efforts directed to helping the minister, his spouse, and children become people of God in their personal lives. The Lord is going to turn back the assault of the enemy against the home — especially, the preacher's home. He is going to raise up the minister's home as a model for believer and unbeliever alike. Wherever the emphasis is upon Spirit-filled families, beginning with the role model of leadership families, there will be Spirit-filled churches. There can be no Spirit-filled churches without Spirit-filled individuals and families.
The godly minister also is going to be known for his kindness; rudeness, discourtesy, threats, ill-temper simply have no place in the minister's life because they have no place in Christ. Ministers must be persons of respect, above reproach. They must ensure that means are consistent with ends, that we do not fight the devil with the devil's ways.
We call upon pastors to be persons of prayer and to teach and encourage their churches to pray. Praying begets the desire to be a person of prayer; those who do not pray lose the desire.
While God is going to be doing great things through the 1980s. His emphasis is upon being. He seeks integrity in those who serve Him. He seeks holiness in those who name His name. He deplores those who announce forgiveness in His name and omit all mention of repentance. He calls us to godly sorrow for sin, to commitment to His cross. He calls us to avoid the illusion that being caught up in a ministry equals being caught up in Him. The quest to know Him must always be greater than the desire to do a work for Him. Then those who know God best work for Him most.
The Holy Spirit is directing us to have a larger vision of our mission. Great demographic changes have taken place in our country with the consequent result that we are moving quickly to embrace every culture, race, and nationality in communities within which local churches minister. In years ahead, the Assemblies of God will increasingly reflect a rich pluralism and diversity of ethnic background bonded by a common love for Christ and one another. Urban centers will become particular spheres of God's activity as we obey the Great Commission and depend upon the Holy Spirit to raise up the leadership and resources to plant thousands of new churches throughout the major cities of America.
We encourage national, district, and local leadership to continue and deepen ties of fellowship with Christians and evangelical and/or charismatic churches outside our Fellowship. We believe there is much profit in the learning and sharing which occurs across church traditions and ecclesiastical boundaries. Such communion testifies to the world of the love of Christ through our unity in the Spirit.
As a revival movement, the Assemblies of God must itself stay continually open to revival. It must not formalize or routinize the Spirit. It must not take pride in its acceptance, accomplishment, or gain, but offer itself in fresh humility to God as simply a vessel through which He can pour forth the Spirit upon all flesh.
We must keep the balance between spiritual experience and doctrinal truth. God will not let His hand of blessing remain upon a church which departs from His Word; nor will He use a church which slowly slips into a dead-letter orthodoxy without experiential vitality.
We see an encouraging trend developing in many districts which now require extensive orientation for credential candidates. We feel that such efforts greatly help in bringing the balance needed between belief and behavior. We commend the many districts who are providing seminars and other growth opportunities to ministers and their spouses for dealing successfully with personal problems and burn-out in the ministry.
A great surge of people has and will yet come into Christ as a result of this Movement. We express great concern that every effort be made to familiarize newcomers with the principles God has built into this part of His church. Especially we call upon every leader and pastor to emphasize the missionary calling of the Church. We feel it would be helpful to the new generation for a book to be written on a popular level which would tell the story of Assemblies of God missions. Such a work should not only be written to inform, but to inspire all within our Fellowship to a renewed commitment to fulfill the Great Commission. We further encourage the writing of other autobiographical, theological, expositional, and practical books to stimulate our Fellowship in its service to Christ.
A new generation of leadership is now being educated and trained within our colleges and on secular campuses. We call for intercessory prayer for not only our own schools, but the campuses of America. We urge the pastors and churches of our Fellowship to financially undergird college ministry with the same, intensity and fervor of missionary commitment.
The second national Conference on the Holy Spirit convenes next August in Springfield. The Spirit's leading has been evident throughout the past 5 years of planning for the regional and national conferences. The themes of the 1984 Conference relate to the Holy Spirit and the local church. Here will be emphasized the three characteristics of the Spirit-led local church. Such a church: (1) worships in adoration, (2) edifies with the Word, and (3) proclaims with authority. We believe that this conference will play a vital role in further equipping churches, ministers, and laypersons to live and minister in the power of the Spirit.
We are reaping today the product of the seed which an earlier generation planted with great sacrifice and hardship. We, however, must do more than enjoy the fruit. What will we sow? May there be a harvest of righteousness and salvation through our time of sowing in God's vineyard!
The report of the Spiritual Life Committee was unanimously adopted.
Following the adoption of the report the general superintendent stated, "I believe, dear friends, this report distills the very essence and throb and heartbeat of this General Council. If I could be so bold as to suggest to some of you ministers who are looking for good preaching material, you might just find some good motivational material to be used within the confines of this report. Likewise, I would like to suggest to our district leadership, when planning for ministers meetings, there are some very cardinal matters, actually cardiac matters, that are surfaced in this report that you could deal with in a very practical, forthright manner. I believe God is dealing with the Assemblies of God as a movement. He is very interested in what we do, but He is more interested in what we are. We will do effectively what we do, only if we remain essentially what we ought to be. I pray that God will keep us available, usable people who will be totally submissive to the purpose of God."
The meeting recessed at noon with prayer by R. M. Goulton from Auckland, New Zealand, remembering several special prayer requests.