Daughter Experiences Healing of "Irreversible" Lung Disease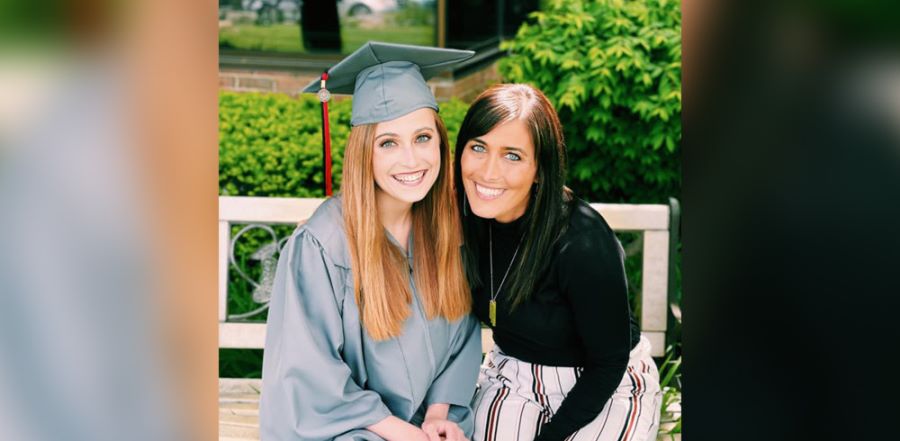 Don't miss any stories. Follow AG News!
(Angel Porubsky is an Assemblies of God ordained minister. She co-pastors Radiant Life Church in Wadsworth, Ohio, with her husband, Lance.
)
Certain moments are so powerful in your life that you remember every detail as though it was burned into your mind. The birth of our children, our engagements, moments from our weddings, finding Jesus, and other life-altering events hold a tremendous amount of stake in our thought life.
The words, "What we were checking for in your daughter is confirmed as interstitial lung disease," is one of those moments where it felt like time stood still, I weighed 5,000 pounds, and nothing else mattered.
As the chief of pediatric pulmonology shared his findings, the treatment plan, and what to look for, it felt like every ounce of hope left my body.
Please God, give it to me, not my daughter. She doesn't deserve this. I've lived my life, let Brie have hers,
was my silent prayer in that moment.
As I remained stoic in the room, trying not to let Gabrielle (Brie), my 9-year-old daughter see my fear, wanting to be strong for her, I felt the full weight of that moment. It was, after all, the start of a countdown; this was a death sentence . . . many people's life span is limited to three to 15 years following diagnosis.
In the months and years to follow that 2011 diagnosis, my husband and I found comfort in how God gave our daughter purpose and peace through the season. We continued to pray for healing but received additional unfavorable diagnoses instead.
Brie was ultimately diagnosed with mixed connective tissue disease (MCTD), which symptoms include rheumatoid arthritis (RA), Reynaud's disease, POTS (postural orthostatic tachycardia syndrome) as well as systemic scleroderma-related interstitial lung disease (SSc-ILD, an irreversible thickening of the lungs, which often leads to premature death).
We did what we knew to do — stand on His promises. There was nothing on this earth that lent itself to believing a cure was coming. Still, we had watched God perform the miraculous before, and we knew our only hope was in Him. Brie was His daughter first. He loved her first. He lent her to us. We dedicated her back to Him. She surrendered her life to Him as a small child. He was her God, and He would determine her steps.
Brie herself, did not let her illnesses defeat her. She is super fun and positive — and always has been; she didn't want to be known as "the sick girl." She loves Jesus a lot and wants to make Him known. However, by the time she was 15, we had to sell our two-story home and buy a single-level home as her RA was so bad she couldn't get up and down the stairs to and from her bedroom.
On May 21, 2017, I had another moment burned into my mind. That week had been exceptionally hard medically, with poor doctor's reports and heightened pain to walk through — I knew it was weighing on the heart of Brie, my firstborn.
I laid hands on her during our church's prayer time and, in obedience to His Word, I made my requests known. I, once again, surrendered her at the altar. This was something I had done hundreds of times. It wasn't a healing service, and there was nothing special happening to pull it together, but God finally spoke. It was clear, nearly audible, and I recognized it well.
He was going to heal her!
The silence was broken.
I knew how to pray moving forward. I knew how to plan. God was going to do it. I left church that morning and emailed myself what the Lord promised me. I didn't want to forget. I planned to leave that email unread until the Lord finished the work.
But with each new test, we watched her spirometry, diffusion, and lung volumes adjust to unhealthy levels until summer 2019, there was no change.
Could this be it? Was this where the healing would come? Maybe her disease wouldn't go away, but our God is sustaining her?
While this wasn't what we wanted, I remember praying, "God, we don't know what else to do but trust You." For years, it felt as though my prayers hit the ceiling on this topic. But I'd learned long ago that feelings cannot dictate your faith.
Along life's path, Brie, who God has called to be a worship pastor, has had many positive opportunities others with her same diagnosis have not experienced. She was able to participate in cheerleading for a few years, she participated in fine arts (merit award winner in female solo), and has been part of the church's worship team since sixth grade,
and
through a change in medication, the pain resulting from her RA has been brought under control.
But I struggled through the ups and downs of so many thoughts and emotions, especially with the deadly lung disease:
She needs a breakthrough. I know what I heard. I know what He said. I believe You will heal her, God, but even if You don't, I will praise you. What are You waiting for? It must be time; she is getting sicker. Is allowing her to live the healing? Is that what you meant? Don't you see what the test results say, God?
While I struggled, He lovingly whispered all along the way, "Be still," "Trust Me," "I love her," "I see her."
Countless moments of raw pain were held in the hands of a gentle Father. He could handle my questions. He could handle my desire for control. He was strong enough to still my heart and kind enough to comfort me through it.
Then, on Feb. 26, 2021, nearly four years after He spoke His plans to my heart, heaven touched earth, and the miraculous touched my daughter —
His
daughter.
On her day off, the doctor excitedly called Brie with her most recent test results. As we stood by, she told Brie: "There is no evidence of interstitial lung disease. I know it was there before, but there is zero sign of it on your CT!"
According to the
Mayo Clinic website
, "the lung scarring that occurs in interstitial lung disease can't be reversed," however, miraculously, Brie's lungs no longer showed
any
signs of scarring — her lungs were 100% healthy!
It was a moment burned into my mind. A time when God demonstrated who He is. An instance of immense joy and divine healing. He did it. He took away the very worst of her diseases — the only one that held a death sentence. He conquered sickness and death, and He proved it once again on earth. He didn't have to; heaven, after all, is our hope. But He did it.
He did it for her.
He did it for me.
He will do it for you.
Today, Brie is 19 and has clean and clear lungs. She just finished her associates degree in ministerial leadership and is working toward a bachelor's in ministerial leadership with a focus on worship ministry. She also travels to speak on God's purpose and call on life through difficulties.
. . . and the healing? It's just another way for her to fulfill her heart's desire of making Jesus known!