Marathon Effort Helps Kids Attend Camp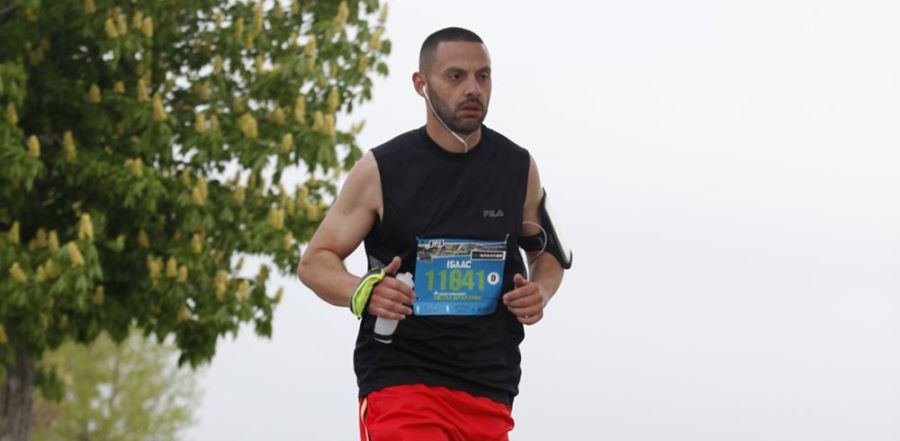 Don't miss any stories. Follow AG News!
Assemblies of God U.S. Missionary Isaac Olivarez, 37, is the director and founder of Urban Outreach Denver. However, he harbored a hatred — to this day, he vividly remembers his intense, passionate distaste for running. But God took something Olivarez "never ever" desired for himself (running), and made it an answer to prayer.
"I hated running, absolutely hated running," Olivarez states emphatically, who serves as a Missionary Church Planter and Developer in Denver with his wife, Jaime, and their three children. "But one of our team members at Urban Outreach Denver was a runner and kept inviting me."
Finally, about four years ago, Olivarez gave in and took a test run. "I couldn't even run a quarter mile . . . it was awful," he says. "But I had the sudden realization of how out of shape I was, so even though I hated it, I started running simply to become active again."
What began as an effort to regain some form of fitness resulted in Olivarez shedding 55 pounds and taking part in area 5K races and "Tough Mudder" obstacle-race events. But even though his hatred for running dissolved, running a marathon wasn't something on his bucket list.
That is, until God revealed a way to use running to raise awareness about Urban Outreach Denver (UOD) and help kids at the same time . . . perhaps something He had in mind all along!
"Urban Outreach Denver is an inner-city church that is full of drug addicts, the homeless, prostitutes, and hurting and broken people," Olivarez says. "We run a Thursday night dinner church — community dinners — to feed and minister to a neighborhood called Five Points."
Darlene Robison, senior director of Missionary Church Planters and Developers, says the dinners not only bring the neighborhood together as a community, forging relationships as they share a meal together, there's also a spiritual aspect. "It is clear that this is a spiritual community as well," she says. "They eagerly worship, pray, and engage Scripture in a way that encourages each person to take the next step in obedience to Christ."
Olivarez says that he was praying about ways to raise awareness about UOD as well as raise funds to help inner-city and poverty-stricken kids be able to attend the church's annual summer camp.
The summer camp, Olivarez explains, is far more extensive than a typical VBS program. It runs four weeks and provides kids with breakfast and lunch. "About 95 percent of the kids who attend are African-American kids from the neighborhood," Olivarez says. "The meals we serve are healthy and replace the meals they may now be missing because they're out of school for the summer."
The camp is filled with activities for the kids, including excursions out of the city for horseback riding and other activities. Olivarez says some of the kids have never been outside of the greater city limits. The camp also builds kids' character and provides a regular and clear presentation of the gospel message. At the end of the camp, which runs June 27-July 22, each child is presented with a backpack filled with school supplies and a kids Bible.
Of course, all of this takes money.
"When it was suggested that I run a marathon to raise awareness and help fund the camp . . . ," Olivarez says, pausing. "Well, let's just say that's what it took for me to even consider running a marathon. So, in January, I started training."
"One of the things I love about this missionary team is that they invest their lives in children in such a generous way," Robison says. "They work hard and love deeply, and I believe God is using them to change the future for many families."
The Colfax Marathon, which is an event that includes numerous race distances, is held annually in Denver, Colorado — this year on May 15. Urban Outreach Denver became a charity partner with the marathon and as a partner, other people could join Olivarez and Urban Outreach Denver and run one of the event races to raise funds for the kids camp.
"I had people who I didn't even know who signed up to run and raise funds for us," Olivarez says. "We had a lot of exposure — we had people running the 5K, the 10-mile, the half-marathon, and even a marathon relay team for the camp!"
Olivarez, however, was the only one on the team who signed up for the marathon.
"In my training, I had followed the program and run up to 20 miles," Olivarez says. "And on that 20-mile run, I felt great, so I was sure I could do the marathon."
For many experienced marathon runners, 20 miles is simply known as the first "half" of the 26.2-mile race. The last 6.2 miles (or 10 kilometers) is often just as physically demanding and much more mentally demanding than the first 20 miles. It was a reality first-time-marathoner Olivarez would experience first hand.
"I didn't hit the wall at 20 miles, but about mile 22 or 23, my legs began hurting really bad — I was hurting really bad," Olivarez admits. "But then I began thinking of the people I was doing this for, about those who had told me that they couldn't believe I was running for them . . . I wanted to be able to tell them that I finished for them, that God loves them — they are the ones I thought about those last grueling miles!"
Through his efforts (he finished in 4:07) and the efforts of others, Olivarez says they have raised a little over $5,000 so far, which is about half of the amount needed to fund the camp. "We could still make it to $10,000," he says with optimism. "Additional churches and supporters are giving to my missionary account for the race, so I'm still hopeful that we'll reach our goal."
Following the marathon, Olivarez put together a short PowerPoint presentation, featuring all those who ran for the church and the camp. When he concluded, the church erupted in cheering.
Some may question how anyone can impact someone else for Christ simply by doing something like running. Aside from the money raised for the camp, Olivarez offers this insight: "After the presentation and service that night, one guy, Chuck, was getting ready to leave, when he stopped and became all emotional. He said, 'Thank you for loving us like you do; it means more than you'll ever know!'
"But you know," Olivarez observes, "it's not what I'm doing for them, it's what Jesus is doing in them!"