Mistake Leads to God's Promise Being Fulfilled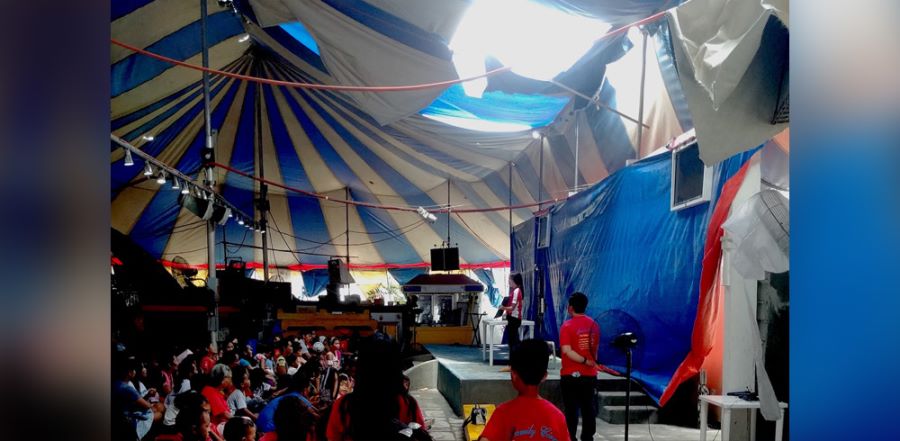 Don't miss any stories. Follow AG News!
It really never should have happened, but it did. A small mistake was made at the national Boys and Girls Missionary Challenge (
BGMC
) office . . . a small mistake that was nothing short of providential.
When Cortney Ostrander, children's pastor of
New Hope Assembly of God
in Urbandale, Iowa, contacted the national BGMC office asking for projects for Iowa for her kids church to consider raising funds for, she was accidentally sent project pages for Indiana and Idaho.
"I emailed them back, and we joked about them being similar, but not the same," Ostrander says, "and then they sent me all the Iowa projects."
But when Ostrander, who has been leading New Hope's children's program for the past 12 years, received the Iowa BGMC projects, she discovered the church had already participated in many of them. She was looking for a different and "big" project to challenge the 250 K-5 kids who attend New Hope.
Out of curiosity, Ostrander looked at the projects mistakenly sent to her — one of them caught her eye.
Darrell and Sandy Blatchley have been missionaries to the Philippines for the past 24 years. In March 2019, their ministry tent was
destroyed during a typhoon
, so they decided to build a permanent structure. BGMC originally sent money to help them launch the project, but more funds were needed.
"I saw the roof project and it immediately resonated in my heart," Ostrander says, "so I asked pastor [James] Weaver if it would be okay to contact them [the Blatchleys] about this, and he was all for it."
Ostrander messaged Darrell Blatchley immediately, and despite the 14-hour time difference, within five minutes he had messaged back. They had the beams in place for the roof, but it would take $17,000 to finish it. When Ostrander informed Weaver, who consulted with the church's missions board, he said to let Darrell know the church would cover the cost.
"We try to match or double any BGMC or
Speed the Light
giving as it encourages our kids," explains Weaver, who founded the church in 1990. "Missionaries have monthly support, but it's typically not enough to effectively do all the things they're called to do — that's why we're pretty passionate about BGMC and Speed the Light."
"When pastor Weaver told me that I could tell the Blatchleys that we would cover the cost of the whole roof, it was one of the highlights of my life," Ostrander says, the excitement of the moment still evident in her voice. "He was so thankful, so appreciative!"
BGMC was able to fast-track the money to the Blatchleys who finished the roof in about a month's time — and a day before a tropical storm hit the southern Philippines. People from all around the area gathered under the protection of the new, solidly built roof, even though the building did not have walls or a floor yet.
Although the Blatchleys' prayers were answered with the roof, God wasn't done yet. Ostrander says that the church missions board became aware that the Blatchleys' new building did not have walls or a floor — they wanted to know how much that would cost to provide.
Darrell calculated the cost — $79,000. When Ostrander told the board how much it would be, the response that ultimately came back was, "Tell him we're going to give him $80,000."
"It was a Sunday night that the missions board was meeting and I was video chatting with Darrell on Facebook," Ostrander recalls. "He was still just so excited about the roof, and then I told him we wanted to help with the walls and floor, but the connection wasn't very good and he thought I said we were giving him $8,000 — and he was so excited."
When Ostrander explained the church was giving $80,000, she says she and Darrell both broke out in tears and they started crying and laughing together, celebrating God's goodness.
Ostrander then learned that the church had been part of God keeping His promise to the Blatchleys. Darrell shared he felt God tell them that within a year of the tent being destroyed, they would have a new building in place. The problem was, no churches in his district (Idaho) had that kind of money to give in such a relatively short amount of time. And without a covered place to meet, the Family Circus Children's Ministries the Blatchleys have in Mindanao was struggling. But then, first, came the money for the roof, and then, several weeks later, the $80,000 commitment for the walls and floor.
"He was just believing that the Lord would bring it in — such a man of faith!" Ostrander states. "It just blew us all away, that we would be able to a part of that, that God would make it happen (through us)."
David Boyd, national BGMC director, has personally attended a Family Circus Ministry event in the Philippines.
"I have witnessed 5,000 kids arriving and jamming themselves into the tent," he says. "To much of the world, these kids are considered the poorest of the poor, but in God's heart they are His precious joy. What a joy it is to know that this ministry will now continue greater than ever."
Ostrander says that when she shared with her children's church kids everything God had done, they were happy, but not as excited as she initially expected.
"The adults were all like, 'Oh, wow! So cool! What a miracle!' but the kids weren't a bit surprised," Ostrander says, then explains: "The kids have faith that God is who He says He is and He's going to do what He says He's going to. One of the kids said, 'Well, of course! God is so big, He can do whatever He wants to do and He's going to do it.'"
"God owns the cattle on a thousand hills," Boyd agrees. "He sold some in Iowa!"
Weaver says that the church has a focus on BGMC and STL because giving to missions creates within the children and youth a heart for missions, a heart for the lost, and a heart for the work of God.
"The Bible says, and I'm paraphrasing, the heart always follows your money — start putting your treasure toward something, and your heart will follow [
Matthew 6:21
]," Weaver observes. "So, start putting your treasure toward the lost, and your heart will be toward winning the lost."
Having just completed a challenge for each child to raise $31 during the 31 days of January, Ostrander says they have all kinds of events planned for the upcoming year, from city-wide lemonade stands to craft sales.
But one thing is for certain, her K-5 kids and the church are going to continue to make missions their priority.