Nicky Cruz: The Holy Spirit is the Answer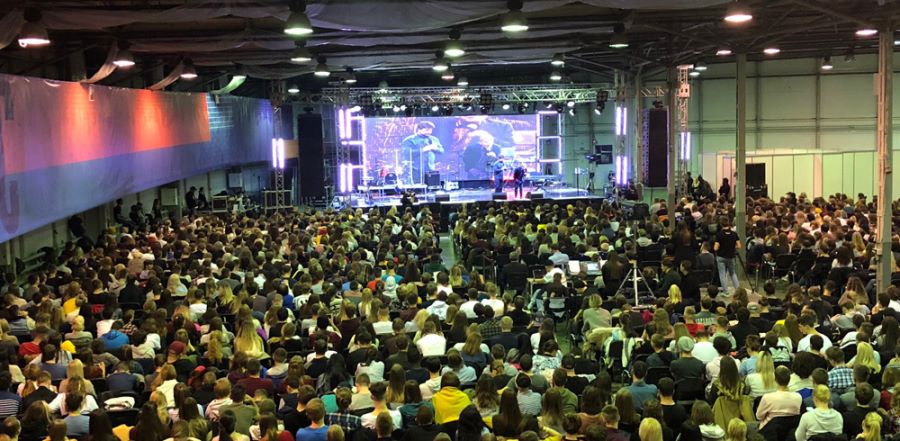 Don't miss any stories. Follow AG News!
As former
Mau-Maus
' gang leader and warlord Nicky Cruz describes him, David Wilkerson was a "hillbilly" who knew nothing about New York ghetto life. Wilkerson had no experience in inner-city ministry, no training in dealing with gang members, and no idea how much someone like himself was lethally out of place in the territory of the Mau-Maus.
Or as Cruz's son-in-law, Patrick Dow, says, "The David Wilkerson-Nicky Cruz model [of evangelism]
never
should have worked,
but
that's how God works!"
Now more than 60 years after Wilkerson (founder of
Adult and Teen Challenge
) led Cruz to a miraculous salvation experience — along with many of his gang member brothers — Cruz is still sharing his unimaginable story around the world. The calling of God on one "hillbilly's" life has led to the gospel message being shared with tens of millions of people and countless lives being transformed for Christ.
Yet, as Cruz — now an AG evangelist who was recently recognized with the
Smith Wigglesworth
Evangelist Legacy Award — reflects on what God did through Wilkerson's obedience decades ago, it makes it more evident than ever that the same selflessness and absolute obedience to the call of God is what is desperately needed to bring the United States back to God.
HARVEST FIELDS
The Bible speaks of
the harvest
in referring to people who are ready to receive and respond to the gospel. And in churches throughout the United States, sending missionaries to those "harvest fields" around the world often plays a significant role.
"The problem has become," Dow says, "that while many churches send out workers to the harvest fields in faraway lands, they have neglected to tend their own garden."
Cruz makes the point clear.
"The pulpit in the United States has become so concerned about not offending, that it's no longer speaking the truth," Cruz says. "That's [biblical truth] what people need to hear; what they're hungry to hear!"
With the compromising of the gospel, as churches look to please culture rather than God, Cruz says that over the past 25 years he has witnessed a huge moral decline that isn't just in the lives of those outside of the church, but within so-called Christian families.
"Many young people, even in the church, have no shame, no conviction," Cruz says. "What began little by little as a loosening of morals, we now see an avalanche where everything goes — whatever makes you feel good, you can justify it. The pulpit has to be straightforward and address sin — has to speak clearly, but with love, about drugs, sex, lifestyles — as it's killing the heart of the church."
FAITH REQUIRES RISK
Speaking the truth is risky, especially if the pulpit has been coddling sin in an increasing manner in an effort to appease congregants and "grow" a church.
But Cruz and Dow agree that the answer isn't to "
tickle people's ears
" with watered-down gospel, but to speak the truth in faith and allow the Holy Spirit to do His work.
"We need to start walking our congregations through the Book of Acts with signs and wonders taking place — that leads to revival and the church growing and growing," Cruz says, "but instead, too many are walking through the Book of Numbers, just wanting numbers."
Patrick and his wife, Alicia (Nicky's daughter), have been heavily involved in the
TRUCE
(To Reach Urban Communities Everywhere) ministry through the
Nicky Cruz Outreach
since its founding in 1991. Patrick says that young people are in desperate need of the gospel.
"A lot of kids who grew up in church are now MIA — lost to other religions, drugs, same-sex lifestyles," Patrick Dow says. "We're a culture that seeks to be numbed and medicated, to the point we feel no conviction."
Dow also points to how the church in the United States has become a celebrity culture, where people are attracted to a pastor's personality and "character" messages, and where Jesus is an afterthought or makes a "cameo appearance" instead of being the focus.

NUCLEAR FAMILY
Cruz and Dow believe that the country — its states and its cities — are in this dilemma of decline because of one intertwined issue: the death of the nuclear family.
Drugs destroy families, which Cruz and Dow know through personal experience and in their ministries.
"Drugs are pouring across our southern border in quantities beyond belief, and they are destroying families, including families within the church," Cruz says. "We don't need a nuclear war to destroy the United States, drugs — now mixed with fentanyl — are killing people at a record rate and destroying families. This past year, drug overdoses killed more than 100,000 people in the United States alone."
But it's more than just drugs. Technology has families glued to their phones and laptops rather than communicating to the person sitting within an arm's reach – a ding on the phone being seen as "more important." Cruz also points out that parents have raised a generation of children where an attitude of gratitude has been replaced with living lives of entitlement.

SAVING THE CHURCH, SAVING AMERICA
"We're at a crossroads for losing a generation," Cruz says. "We cannot lose our children, but we are under a demonic attack against the foundation of our family . . . without family, we have no nation, no state, no city at all."
"But criticism is of little value," Dow says. "What are the answers to these challenges?"
Dow points to
Matthew 9
and
Luke 10
, how seeing the lost broke Christ's heart and that He called on His disciples to pray for workers to bring in the harvest of souls.
"Notice," Dow says, "when the Lord commands His disciples to pray for workers for the Lord of the harvest, he didn't say the 'degreed' person or the 'trained' person, He just wanted the worker who was (and is) willing to go communicate a message of hope to the lost world.
"We're all called to evangelize, we have to tell people," Dow continues.
But being willing to share the gospel is one thing; being empowered by the Holy Spirit to share the gospel takes things to a whole new level.
"We have to have the Holy Spirit, we have to have the Holy Spirit's anointing," Cruz says. "I've been in ministry for more than 60 years, ministering around the world, but I still have a strong [Puerto Rican] accent, but it doesn't matter. When I make an altar call, people are running to the altar, not because of me, but because of the anointing of the Holy Spirit."
Cruz and Dow say that when it comes to saving the church and saving America it comes down to one word: relationship. First, the relationship between Christians and God must be an active, growing faith, with the empowerment of the Holy Spirit. Then, it's person-to-person.
"You can't be an inner-city church (or have any ministry) and expect to make a lasting impact if you open your doors once a week and then leave for six days," Dow says. "You have to be there and establish relationships, which builds trusts and opens doors for the Spirit to work."
The same goes with family. Family relationships are built through presence, not only a visible presence, but an active presence demonstrated through caring, in-person interaction.
THERE IS HOPE
Prior to the outbreak of war between Russia and Ukraine, Cruz had held four crusades in each country, with incredible responses by attendees and support through the churches. Cruz admits he was amazed by the hunger for the gospel message and how well he was received.
Dow points to new inner-city churches that have focused on becoming multigenerational and relational in all their efforts – approaching ministry as a "lifetime of outreach and service to people."
And there is hope for seeing revival sweep the United States. For as Cruz recalls, when David Wilkerson was blindly obedient to the call of God to reach out to gang members in the darkness of inner-city New York, it shouldn't have worked. But the Holy Spirit moved, revival came, and countless lives turned to Christ as a result.
"Let the Holy Spirit go — teenagers (and others) want to see the Spirit in action," Cruz urges. "And when they get filled with Holy Spirit, this is when signs and wonders begin to happen! But it can't be just one man (as was the case with Wilkerson). It needs to be the Church humbling itself, seeking forgiveness, and becoming obedient to speaking God's truth and following the Spirit's calling."