Presence of the Lord Results in Missionary's Healing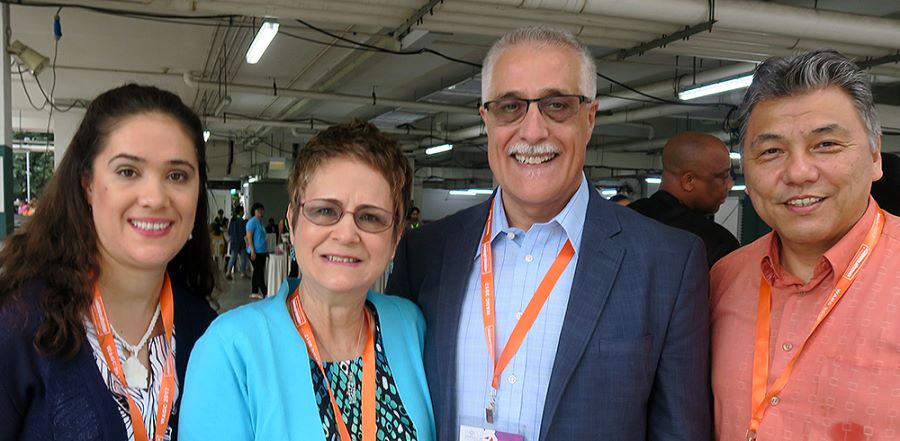 Don't miss any stories. Follow AG News!
Serious physical Injuries that take a year or more to heal typically result from things such as a life-threatening car accident, a fall from a significant height, or some other traumatic impact.
For AGWM missionary Cina Silva, who pastors Agape International Christian Assembly in Taipei, Taiwan, with her husband, Ty, all it took was a short step off of uneven pavement.
"It was night and I couldn't see that the pavement was uneven as I stepped off of a curb," says Silva, 64, as she vividly recalls April 19, 2016. "This resulted in six tears to three ligaments in my left foot."
The pain was excruciating and debilitating, accompanied by swelling up to her knee. She saw doctors in Taiwan, Thailand, and the Unites States, spending six months in a wheelchair, before spending several more months in a boot and using an umbrella as a cane.
The outside ligament healed in about 6 months, but the interior ligaments were not about to join the party — remaining weak and extremely painful to the touch. Because there is limited blood flow to the ligaments in the foot, the doctors explained that it would take a long time to heal.
"I used the umbrella because I didn't want people to see me with a cane," Silva admits. "But I could still only walk a short way before I would need to sit down."
In March, nearly a year after the injury occurred, Silva's doctor in Bangkok, Thailand, explained that he was going to give the ligaments until September to heal, otherwise they would have to surgically repair them.
The next week, Silva attended the AG World Congress in Singapore with her husband and daughter, Jaimee, a missionary to Thailand. Cina was forced to take a taxi to the meetings, as the walk from her hotel to the train station and the station to the church was too far for her to manage.
Although Silva and her family had been praying for and expecting healing for her foot for many months, this night her mind was only set on enjoying the service and hearing AG missionary evangelist Jason Frenn speak.
"It was the second night, and I was determined to stand during the praise and worship, but my 'stand' was more like a flamingo on one foot," she explains. "When it came time for the message, Jason Frenn came to the podium and greeted everyone with the words, 'Jesus is here to deliver and heal.' As soon as he said the word 'heal,' this power surge went into my foot and across to the other foot and went up and down my body, twice."
At that moment, Silva knew something had happened — and she knew it was God. At the end of the service, when Frenn urged people to pray for healing, Ty and Jaimee began praying over her, but she was reaching down poking and prodding her foot with her hand.
"I was poking the areas that had caused so much pain and there was nothing," Silva says. "My husband and daughter were praying, and I just started telling them, 'God's already done it!'"
That evening, Silva would walk freely — and joyfully — from the church to the train station, and from the train station to the hotel, swinging her umbrella/cane on her fingers the whole way.
And since Silva's healing in March, several in the international church in Taipei have been healed of hip, knee, and foot injuries as well!
"The first thing I did when I got back home to Taipei was to pull out my shoes and start trying them on," Silva says with a laugh. "I hadn't been able to wear a lot of my shoes for nearly a year because of the swelling and pain." The shoes fit and felt fine, and her foot was pain free!
Although Silva says she and many others had been praying for her foot to heal since the fall occurred, in this instance of healing, no one visibly present was praying for her.
"It was God's time and His presence that made all the difference," Silva says. "When God touches you, you know it — He makes it very obvious."
IMAGE - Ty, Cina, and Jaimee Silva at the World AG Congress with Tamotsu Uchimura, General Secretary of the Japan AG.