Splitting Wood for Speed the Light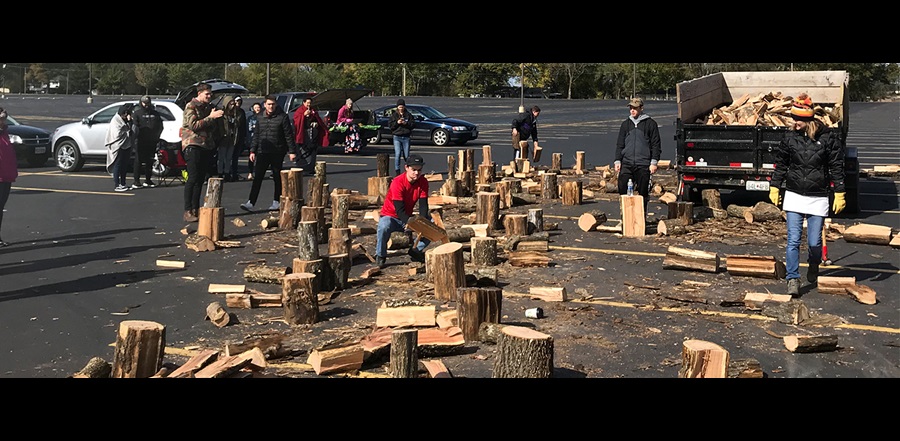 Don't miss any stories. Follow AG News!
When Ty Smith woke up Sunday morning, he could barely move.
He couldn't sit up in his bed because his abdominal muscles were in complete rebellion.
He couldn't push himself up with his arms, as they had been stressed beyond their limits.
So, ironically, like a log, he rolled to the edge of his bed, allowing his legs to slip over the edge in order for their weight to pull him up — and even that was a fresh experience in pain. As his youth pastor, Zack Green, recalls, Smith later said, the only thing that didn't hurt was his face.
But that was a sacrifice Smith was willing to make in order to raise funds for Speed the Light (STL), the missions program sponsored by Assemblies of God National Youth Ministries that provides equipment, including vehicles, for missionaries around the world.
On Saturday, the 18-year-old Smith had committed to split 1,000 logs as a missions fundraiser, having gained support through pledges and one-time gifts. Smith used a splitting maul and a splitting axe for the effort . . . well, make that two splitting axes as he snapped the head off of one of them in an overswing.
"We got out there early in the morning — it was 26 degrees," says Green. "Then we started unloading these ginormous stumps from a trailer, hundreds of them. We set up a line of 15 huge stumps, then placed smaller stumps on top of them. Ty then went down the line splitting them and we would place new stumps on top."
Smith says that a team had gone out on Friday and used a chainsaw to take down some old oak trees to use for the fundraiser, delivering the load to the James River Church parking lot in Ozark, Missouri, that night.
With the help of his father, Justin; mother, Tami; and younger sister, Madi; youth pastors; and friends from the church, Smith began chopping at 7:30 a.m. and finished the last log at 2:30 p.m. When done, "tired and sore" was a nice way to put it. "Let's just say that on Sunday, I was holding a bag of potato chips and after about 30 seconds, I had to put it down," Smith says with a laugh.
"I saw the beginning of supernatural strength," Green says. "Ty was about 180 logs in and he started talking about his shoulder hurting and his arms being weak . . . the determination and faith this guy has is absolutely inspiring . . . we prayed before, during, and after for God's provision and for God's strength for Ty."
But doing a thousand of something isn't a new endeavor for Smith. Two years ago, he hit 1,000 golf balls to raise money for STL. Last year, he shot 1,000 arrows. This year was by far his most difficult physical challenge. However, the effort has already seen more than $5,000 raised (more than $16,000 over the three years) with more money still coming in.
Green says that Smith's effort has, in some ways, gone viral. Other districts, church youth groups, and individuals have heard of Smith's "Do a Thousand" challenges and are following suit. Smith dreams of seeing 1,000 youth groups or individuals participating and each raising $1,000 in order to raise $1 million for STL.
Smith has also inspired many of the James River students and small groups to each do a special "one thousand" fundraiser this coming weekend, with the goal for each group to raise $1,000.
"We're so proud of Ty and what God is doing through him," Green says.
Of course, there is one James River Church member who was especially blessed by Smith's effort: The member who donated the trees. Not only did he get the dead trees cut down and removed for free, Smith gave him the split wood back to use in his fireplace this winter!