The Miracles of Booth One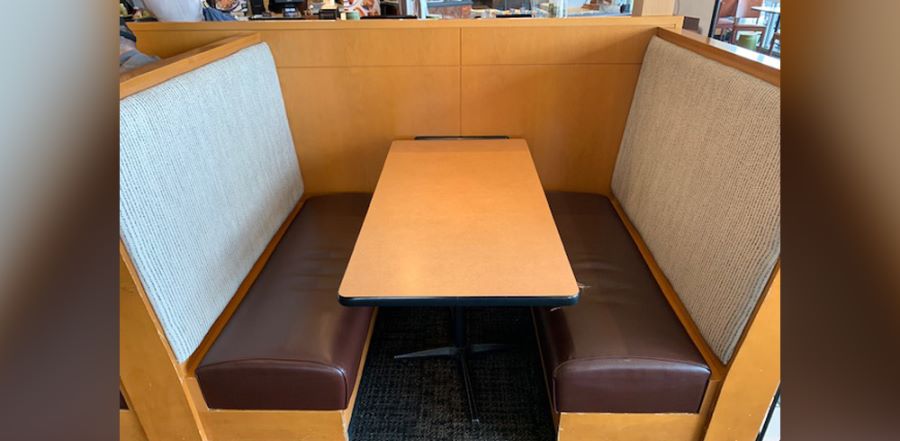 Don't miss any stories. Follow AG News!
When most people walk into the Panera restaurant in Carlisle, Pennsylvania, booth one appears to be much like any other booth in the restaurant. But for Chaplain Chuck Kish, pastor of
Bethel Assembly of God
in Carlisle, the booth is not only the site of a miracle, but a connecting point that has given him the opportunity to present Christ to numerous people over the last several months and personally lead nine of them to Christ — in the restaurant!
Kish, an endorsed AG chaplain through
U.S. Missions
Chaplaincy Ministries
, says that this past year he began something new in his ministry. He only goes into the church office on Tuesdays for administrative tasks and prayer and devotions with his staff. The rest of the week he heads to Panera. Even by Kish's own admission, his office is very well-appointed and comfortable, yet he chooses to sit in a wooden restaurant chair instead.
"I explain to people my office is at the church, but Panera is where I go to work," Kish says. "I write my sermons there, take calls there, respond to needs from there, and I'm in constant communication with my staff." He also observes that 400 to 500 people come through his satellite office every day, whereas his church office visitors are in the single digits.
One of the driving forces behind his decision to make Panera his "satellite office," is a miracle that took place while he was meeting with a very angry and volatile grandfather, Sonny Finkenbinder, in booth one. Out of "nowhere," the Holy Spirit came over Finkenbinder in such a powerful way, even in midst of his anger, that Kish was able to lead him to Christ.
Finkenbinder has become a transformed man, and he and his wife, Karen, are now faithful attenders and being trained for church ministry at Bethel.
But here is where the story takes on a new dimension. In March, AG News ran a
story about Finkenbinder
— the rage he experienced over the suicide death of his grandson and how God changed his life.
Kish no longer sits in booth one where he sat with Finkenbinder, but across from it. When someone comes by his table, whether it be a server or a stranger (though with his passion to see the lost won for Christ, it is doubtful that Kish has ever met a stranger), he begins a conversation and moves the dialogue to the point where he can ask, "Have you heard about the miracle that took place, right over there, in booth one?"
"I'll tell them a little about Sonny's story, then take out my phone and show them the AG News article on Sonny and let them read it," Kish explains. "The picture and the story adds a whole new level of legitimacy to what I tell them."
Kish, who believes as a pastor he's also called to evangelize, says that as the months have passed with him being present every day and sharing God's story that took place in booth one, people have started approaching him — asking to hear the story. (In fact, during the interview for this story, a woman texted Kish asking to meet him at the restaurant so she could hear the story first hand).
People have also come up to Kish, overhearing portions of his booth one conversation, wanting to hear the full story for themselves. He's prayed with people; he's emailed the story to people who didn't have the time to stay but wanted to read it; and he's seen total strangers come to the Lord and start attending Bethel — all because of what God has done, and continues to do, through booth one.
In reflecting on all that has taken place over the last few months, Kish pauses and then makes a surprising statement. He believes that the very beginning of what God is doing now, started following the terrorist attacks of 9/11.
"God can cause all things to work for the good of those who love him (
Romans 8:28
)," Kish begins. "Following 9/11, we had an appreciation meal for first responders at the church, which prior to 9/11 we probably wouldn't have thought of doing. At the meal was New York City first responder Dan Schaeffer. I remember he looked at me and pointed his finger and said, 'This guy would make a good chaplain.'"
From that point, the seed was planted. Kish began exploring the chaplaincy potential and how to meet the community's needs at their points of pain. He began small, just being a chaplain himself, but Kish's efforts have now grown to include a number of church members who are now qualified as trained chaplains. The tie to Finkenbinder is that Kish was the EMS chaplain called to the scene of Finkenbinder's grandson's suicide — and Finkenbinder was also there.
"God didn't cause the terrorist attacks, but he took something intended purely for evil and has brought good into the lives of hundreds if not thousands of people through our chaplaincy ministry," Kish says. "Earlier this year, North Central University asked me to give a presentation to its ministerial students, where I shared with them my passion for chaplaincy ministry, and also shared Sonny's testimony."
Again, Kish shares about being invited to different hospital events. There he shares about how he has seen and felt God work in dire situations and the importance of chaplains being at points of pain in people's lives.
"What has come out of this, is Lancaster General Hospital now wants to train its chaplain's corps as EMS chaplains to ride in the back of ambulances," Kish says. "The same chaplains who we've just shared about the difference the power of God's presence can make."
Although Finkenbinder's testimony and online story has become something that God has used repeatedly to break into people's hearts and minds, Kish says the power that swept through Finkenbinder, has been physically evident several times in the past few years, where people, even unbelievers, have felt a powerful force they could not explain.
"I believe the Lord has told me that one day, someone is going to sit in booth one who has experienced a similar tragedy to Sonny's," Kish says, "and when the Spirit prompts me, I'm going to go over and ask them if they heard about the miracle that took place right here in booth one . . . and God's going to change their lives forever."
Editor's note: Toward the end of my interview with Sonny Finkenbinder in the
original AG News story
, that new Christian stated that he wanted to see two million people drawn closer to God through his testimony. At the time, I smiled to myself, but I could feel his sincerity and believed that it may well have been a God-inspired number. But with
AG News
readership being mostly AG adherents and there are only about 3.1 million AG adherents in the United States, the number seemed unattainable . . . I'm not so sure about that any longer.