The "Perfect" Missionaries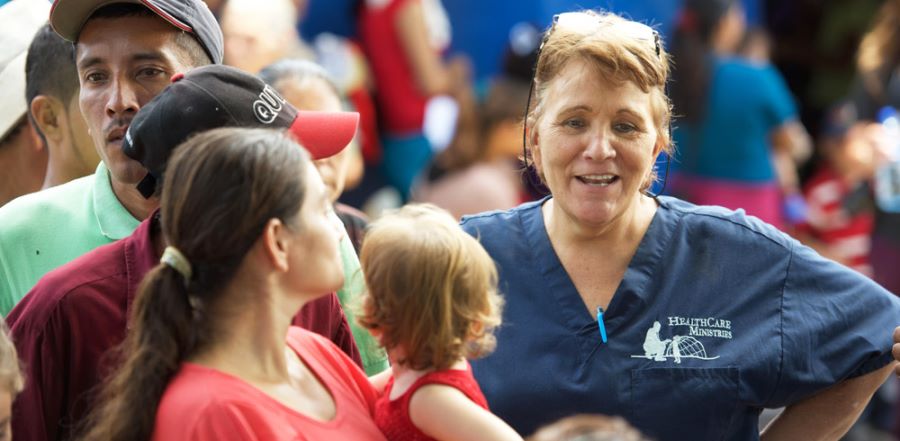 Don't miss any stories. Follow AG News!
"I have tried to be a sweet, perfect missionary," Lynn Diaz admits. "But that mask becomes far too heavy."
Lynn leads the HealthCare Ministries facet of AG World Missions'
CompassionLink Ministries
. Her husband, Victor, is a beloved pastor and discipleship leader in San Salvador, El Salvador.
After more than 40 years of service on the mission field, the Diazes defy many "missionary" stereotypes. And though Lynn quickly dismisses the concept of perfection, she and Victor are remarkable examples of God's unique ability to craft the most unlikely candidates into leaders providentially fit for their fields of service.
MEXICO: LOVE, MARRIAGE, AND MINISTRY
Victor and Lynn met in 1972. She had come to Mexico to serve in an orphanage on a short-term missions assignment. Victor, who grew up in that very orphanage, had left to attend Bible college. He was currently studying to be a lawyer, and had returned for a visit.
"My roommate and I made a pact that we would ONLY do short-term missions," Lynn says with a laugh. "We felt that missionaries 'didn't dress cool' so we vowed we would never do long-term service. We thought we were too cool."
Victor had his own plans for his life. Having rejected an earlier call to ministry, he was busy with law school. But God broke through. For a full night, Victor wrestled with God about the call he knew he could not escape.
Through different circumstances, both Victor and Lynn committed themselves fully to God's plan. Victor left law school to resume his Bible college studies. After he and Lynn married in 1974, he continued with his education, and the couple served in a Mexican orphanage and began planting churches.
EL SALVADOR: MEDICAL SCHOOL AND MUCH, MUCH MORE
From Mexico, Victor and Lynn's ministry moved to Paraguay in 1983, where they served as AGWM missionary associates. Victor led crusades, and Lynn led children's ministries and Sunday Schools for the Paraguay Assemblies of God.
Life and ministry took an unexpected twist shortly after Lynn and Victor became fully appointed AGWM missionaries in 1991 and arrived to begin service in El Salvador in 1992. When missionary Joe Castleberry was leaving the field, he asked Lynn to take his place and host a visiting HealthCare Ministries team. The team's clinic was a great success, and another one was scheduled for the following year. But only one doctor registered to make the trip.
HealthCare Ministries asked Victor and Lynn to find Salvadoran doctors to serve in place of the absent American ones.
As they searched for the very best of El Salvador's doctors, Lynn began to realize the remarkable ministry possibilities that exist for medical personnel — possibilities available to no one else. She decided to sign up for a first aid class, but their secretary misunderstood and initiated Lynn's application for medical school. In 1994, at 44 years old, Lynn found herself accepted in medical school.
Lynn had dreamed of becoming a doctor since high school. "But I had struggled in school all the way from first grade," she says. "I have dyslexia, but when I was in school it was not called that. It was just called 'stupid.' So, I assumed that dumb people can't go to medical school. When I began medical school in El Salvador — with all my classes in Spanish — I figured I would just go until I got kicked out."
In 2007, at age 56, Lynn graduated from the eight-year medical program despite returning to the U.S. three times for a year of needed fund-raising. Every semester she expected to fail, she says, but she never did. Sixty percent of her biophysics class failed, but she did not. In addition to maintaining passing grades and working 36-hour shifts at the local hospital, Lynn ministered with Victor to start Bible studies and discipleship classes on her campus. They saw many participants accept Jesus as Savior.
After her graduation, Lynn took one year of service caring for malnourished babies. After seeing the tragic and preventable death of a 38-year-old pastor, Lynn helped established The Good Samaritan clinic, where treatment is free for Salvadoran pastors of all denominations and their families and is very affordable for everyone else. The clinic was staffed by volunteer doctors from Lynn's medical program, and medicines were supplied by collecting free samples.
Yet at one particularly dark financial point, Lynn confessed to Victor her fear that the clinic would have to close. Victor would not hear of it. For six months, they poured all available personal finances into the clinic. With what they saved, and with a miraculous $5,000 donation from a church in Cedar Rapids, Iowa, the ministry survived.
Today the clinic continues as a self-sustaining outreach with over 200 volunteer doctors, including a pediatric neurosurgeon, dermatologist, and infectious disease specialist, and is expanding even further.
PERFECT FOR SERVICE
During four decades of missionary service, Victor and Lynn have rejoiced in God's victories in their lives and in the lives of those around them.
"Failures are very easy for us to see," the Diazes agree. "Failures are big and 'in your face,' whereas victories sometimes take years to see. But victories are coming."
In their travels, Victor and Lynn have encountered many people who, unbeknownst to them, were saved as ¬a result of their pastoral, discipleship, children's, and medical ministries. Some of those men and women, as it turns out, were members of classes or meetings the Diazes had mistakenly viewed as fruitless failures.
"Over 850 Latin American missionaries have fanned around the globe," Lynn says. "Some of them were trained in Victor's discipleship classes."
Both Victor and Lynn emphasize the continuing need in Latin America, even as regional churches there are now producing some of the best missionaries on the field.
"There are still unreached people groups in Latin America," they say. "If earlier missionaries had believed the job was done and had left early, those 850 missionaries wouldn't even exist. The job here isn't done."