This Week in AG History -- Feb. 10, 1940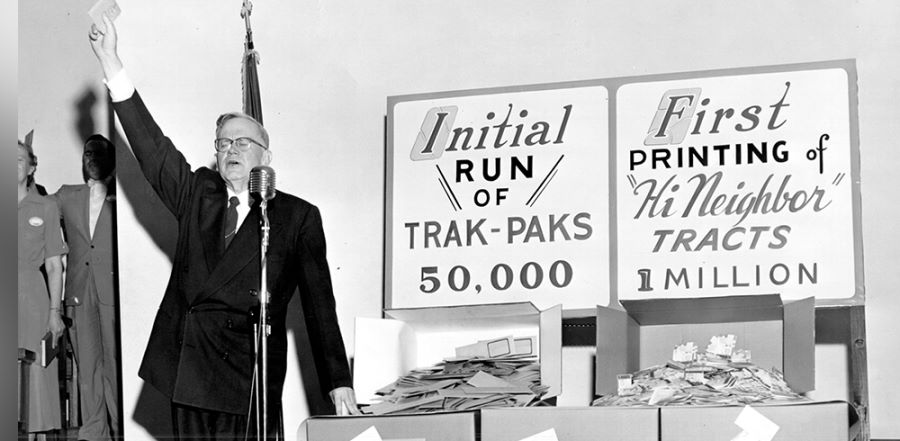 Don't miss any stories. Follow AG News!
Nearly every major religious revival since the invention of the printing press has seen prolific use of the small printed pamphlet known as the gospel tract. The Pentecostal revival has been no exception.
While some religious movements, like the Wycliffites of the 14th century, made good use of the printed pamphlet even before the evolution of movable type, it was Gutenberg's invention in the 15th century that helped make the religious tract a publishing phenomenon. Taken from the word "tractate" (meaning "treatise"), tracts have been used as a cost-effective way to reach large numbers of people with a simple message of persuasion.
It was after Luther's 95 Theses were translated into German and distributed in tract form that the Protestant Reformation gained traction with the common people. The Wesleyan revival depended heavily on the reprinting of John Wesley's sermons and Charles Wesley's songs in an inexpensive format that could be easily carried and disseminated by the circuit riding preachers of the Methodist revival. Charles Finney wrote and distributed the small booklets. D. L. Moody believed in them so much that he founded an association of students to print and distribute them from gospel wagons, which led to the creation of Moody Press.
The American Tract Society was founded in 1825 and, during the Civil War, it joined forces with the Young Men's Christian Association (YMCA) to distribute tracts to soldiers in the Union Army. In the South, the Evangelical Tract Society was formed to meet the needs of the Confederate soldiers. Both societies reported an urgent need for more printed materials along with great response on the part of the soldiers. Many young men came to the saving knowledge of Jesus through their response to these tracts that made their way through the armies.
From the beginning of their own revival movement, Pentecostals were prolific publishers. Some of the credit for the promotion of the Azusa Street revival belongs to a tract by journalist Frank Bartleman. Just days after the meetings began at Azusa Street, a great earthquake hit San Francisco. Bartleman believed that this great California earthquake was a message from God that people must repent and turn to God before it was too late. He wrote a tract titled The Earthquake and distributed more than 125,000 copies. This drew even more attention to the revival that was taking place in Los Angeles.
The Assemblies of God, through Gospel Publishing House (GPH), began publishing tracts almost immediately upon its inception in 1914. GPH published tracts by their own Fellowship leaders, such as E.N. Bell, E. S. Williams, and Stanley Frodsham, as well as prominent preachers such as A. G. Ward and, later, his son, C. M. Ward.
In the Feb. 10, 1940, issue of the Pentecostal Evangel a call was published for "Ten Men Wanted." "Good men – saved men who are burdened for blinded, misguided, indifferent, sin-hardened souls. Women…young people are wanted, too." The advertisement went on to say, "Ten workers, with the Lord's help can accomplish wonders. Let each contribute $1.00 toward a $10.00 37-pound order of our full gospel tracts" in order to "keep public literature containers well stocked with papers and tracts…" They were reminded to "anoint your efforts with earnest prayer. Carry tracts wherever you go, and you will do much good."
GPH tracts covered a wide variety of topics, such as the need for holiness and separation from worldliness through consecration to God. Many contained testimonies of how God had delivered people from sin and life-controlling addictions. Others told the simple message of the gospel in easily understood form, while many provided a doctrinal defense of Pentecostal distinctives.
One Assemblies of God layman in Springfield, Missouri, Lester Buttram, felt the Lord telling him in 1926 to "Print My Word." Buttram felt that God put some strictures on him, however. He was never to charge for his productions and he would not promote one particular denomination. The 22-year-old man withdrew $7.10 from his bank account and went to a local printer with his message. The printer was so impressed that he offered to double the order and print $15 worth of Buttram's tracts. This led to the formation of the Gospel Tract Society, which is still in business and based in Independence, Missouri.
While most Pentecostals believe that the most effective evangelism technique is one-on-one relationship building, many still use tracts. With gospel tracts, believers are able to leave written and visual material in a variety of places, providing all kinds of people with a relevant message. Gospel Publishing House, through My Healthy Church, continues to offer a wide variety of tracts for use in evangelistic ministry.
Read the call for tract distribution on page 3 of the
Feb. 10, 1940, issue
of the Pentecostal Evangel.
Also featured in this issue:
• "A Healthy Assembly" by Donald Gee
• "Sign Posts on the Spirit-Filled Highway," by Willard Peirce
• "When God Is In It," by Charles Elmo Robinson
And many more!
Click here to read this issue now
.
Pentecostal Evangel archived editions courtesy of the
Flower Pentecostal Heritage Center
.