This Week in AG History -- Feb. 12, 1938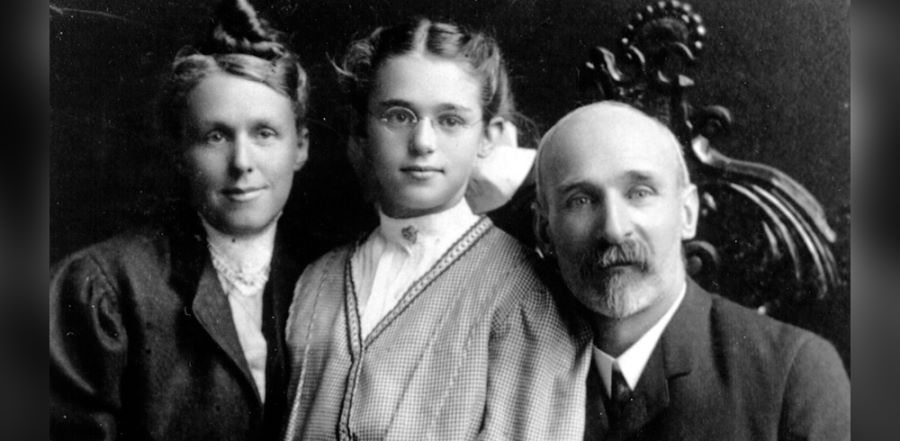 Don't miss any stories. Follow AG News!
Carrie Judd Montgomery (1858-1946) experienced a physical healing in 1879 that led her on a journey to ever-deepening fullness of life in the Holy Spirit. A prolific author and sought-after speaker, she also established healing homes and was involved in humanitarian work. Montgomery became an important voice for spreading the message of faith in God's power in both the Holiness and Pentecostal movements.
In the Feb. 12, 1938, issue of the
Pentecostal Evangel
, Montgomery wrote an article on the steps of faith taken by the Jewish patriarch, Abraham. The following quote from that article encapsulates much of her teaching on the life of faith: "When you really hear God speak through His Word it is as easy to believe as it is to take your next breath. If you have ever had an experience of this kind, the memory of it will always encourage you to trust Him yet again."
As a youth, Montgomery attended an Episcopal church in New York. She was encouraged by her bishop to "swiftly obey the voice of the Spirit." As a teenager, she started a Sunday School for neighborhood children and sought to be used of God. However, the idea of surrendering herself to God's will frightened her. She knew she must abandon sin, but she was afraid that surrendering herself to God would require her to abandon her gifts and talents, as well. She feared that in doing so God would not allow her to fulfill her life dream — to be a writer.
In 1876, when she was 17 years old, she fell in an awkward position on the icy ground. She was confined to bed with "hyperesthesia of the spine, hips, knees, and ankles." For almost three years her outlook was grim, as her weight dwindled down to 85 pounds. In 1879, her father read about an African-American woman, Sarah Ann Freeman Mix, who had experienced a healing of tuberculosis and had a ministry of praying for the sick. Montgomery asked her sister to send a letter to Mix requesting prayer.
The family received a quick reply asking them to trust wholly to the care of Almighty God and to believe the promise of James 5:15, "and the prayer of faith shall save the sick." Mix asked them to pray at a certain time on Feb. 26, 1879, and she and her prayer group would also prayer and believe God for healing.
On that day, the Judd family prayed in faith. Carrie struggled to overcome the doubts in her mind but, finally, turned over in her bed and raised herself up alone for the first time in over two years. By April, she was able to walk outside and in July she returned to lead her Sunday School class.
Montgomery received so many inquiries about her experience that she published her story,
The Prayer of Faith
, in 1880. This book became one of the first theological writings on divine healing as provided in the atonement of Jesus Christ. In 1881, she began the publication of a periodical,
Triumphs of Faith
, which she continued to publish for the next 65 years. God fulfilled her desire to be a writer.
Believing that the life of faith was essential for the spiritual life that God intended for His people, she began teaching on the subject in conferences. She was soon known for her national ministry on the faith-filled life of holiness. In 1890, she moved with her new husband, George Montgomery, to Oakland, California. There, she opened Home of Peace, a healing home where she taught guests how to pray for and receive healing.
When a revival began in Los Angeles at the Azusa Street Mission, Montgomery began to publish reports of its services in her paper. Pentecostal services began to be held in Oakland, and Carrie attended a meeting. She later wrote, "I had myself received marvelous anointings of the Holy Spirit in the past, but I felt if there were more for me I surely wanted it." She received her own personal Pentecostal experience in 1908.
In 1914, Montgomery became a charter member of the Assemblies of God. She was able to remain a part of the Assemblies of God without cutting her ties to her broader network of evangelical and Holiness believers. Upon her death, her ministry was carried on by her daughter and son-in-law, Faith and Merrill Berry.
The list of early Pentecostal ministers influenced by Montgomery's ministry read like a "Who's Who" of the Holiness/Pentecostal movement — A.B. Simpson, William Booth, Pandita Ramabai, Maria Woodworth-Etter, William Seymour, John. G. Lake, A.J. Tomlinson, Alexander Boddy, Smith Wigglesworth, Elizabeth Sisson, Aimee Semple McPherson, A.H. Argue, Juan Lugo, Chonita Morgan Howard, and many others.
Montgomery's hunger for the fullness of the Holy Spirit and the life of faith was an earmark of her ministry. While she traveled in international missionary work and established camp meetings, orphanages, training schools, and a home for elderly minorities, she never strayed from the core message of her ministry — God calls his people to holiness and to healing.
Read Carrie Judd Montgomery's article, "The Faith of Abraham," on page 2 of the
Feb. 12, 1938, issue
of the
Pentecostal Evangel
.
Also featured in this issue:
• "The Challenge of the Opening and Closing Doors" by Noel Perkin
• "Depravity" by E.S. Williams
• "Ye Shall Be Witnesses Unto Me"
And many more!
Click here to read this issue now
.
Pentecostal Evangel
archived editions courtesy of the
Flower Pentecostal Heritage Center
.