This Week in AG History -- March 12, 1927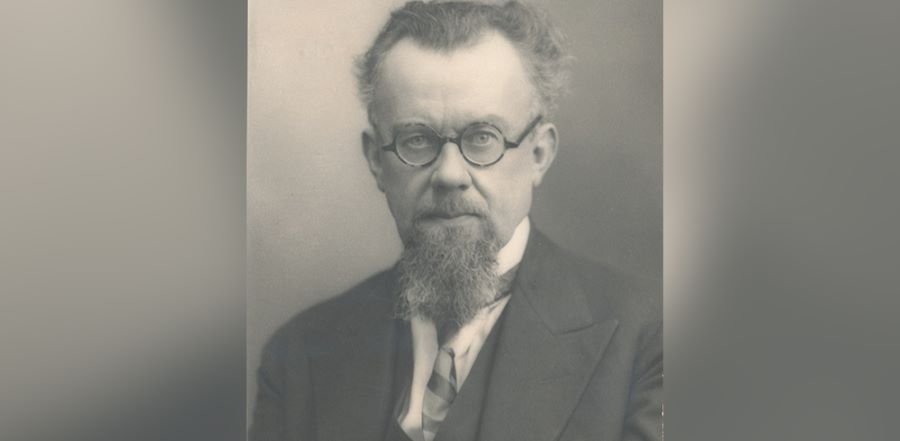 Don't miss any stories. Follow AG News!
When Sven Lidman (1882-1960), one of Sweden's most prominent authors, accepted Christ as Savior and was baptized at the leading Pentecostal church in Stockholm in 1921, it seemed as though the entire nation took notice.
Sven Lidman (pronounced Leed'man) was born into great privilege. He received a classical education and he earned a law degree from the University of Uppsala. He spent several years in the military and then studied the Italian language and literature. By 1920, he was an acclaimed author and had published 13 books and collections of poetry.
Lidman was a renaissance man. His writing explored family issues and sexuality, philosophy and ethics, and religion and politics. He cultivated relationships with the leaders of his day, and his early life was steeped in worldly pleasures.
Despite Lidman's background, his conversion to Christ was not entirely unexpected. For years, he had experienced a deep spiritual struggle. He felt deep inner longings that could not be satisfied with brandy, tobacco, and women. He openly shared this struggle through his pen, most notably by authoring in 1920 an annotated translation of St. Augustine's
Confessions
. Lidman closely identified with this fifth-century-Christian theologian who abandoned a life of youthful sin and who used his testimony to proclaim the transformative power of the gospel. Lidman soon followed in Augustine's footsteps.
However, it came as a shock to many that Lidman cast his lot with the Pentecostals. Lidman could have easily joined a respectable Lutheran congregation of the State Church of Sweden. Instead, Swedish Pentecostal leader Lewi Pethrus baptized him at the Filadelfia Church.
Lidman's conversion was widely covered by the nation's press and became an ongoing topic of conversation at dinner tables across Scandinavia. The Christian press in other corners of the world also trumpeted this news.
Why did Lidman join the Pentecostals? Lidman's conversion to Pentecostalism, according to a March 12, 1927,
Pentecostal Evangel
article, occurred because "Lidman is no half-way man." Lidman would not settle for anything less than genuine, historic, biblical Christianity. "He believes in the power of Christ's blood and redeeming death to save from sin," the article continued. "He believes in a whole dedication to the Christian witness."
Lidman rejected the notion that his conversion consisted merely of "a series of processes in the subconscious." Rather, he maintained that "real conversion" to Christ was "the consequence of meeting with a supernatural power." True Christians who have encountered and submitted to God's power, Lidman wrote, are living sacrifices. "It is only upon the whole offering on the Lord's altar that His fire falls," he declared.
Lidman illustrated this theology of full consecration with his own testimony. At first, Lidman was not willing to surrender all of his ways to God. Early in his Christian life he defended his use of brandy and tobacco. But he recounted how his mind changed after an encounter with a man who had suffered the ravages of alcoholism. He realized he could not calmly stand before an alcoholic and say, "Drinking is an adiaphoron, a matter of indifference, and not a sin per se." He could no longer in good conscience say, "There are many splendid and real Christians who are not abstainers." Lidman came to believe that saving faith should permeate every aspect of a Christian's life. Lidman submitted his destructive habits to God, and God took away his desire for alcohol and tobacco.
Although Lidman was an intellectual, he grew disenchanted with certain intellectual fads of his day. He had the independence of mind to challenge prevailing cultural assumptions and instead wanted something real. And reality, for Lidman, was the living Christian faith that he found in the Pentecostal church. The Pentecostal baptism in the Holy Spirit, he wrote, "is a full-blooded reality and no pale intellectual ideal."
Filadelfia Church pastor Lewi Pethrus asked Lidman to become editor of the leading Pentecostal magazine,
Evangelii Härold
. Lidman accepted and served in that position from 1922 until 1948. Lidman became a popular Pentecostal preacher, and countless people accepted Christ through his voluminous writings. Lidman became the second best-known Pentecostal in Sweden, after Lewi Pethrus.
The article concluded by noting that Lidman encouraged both education and heartfelt faith. While some "rationalists" and "revivalists" seemed to believe that faith and understanding are mutually exclusive, Lidman asserted that Christians need both.
"I know not how the forces of cold and darkness can ever be driven from the heart save through revival Christianity. They can never be cultivated away," he wrote. "But after revival has gone ahead with its spring break-up of ice and frost the work of education begins." According to Lidman, education is a work of the Spirit.
Sven Lidman's profound influence on Swedish Pentecostalism may have faded from the memory of many American Pentecostals, but his testimony and writings continue to challenge readers to seek the fullness of God. Lidman had the world but found it wanting. Like Augustine before him, the Swedish novelist and intellectual found that only Jesus could satisfy his deepest longings.
Read the article, "The Witness of a Swedish Novelist," on pages 4 and 5 of the
March 12, 1927, issue
of the
Pentecostal Evangel
.
Also featured in this issue:
* "Reminiscences of a Faith Life," by Marie Burgess Brown
* "African or Scriptural Brick," by Arthur S. Berg
* "The Blood," by J. Narver Gortner
And many more!
Click here to read this issue now
.
Pentecostal Evangel
archived editions are courtesy of the
Flower Pentecostal Heritage Center
.