This Week in AG History -- May 17, 1959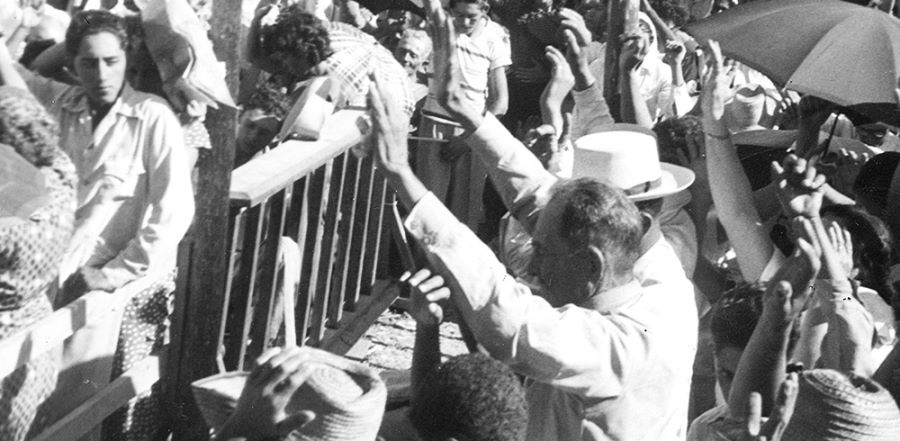 Don't miss any stories. Follow AG News!
The Pentecostal church in Cuba exploded in growth during a series of evangelistic and healing services throughout the island nation in 1950 and 1951. Several church leaders in Cuba, including Luis Ortiz, Dennis Valdez, Hugh Jeter, and Ezequiel Alvarez, hosted Pentecostal evangelist T. L. Osborn, and about 50,000 people made professions of faith in Christ. Jeter, an Assemblies of God missionary, wrote about this remarkable revival in the May 17, 1959, issue of the Pentecostal Evangel.

Jeter wrote, "One of the greatest moves of God's Spirit in our generation took place in the island of Cuba in 1950 and 1951. It was a common occurrence in many Cuban cities for crowds of 10,000 to 15,000 people to fill a baseball stadium or city park night after night to hear the gospel and to be prayed for."

The revival effected immediate and lasting change. Jeter noted, "Thriving congregations suddenly came into existence in places where previously we had had no work at all. The entire stock of the Bible society was quickly sold out. The miraculous was continually in evidence and people were convinced that of a truth God was in our midst."

What can we learn from the remarkable Cuban revival? Jeter identified five practical lessons:
1. A revival can be judged by its results over time. While some people initially questioned whether the Cuban revival was genuine, over the years it became obvious that people who were converted had become faithful Christians. Small churches were strengthened, and new churches were planted. The Assemblies of God Bible school in Cuba, which had temporarily closed due to lack of students, was overwhelmed in the years following the revival with students who had a burning passion to share the gospel.
2. True revival will be grounded in the Bible and will give glory to God and not to man. Jeter wrote, "Our principal evangelist, Brother Osborn, did not claim to have any special gift or revelation that would set him a class apart from the rest of us. He simply let us know what God had promised and inspired us to believe that God would keep His Word."
3. Effective "follow-up" is essential in order to integrate converts into churches. The best "follow-up," according to Jeter, is not merely a systematic visitation of converts, but the continuation of the revival spirit in local churches. The same spiritual vibrancy that brought people to faith in Christ will also inspire people to be faithful in church.
4. Church leaders must be willing and able to relocate their congregation if current buildings become inadequate. Pastors who showed flexibility regarding location could more easily retain converts simply because they could fit into the church.
5. Technology can help to reach the unchurched and to communicate with the faithful. In the Cuban revival, radio was an important tool by which news of the revival spread quickly.
"Can this revival be duplicated elsewhere?" Responding to this question, Jeter suggested that "God is no respecter of people, or of nations." He noted that revival came to Cuba following a long period of time during which believers developed their faith and prepared for a move of God. While recognizing that God is sovereign in bringing revival, he stated, "I know of no reason why it cannot happen anywhere else in the world."

Read Hugh Jeter's article, "Lessons from the Cuban Revival," on pages 6, 7, and 22 of the May 17, 1959, issue of the Pentecostal Evangel.

Also featured in this issue:

* "Standing Together," by Frank J. Lindquist

* "Led by the Holy Ghost," by W. E. McAlister

* "Do the Deaf Speak in Tongues?" by Twila Brown Edwards

And many more!

Click here to read this issue now.

Pentecostal Evangel archived editions courtesy of the Flower Pentecostal Heritage Center.