This Week in AG History -- Sept. 6, 1964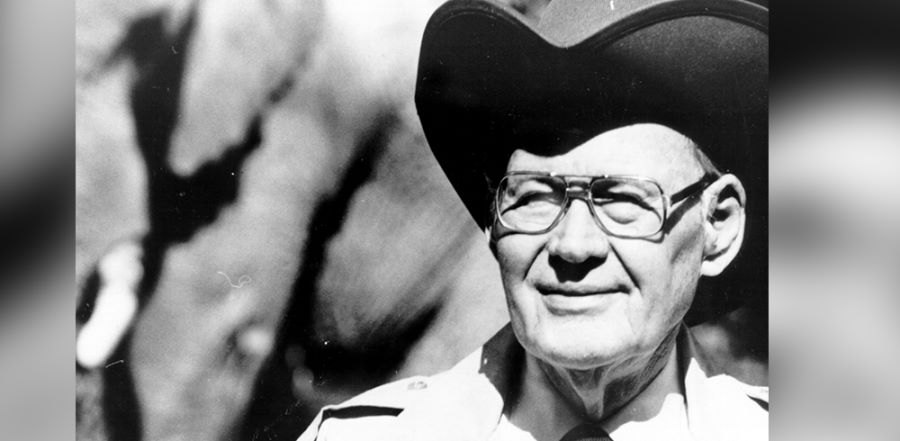 Don't miss any stories. Follow AG News!
Morris Plotts (1906-1997) was born and raised in Omaha, Nebraska. He received Christ in an evangelical church in 1923 and began his preaching career two years later. In 1932, Plotts received the baptism in the Holy Spirit while attending a meeting in Kennett, Missouri.
In 1933 he planted a church in New Sharon, Iowa, and evangelized neighboring towns. The services in Montezuma included loud singing, shouts, and preaching which lasted from 8 p.m. to as late as 3 a.m. Soon he found himself in jail for 30 days with a charge of disturbing the peace. Undeterred, Plotts continued to preach the gospel from his jail cell. Afterwards he continued evangelizing and pioneering churches. He built a church in Lynnville, Iowa, and later took a pastorate in Lake Charles, Louisiana.
In 1955, at age 49, Morris Plotts felt an urgency to do overseas missions work. The Division of Foreign Missions (now Assemblies of God World Missions) felt he was too old to go as a first-time missionary. After his application was rejected, he decided to raise his own support and go out on his own. He packed up his bags and went to Africa. His answer to critics was that God had called him.
He traveled to Kenya and worked with the Wanga people, who had never heard the gospel. The chief offered land for him to build a church and a school. Plotts built a 500-seat church and began preaching salvation, healing, and Spirit baptism, and also prayed and cast out demons.
That initial missionary effort gave Plotts the assurance that God without a doubt had called him to Africa. Morris and his wife, Neva, were given AG missionary appointments in 1960. His ministry took him into other jungles, facing lions, elephants, and cannibals. He fearlessly faced villagers who had seen few white men or none at all. His burning desire was to reach people for whom Christ died, people who had never heard the gospel.
Later he served as a missionary-evangelist in Tanzania and Guyana and other places. Plotts' large frame (he was over 6 feet tall and wore a size 16 shoe) earned him the African nickname, "Bwana Tembo," meaning "Lord Elephant." As a missionary evangelist, his ministry extended from Africa to as far away as Australia, Indonesia, and Japan.
Plotts' later vision turned to raising money for missionary projects and taking on the responsibility of constructing churches and schools across Africa. His drive took him away from home for many months, reaching another tribe or raising money in the U.S. for still another missions building. His daughter Marilyn said when he visited churches, "He made missions real. Elephants trumpeted, lions roared, and hippos splashed in rivers." But most of all, U.S. congregations saw the crying need of unreached people.
While Plotts may have been initially considered too old for missionary service in 1955, it is reported that he traveled 2 million miles, preached 10,500 times in 3,367 places, raised more than $3 million for missions, built 38 churches and three Bible schools, finally retiring in 1989 at the age of 83.
Morris Plotts wrote an article, "The Undelivered Letter: A Story of Blight and Blessing," published in 1964 in the
Pentecostal Evangel
. It was written as a parable to emphasize that missionary service is not optional. And of all people, Morris Plotts knew that well, for he let nothing stop him from the calling he had to go forward in missions, even when others said he was too old.
The parable told of a man named "Farmer Bliss" who was destined for bankruptcy, but a wealthy benefactor paid off all of his debts, so that he could become successful. A wonderful transformation took place in the Bliss family as the weight of unpaid debts was gone, and the farm began to prosper. The same story included a second man named "Poorman Knight" who lived a good distance away. The wealthy benefactor wanted Mr. Bliss to deliver a letter and check to Mr. Knight so that he also could be delivered from bankruptcy. With good intentions, Mr. Bliss set the letter aside and failed to deliver the check. After several years went by, and he never found the time to deliver the letter, he heard the startling news that this Mr. Knight had passed away due to starvation. It was too late to contact Mr. Knight. He was gone. Similar to this parable, Jesus came to deliver us from the debt of sin so that we may walk in newness of life through salvation. And we have a message to deliver to other lost souls still waiting to hear the gospel. We are all called to fulfill the Great Commission to preach the gospel to all nations and make disciples before it is too late.
Read more about "The Undelivered Letter" on pages 2 and 3 of the
Sept. 6, 1964, issue
of the
Pentecostal Evangel
.
Also featured in this issue:
• "Try the Spirits," by Joe Newby
• "Light-for-the-Lost in Bombay, India," by Everett L. James
• "Revivaltime Choir and Prison Division Collaborate in Prison Evangelism," by Stanley Michael
And many more!
Click here to read this issue now
.
Pentecostal Evangel
archived editions courtesy of the
Flower Pentecostal Heritage Center
.