Ashcroft Reveals the Rich Heritage of Hymns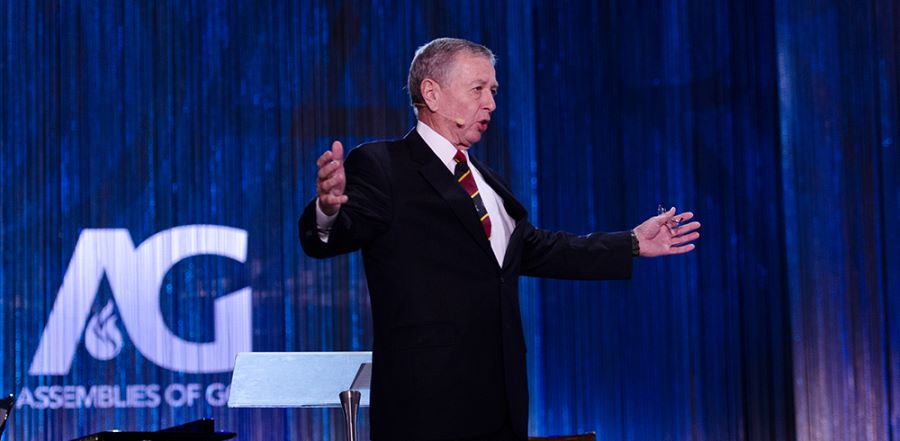 Don't miss any stories. Follow AG News!
Returning to the time-honored hymns that communicate Scripture, former U.S. Attorney General John Ashcroft led those attending the Friday morning business session in a time of reverent and worshipful singing and reflection on Scripture.
Ashcroft, a life-long Assemblies of God member, the former governor of Missouri, and the son of the late AG minister and college president J. Robert Ashcroft and wife Grace, opened the time of singing by sharing how hymns have sustained, defended, and inspired this nation throughout its history.
Reading a collection of Bible verses that shared Scriptures' instruction on singing, Ashcroft then provided a congregational reading of Isaiah 9:6 -- "For unto us a child is born, unto us a son is given; and the government shall be upon his shoulder: and his name shall be called Wonderful, Counselor, the mighty God, the everlasting Father, the Prince of Peace."
The remainder of the service featured hymns that reflected a portion of Isaiah 9:6, from the word "name" through all the names for Christ listed in the verse.
As Ashcroft led, the words of songs such as Jesus is the Sweetest Name I Know, His Name is Wonderful, I Have Decided to Follow Jesus, A Mighty Fortress is Our God, He's All I Need, The Lord's Prayer, Wonderful Peace, and many others echoed powerfully through the auditorium, with songs frequently ending in applause and praise to God.
Between the singing of each set of themed songs, Ashcroft would read Isaiah 9:6, pausing at the key word for the next set of songs.
Ashcroft who led a similar service in during the 2013 General Council has found a warm welcome for this message in other fellowships, at district events and churches. General Superintendent George O. Wood said that typically they don't repeat events in consecutive General Councils, but there was such a favorable response to Ashcroft's message and celebration of hymns, he was asked to return again this year.
The service drew to a close with a series of songs covering prophecy, history, currency and expectancy, and Ashcroft leading the congregation in worshipfully singing the chorus He's Coming Soon.