A Dream Coming True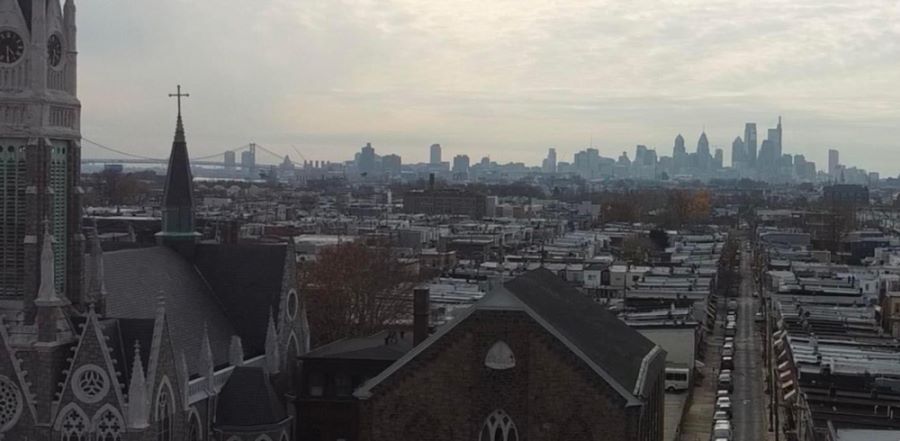 Don't miss any stories. Follow AG News!
More ministry will take place in inner-city Philadelphia as a result of Assemblies of God U.S. Missions career associate David Dominguez negotiating the purchase of a 50,000-square-foot complex to operate Philly Dream Center.

That's quite a change from the 2,500-square-foot home the couple began ministering from when they first moved to the City of Brotherly Love in 2016 from balmy Ormond Beach, Florida. The dream center has taken over four buildings on one property that formerly belonged to a Catholic diocese. The structures include a rectory, convent, school, and church. Except for the rectory, where priests lived, the structures need cosmetic repairs.

Dominguez, 41, has raised one-fourth of the $1.2 million sale price and secured a loan for the remainder of the four-building complex. Mission construction teams will be doing much of the necessary renovation.

The new location will be the base for Philly Dream Center's ministry operations that include an afterschool with art programs such as graphic design classes, music production, videography, photography, and computer coding for kids in the inner city.

The center is a mile away from the historic Kensington section of Philadelphia. In recent years, the area has become a hub for illegal drug activity and prostitution. Recently the dream center added Sunday morning church services to go along with Thursday night Bible studies.

"Philadelphia is the birthplace of America, but it is number one in deep poverty and opioid addiction," says Dominguez. He notes that the city averages 100 drug overdose deaths a month. Last year, Philadelphia had a record 559 homicides — 59 more than the previous high in 1990.

Many of the 27 bedrooms on site previously occupied by priests and nuns are being converted to living quarters for short-term missions teams, long-term missionaries, staff, and other volunteers engaged in Philly Dream Center ministry.

Ultimately, the former rectory will become a home for pregnant women who need housing. Men who have graduated from a drug rehabilitation center will be able to live at the center while attending college or learning a trade.

Both short- and long-term missionaries are part of the Philly Dream Center staff helping in various capacities. Many perform double or triple duty. In all, the dream center will host around 40 mission teams this year.

Currently the ministry has a fully equipped food truck that facilitates feeding programs for children and the homeless. The truck features two grills, a fryer, and stove top, which allow the dream center to distribute such fare as pancakes, pretzels, and soup.

Eventually, Dominguez hopes that the afterschool program can expand to provide art, music, and dance lessons for kids.

Dominguez and his wife, Shirrie, earlier spent a dozen years ministering in Florida at Calvary Christian Center in Ormand Beach. But Dominguez sensed the Lord calling him back to an urban area with myriad needs. He chose Philadelphia, where he lived in his youth before his family fled threatened violence and moved to Miami.

YOUNG PEOPLE MINISTERING
Matthew L. Smith has been heavily involved in ministry at the Philly Dream Center the past 18 months. Smith leads a men's Bible study, handles bookkeeping, is a "dormitory dad," and assists with the food truck.

"Handing out food opens the doors to evangelism," says Smith, 25, a native of Langhorn, 25 miles northeast of Philadelphia. He sees the new building acquisition as an avenue to further counseling and disciplining opportunities.

"We will be able to increase the number of men who are ministered to," Smith says. "There are a lot of fatherless people out there."

Olivia G. Dan, dream center director of hospitality and communications, helps plan and organize mission team trips, leads a women's Bible study, serves on the worship team, and handles administrative duties. She likewise participates in daily food giveaways and an evangelism program for kids called S.H.I.N.E. — Spreading Hope in Neighborhoods Everywhere.

Dan, a 2021 Temple University graduate, started working full time at the ministry early this year.

"We find teams from various churches who want to serve or Chi Alpha groups who want to evangelize," says Dan, 21, a native of Sussex County, New Jersey. "They are from different age ranges and skills sets, including tradesmen, plumbers, landscapers, and carpenters."

Juel Hayes, a Chi Alpha intern at Virginia Tech, spent her weeklong spring break ministering at the Philly Dream Center along with 14 students from the school in Blacksburg.

"The dream center team has a heart for evangelism," says Hayes, a native of Norfolk. "They are well equipped to minister to the homeless, street people, and drug addicts in need of Jesus' love. I love to talk to people about Jesus."

Hayes, 24, started attending Chi Alpha meetings her senior year at Virginia Tech, where she earned a material science engineering degree. She rededicated her life to Christ during the COVID-19 pandemic, then joined the Chi Alpha campus missionary-in-training program.
Bottom Photos:
1) David and Shirre Dominguez in the sanctuary of the new facility.
2) Juel Hayes spent her spring break helped at the center.
3) Matthew Smith prays with a local resident.
4) Olivia Dan talks to a homeless woman.