A Latin America Calling in the U.S.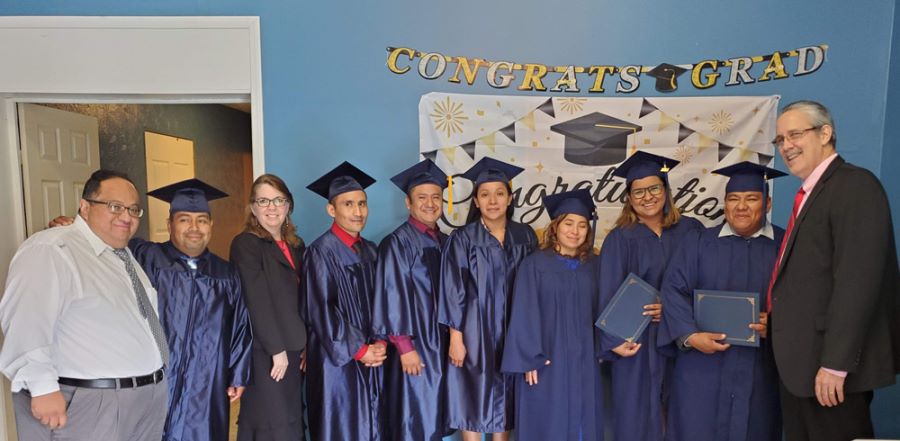 Don't miss any stories. Follow AG News!
Isaias Arriola had planted churches before, but he credits Assemblies of God U.S. missionaries with inspiring him to "take up the torch again."
A licensed AG minister, Arriola, 59, is grateful for the training provided by
Intercultural Ministries
missionaries
Roger and Sharon Holland
, who are equipping Hispanic ministers. The
Spanish Eastern District
recently honored the couple for their efforts.
In May, Arriola planted Iglesia Jesus Rey de Reyes in Winder, Georgia, which previously didn't have a Spanish-language AG church. He says the Hollands sparked a new vision and a fresh anointing for him to launch the church.
In 2017, the Hollands returned to the States after 18 years as AG
world missionaries
. They joined U.S. Missions Intercultural Ministries to train and mentor church planters in the Spanish Eastern District, which covers 13 states, Tennessee the southwestern most up to Maine in the northeast. The Hollands are focusing their efforts on Tennessee, Kentucky, and Rhode Island.
"The most challenging part of training Hispanic ministers has been convincing leadership, pastors, and prospective planters to trust that their passion to reach souls can be accomplished through this strategy," says Roger Holland, 59. "Building relationships, especially with mother churches and planters, keeps open lines of communication and encouragement."
The training involves a yearly preparation of mentoring and encouraging church planters, starting with a retreat during which pastors are encouraged to take on a project. For once a month over six months, church planters and pastors of parent churches receive instruction on discipleship, evangelism, church organization, family relationships, and reaching the community.
"Our greatest joy and satisfaction is to see the Holy Spirit develop trust in the leadership and planters as they progress through the classes and mentoring," says the 57-year-old Sharon, who has Hispanic heritage. "As a result of this trust, their confidence is increased to go and plant, in spite of many obstacles and restrictions."
Jose W. Alvarez, 49, a licensed AG minister, says the Hollands have a passion for empowering church planters.
"They have a heart and passion for mentoring and follow up to motivate us to keep on the vision to serve God as church planters," says Alvarez, who along with his wife, Elizabeth, relaunched Iglesia Emanuel in Evansville, Indiana, in January. "The training has inspired me to get involved with church planting."
Pastors Edwin and Aida Torres planted
Centro de Adoración Familiar Asambleas de Dios
in McDonough, Georgia, in 2018.
"We have seen God move in our congregation as the Hollands help us train leaders for the ministry, provide resources, counsel, encourage and fellowship with us on an ongoing basis," says Edwin Torres, 59. "We rely on them when we need advice or just need someone to listen. Their faithfulness has helped our church plant develop a heart for missions."
Spanish Eastern District Superintendent
Manual "Manny" A. Álvarez
appreciates the Hollands' dedication.
"They have been offered many other opportunities to serve in different roles, but they have been faithful and loyal to their calling as missionaries," says Álvarez, who is also an AG
executive presbyter
. "I'm proud of their work as a team and commitment to missions."
Álvarez, a guest singer for the couple's wedding more than 30 years ago, notes that the Hollands are effective in securing church plants where couples will embark on ministry.
"They coach them throughout the entire process and the district is engaged with those new church plants," Álvarez says.
The Hollands previously led a Bible school, and planted churches and the first Teen Challenge in Santa Cruz, Bolivia. They also served in Ecuador, where they mentored planters and planted a church.