A Lifetime of Preparation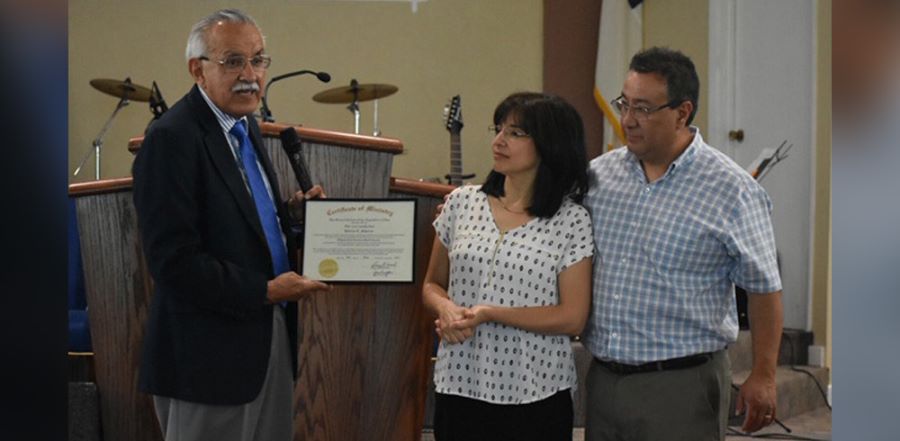 Don't miss any stories. Follow AG News!
At the age of 50,
Patricia E. Figueroa
, obtained her ministerial credentials in 2017 and became the lead pastor of
El Faro Assembly of God
, a 30-year-old Hispanic congregation in Springfield, Missouri.
Figueroa first moved to the U.S. at the age of 21 from her native Chile, where her father, Oscar René Arancibia, served as an AG official. She came with her husband, Nelson N. Figueroa, to support the ministry of her father-in-law, Santos Figueroa, who pastored at Iglesia Sinai Asambleas de Dios in Holland, Michigan. She remained in this support role for 28 years.
"God gave us different gifts to serve," Figueroa says. "Nelson is a good musician and good in the technical areas; he can fix anything. My area was always teaching, discipleship, and singing."
When Figueroa's father-in-law died, she and her husband felt they needed to move on so the church could have new leadership.
"We had never considered pastoring ourselves," she says. "We had always felt the call to serve in a support role."
In the season of transition, they moved to Springfield to be close to her sister, M. Janet Arancibia, a longtime Assemblies of God national office employee, and her daughters — Angeliek, Vania, Ana, and Pamela — who attended
Evangel University
at the time.
They joined El Faro Assembly of God and prepared to help in any way needed. Figueroa joyfully anticipated a season of increased quiet time and a more organized home. Her ministry at El Faro began with a Wednesday night Bible study for children. Before long, though, pastor Luis Rojas told her he had been praying for God to send the right people to lead the church and allow him to retire. Rojas felt God had sent the Figueroas in answer to his prayers. He encouraged Figueroa to pursue her ministerial credentials.
Initially, she hesitated about such a nontraditional role, wondering how members of the church would react.
"The big challenge was the idea of being a female pastor, especially among Hispanics," she says. "Most people expect the man to hold credentials." Despite her concerns, she began to pursue ministerial credentials and found support in the congregation.
While studying through
Global University
, Figueroa asked
Manny E. Cordero
, senior director of AG Chaplaincy Ministries, and Efraim Espinoza, recently retired director of the
Office of Hispanic Relations
, to mentor her. They both provided support and encouragement as she learned how to lead the church.
After obtaining credentials, Figueroa received a 100 percent approval from the El Faro members who voted on her candidacy to become lead pastor. Nelson works as a maintenance mechanic at Kraft Heinz Company.
Cordero says the church has achieved financial stability and made improvements to the building under Figueroa's leadership.
"She has prepared leaders to deal with various segments of church life like youth, children, and Sunday School," Cordero says. "They have an outreach team that is ministering to their community."
Figueroa believes entering ministry later in life has equipped her for the role. Experiences like immigrating to the U.S., caring for her mother who died from cancer, and raising a blended family help her to understand congregants and to minister more effectively.
"Because of the Lord giving me all that experience and guiding me, I feel that I can give a lot," Figueroa says. "I have seen family struggles, and that has taught me to be understanding and to have empathy for others, families, single parents, and people struggling with their own sinful nature."