A New Journey in Knoxville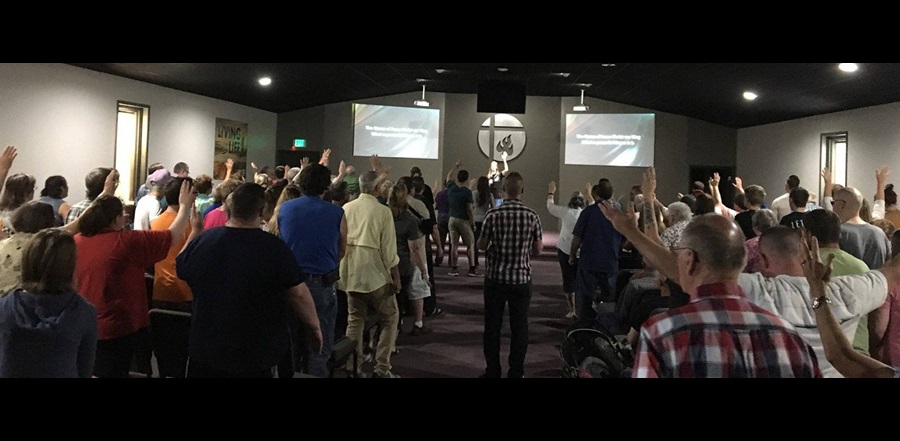 Don't miss any stories. Follow AG News!
The name New Journey Church in Knoxville, Iowa, carries multiple layers of significance.
For Dave J. Woodcock and his wife, Sara, the church's opening nearly two years ago began a new journey working as lead pastors. It also marked a return to the area where, just over 12 years ago, Woodcock started his personal journey out of alcohol addiction and into a relationship with Christ.
Now, Woodcock's goal is that each week the church can be a place for men and women walking through its doors to receive their own fresh start, no matter their background.
"We want to attract people who are coming to the Lord for the first time, and we're really reaching out to those who are addicted," says Woodcock, 52. "We feel like God wants to do a lot of restoration in this town."
New Journey opened in September 2016 and now draws around 100 attendees each Sunday.
Knoxville's previous Assemblies of God church closed in 2015 under difficult circumstances. About a year later, Indianola First Assembly of God lead pastor Barry P. Hill noticed that several attendees drove to services from Knoxville. Like Indianola, Knoxville is a county seat, but with less than half as many residents: 7,200. Hill approached the Iowa Ministry Network and learned the district still owned the building and parsonage.
"We went over and looked at the property," says Hill, 46. "The moment I pulled into town I started to get a heart for Knoxville."
Indianola First decided to plant a new congregation on the premises as a parent-affiliated church. Indianola First remodeled the Knoxville church's sanctuary, repainted the building, and fixed up the parsonage.
To lead the church plant, Hill sought out Woodcock, who in 2005 had been saved at the church in Indianola — where he grew up. The conversion came on Christmas morning, following Woodcock's return to Indianola after living 20 years in Chicago. Over the years, Woodcock developed an alcohol addiction, and ultimately realized he needed a life change.
"I just got to the end of myself," he says. "I was overwhelmed, got on my knees and cried out to God for help."
Woodcock walked into Indianola First, where he dedicated his life to Christ. He soon entered Adult and Teen Challenge of the Midlands in Colfax, Iowa. He completed the residency program and went on to attend the Teen Challenge International Ministry Institute in Jacksonville, Florida. Woodcock then worked with Adult and Teen Challenge of Texas, leading the men's program at its Azle campus for eight years. He also began serving part-time as an associate pastor of a local church.
Woodcock's return to Iowa sparked rejoicing at the Indianola church.
"When I announced that Dave and Sara were going to be pastors, our church erupted in praise because they've seen what God has done," Hill says. "There's nothing more exciting than to see someone go from a drunk who walked into our church to a pastor on our staff doing great work."