A Veteran in Many Respects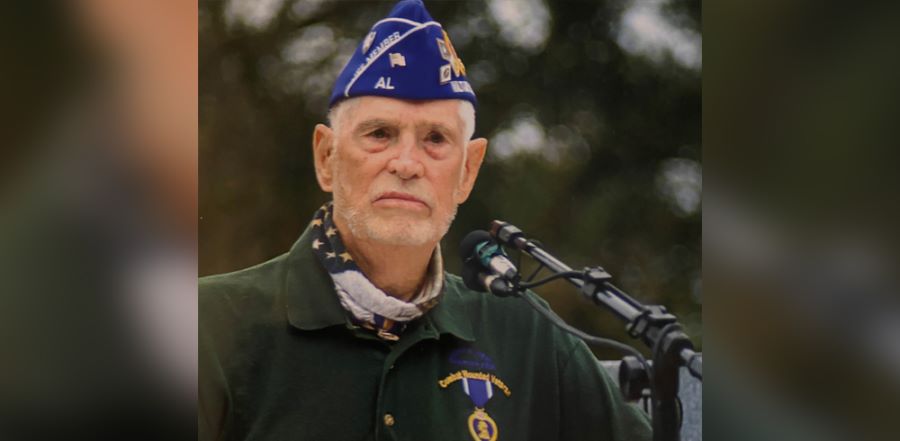 Don't miss any stories. Follow AG News!
Nonagenarian Ed Phillip Evans has a fitting life Bible verse that led him to an unexpected ministry calling.

The U.S. Mission America Placement Service (U.S. MAPS) RV volunteer, who served in the U.S. Army during the Korean War and received the Purple Heart, turns 93 in May.

"The verse that I live my life by is Philippians 4:13: I can do all things through Christ who strengthens me," Evans explains.

The verse led him and his late wife, Millie, to RV MAPS.

"During the last 23 years before Millie died, we were church builders and missionaries," Evans says. "I knew nothing about building, but if the Lord calls you, He will equip you."

The couple joined RV MAPS in 1996 and traveled around the nation in their motor home before retiring in 2015. They had been married for almost 66 years before Millie died in October 2017.

"We helped build more than 20 churches," Evans says. "We also worked on colleges and camps. We worked for three months in Puerto Rico after Hurricane George."

U.S. MAPS Senior Director of Church Mobilization Billy D. Thomas notes that Evans worked tirelessly as an RV MAPS volunteer.

"Ed inspired all who worked with him during his ministry with the RVers," Thomas says. "He was a hard worker and a great leader."

Besides helping construct more than 20 churches in New York, Pennsylvania, Florida, Alabama, and elsewhere, Evans and his wife worked on 63 repeat projects, Thomas says.

"Ed was the job supervisor on the projects," Thomas explains. "He arrived at the project early and made sure that everything was ready. Every day he started his team in a brief prayer and then off they went to work. At break time, there was a Bible devotion and prayer time."

Thomas says Millie worked alongside her husband in connecting and encouraging RV MAPS volunteers.

"She met with the ladies that were not working," he says. "She made sure that no lady was ever forgotten or left out."

Michael D. Lynn, pastor of Robertsdale First Assembly of God in Alabama, says the couple helped with the construction of the church building in 2008 and 2009. Evans remains a member of Robertsdale First Assembly.

"It has been my privilege to pastor Ed and Millie for over 20 years," Lynn says. "God used them to serve this great Fellowship. Ed looked for places to go and couldn't wait to get involved. Every job he did in the RV ministry or in our church he did with passion, because they were doing the Lord's work."

Lynn notes that Evans, who had oversight of the Robertsdale First Assembly project, "did everything but the plumbing work."

"Ed put a great team of workers together," Lynn says. "What a blessing he was and still is to our church."

Evans served in the U.S. Army from 1948 to 1968, retiring as a command sergeant major. His was among the first units to arrive in Korea in July 1950, only a month after the conflict started. Evans spent three days behind enemy lines without food or water. Also during the war, he suffered severe injuries from a mortar shell and nearly lost his leg, being evacuated to Japan for treatment. He was awarded a Purple Heart for his service and in September he will be recognized at West Point's National Purple Heart Hall of Honor in New Windsor, New York.

"Jesus has not taken me home yet, so I feel blessed to be able to still talk about Him and all He has done in my life," Evans says.