AG Church Gives New Life to "the Bear"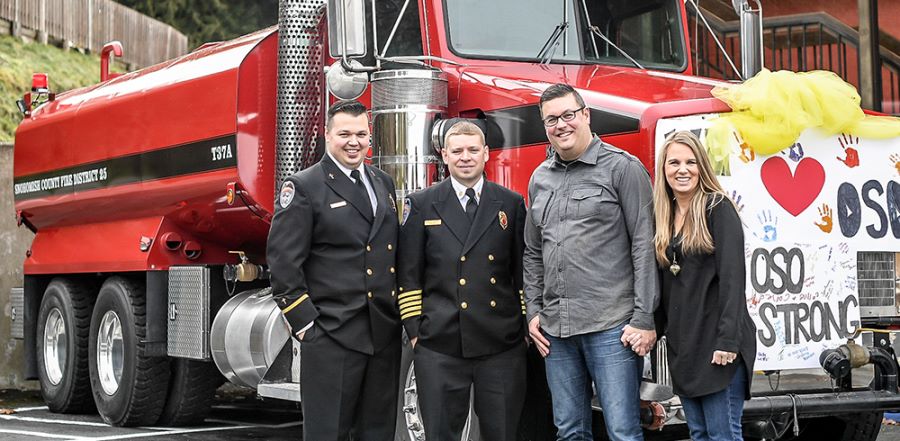 Don't miss any stories. Follow AG News!
When the volunteer firefighters of the Snohomish County Fire District 25 in Oso, Washington, learned that "the Bear" was in desperate trouble, the only hope seemed to be a temporary-bandage solution. But then Arlington Assembly stepped forward with a plan to not only save the Bear, but give it a whole new lease on life.
The Bear is the nickname of the district's largest tanker truck, also known as a water tender. Designed to carry up to 4,500 gallons of water to fight fires, it is an indispensable tool for effectively fighting fires in this region where few — often no — hydrants exist.
Last fall, the Bear had catastrophic engine failure — it needed a new engine that carried a turnkey price tag of over $34,000. Being a small fire department staffed by volunteers, even trying to temporarily repair the engine was a financial challenge.
When volunteer firefighter and chaplain Joel Johnson learned of the need, he turned to Ryan Kramer, pastor of nearby Arlington Assembly. Johnson, who is also the assistant pastor at the church, had been tasked by the Kramer and the church board to look for opportunities to make a difference with a relief fund the church had in its bank account. Purchasing and installing a new engine into the Bear seemed to be the ideal solution.
The relief fund was originally created (and a portion given to Arlington Assembly to manage and disburse) about three years ago through an appeal sent out by the Assemblies of God Northwest Ministry Network to help victims in the Oso area that had suffered loss due to a devastating mudslide. In that tragedy, at least 43 residents were killed when a rain-soaked mountainside collapsed and wiped out a neighborhood, engulfing nearly 50 homes and other structures and covering an area of about one-square mile in mud and debris.
The funds were used initially to help people with medical bills, rebuild homes, pay housing expenses, purchase clothing and toiletries, provide scholarships to students, and other needs connected to the tragedy. But the more time that passed, the harder it was to find opportunities to benefit the families.
However, the Bear now provided the church the perfect opportunity to use the fund to not only benefit those impacted by the mudslide, but the entire community and even the state of Washington by using the remaining money in the fund to give new life to the tender.
"The Bear is the largest tender in the county," Johnson says. "It helps out a lot when we get on a scene of a fire to have as much water as we can. Also, it can be mobilized to fight wildfires statewide, as it has a water canon along with sprayer fins that can spray and put out up to a 150-foot-wide path of fire as the tender is moving."
Oso Fire Chief Willie Harper says he and the department are extremely grateful for the gift. "Around here, if you don't have a tender and there's a fire, you just watch them [house, barn, business, etc.] burn to the ground," Harper says. "We have 28 square miles of no hydrants with a population just under 1,000 people — when the truck broke down, we were in a quandary."
Harper explains that the other trucks only carry up to 1,000 gallons of water — which lasts about 4 minutes, while the Bear gives his firefighters nearly 20 minutes of water. However, now that the Bear has a new engine with a warranty, he feels the department is set for years to come.
Although this is a story of generosity, Kramer says the financial gift (which included an additional $2,400 from Arlington Assembly to cover the bill) doesn't tell the whole story about what God has been doing in and through the church.
"I arrived here in May 2016, and the church had been in a steady decline for 12 years at that point, dropping from the low-400s to the low-100s in attendance," Kramer explains. "The church's desire and our desire was to get out into the community — the engine was just another way to get outside of our walls, into the community, and start making a difference."
What kind of difference has this new approach been making? Kramer can hardly contain his excitement about what God has done.
"In the last 10 months, our attendance has gone from 120 to over 230 in Sunday morning attendance and we've seen over 60 people make commitments to Christ," he says. "Every month our numbers are growing by 10 to 15 people. Our kids ministry has grown by 60 percent and our youth ministry has grown by over 120 percent. We are currently in the design phase to renovate our kids and youth wing to facilitate overflow in these areas."
Johnson readily agrees that God is doing incredible things in and through the church. By meeting people's practical needs, he says, the doorways to conversations about God and church have been thrown wide open.
"When we did the classic big check giveaway to Chief Harper," recalls Johnson, "one of the coolest things to see was the standing applause of our church and their excitement to give, the excitement to be generous. Anytime a church gets excited about being generous is an awesome thing."