Arduous Medical Lessons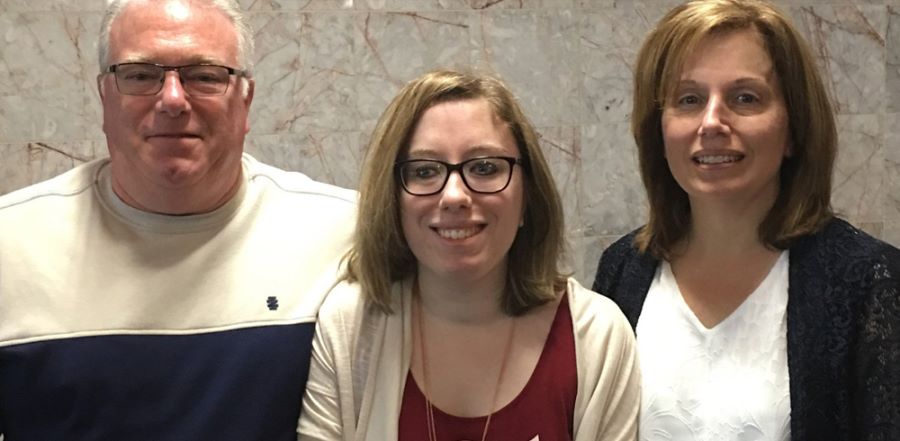 Don't miss any stories. Follow AG News!
Margo L. Carl went to a hospital emergency room one morning in February 2013 after awakening with double vision. Four days and a battery of medical tests later, a neurologist diagnosed Carl with both a
meningioma brain tumor
and
multiple sclerosis
.
The neurosurgeon told Carl the tumor needed to be removed — but such an operation must wait until symptoms of her MS subsided.
"I told the doctor to wait as long as possible," recalls Carl, who is a financial specialist with
Assemblies of God World Missions
in Springfield, Missouri. "I was afraid to have the surgery."
Carl, husband Joe, co-workers, and friends from
Life360 Church
in Republic all prayed for her healing. Over the course of a year, quarterly CT scans and MRIs showed the lesions on Carl's brain shrinking until they disappeared altogether.
In August 2014, Carl's physician officially removed multiple sclerosis findings from her medical records.
"The Lord powerfully reversed her diagnosis of MS," says Dalton A. Avery, campus pastor of Life360 Republic.
While the Lord healed Carl of MS, the tumor didn't dissipate. In March 2014, Carl underwent a craniotomy — the surgical removal of part of the bone from the skull. In a nine-hour operation, medical personnel used specialized tools to temporarily remove the bone flap and extract the tumor.
Carl recovered remarkably well, and after only three days of hospitalization she went home. Other than losing her sense of taste and smell because of a removed nerve, Carl sustained no ill-effects. She returned to work in 5½ weeks.
Throughout the twin ordeals, Carl says she sensed God's presence. Co-workers emailed her reassuring Scripture references and her boss, Ann E. Bull, had an open-door policy to talk on difficult days. Bull, 57, the supervisor for nearly all the 13 years Carl has been on the job, says she and others in the 23-person department regularly prayed with and for her.
"There is a ministry aspect to this job," says Bull, whose husband, David, is pastor of
Conway Assembly of God
.
"When it was all over, I wondered why some people are healed of physical illness and others are not," Carl says. "Or, in my case, why was my MS miraculously healed yet God didn't shrink the tumor when we asked Him to?"
Still, Carl believes God working through skilled and wise medical professionals — plus her amazing recovery — are just as wondrous as the MS healing.
The Carls have experienced medical breakthroughs on more than one occasion. Their only child, Jessica, was born 16 weeks premature at 1 pound, 6 ounces, and given less than a 5 percent chance of survival. Now, at 26, Jessica, despite early developmental and educational delays, is a student at Rhema Bible Training College in Broken Arrow, Oklahoma.
Jessica returned to the school in January after a year of medical setbacks related to
Guillain-Barré Syndrome
, a neurological disorder. Although she is wearing leg braces, Jessica is back on campus to finish her third year of biblical studies.
Starting in January 2018, Jessica spent 7½ weeks hospitalized, paralyzed in her face, legs, and feet. She had to learn how to eat, walk, and write again via occupational and physical therapy. Margo took off work 7 months to help Jessica recover.
"I'm still learning through all this, filtering everything that happens in my life by trusting in God's goodness," says Margo, 54. "Even when God isn't speaking, when I don't see anything actively happening on the outside, I'm trying to have complete confidence that He is working."
Carl says previously she viewed good and bad stages of life distinctly.
"Now I realize those seasons coexist," Carl says. "Even in darkness, we can see God's light."
In October 2016, Margo and Joe went on a Life360 mission trip, which confirmed a calling to full-time mission work. Last year, Margo obtained AG ministerial credentials. She and Joe — who works for a security systems company — have been appointed as missionary associates working with
Live Dead
, an AGWM church-planting movement among unreached people groups. They expect to have their budget raised by the end of the year. Margo has been cleared medically.
Bull, who held Carl's job for an extended period during Jessica's recovery, will be sad to see her go. Yet Bull is delighted Carl is heeding the missionary call.
"Missionaries love her," says Bull, who has worked in the department 30 years. "She is conscientious about her job and always has a gentle spirit. I hold her in great esteem — what she's overcome, what she's done, and where she's going."
Avery, 37, says Margo and Joe are sensitive to obey the Lord's guidance.
"They are Spirit-led people in everyday conversations and normal Christian living," Avery says. "Both are diligent students of the Word and motivated to do God's will."
"We didn't expect to become MAs at this point in our lives," Carl says. "While I don't have the full picture by any means, I can see God's hand in preparing us for the work He has yet for us to do."