Arkansas AG Church Burns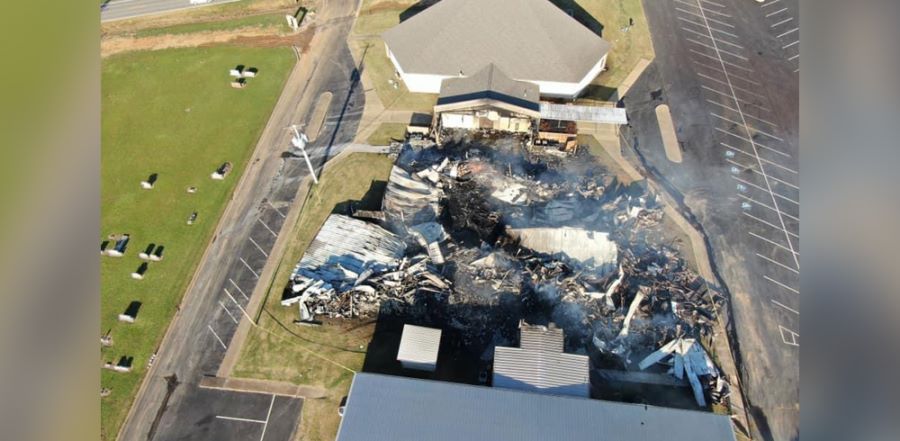 Don't miss any stories. Follow AG News!
Searcy Faith Assembly's central building, it's fellowship hall, went up in flames Wednesday morning. The fire left the former sanctuary in a pile of smoldering rubble by mid-afternoon, despite fire fighters' best efforts, who arrived within 10 minutes of receiving the call.

Faith Assembly, located about four miles north of Searcy, is led by Wes Miller, who became senior pastor of the Arkansas church in October. Although Miller says there is a lot of heartbreak with the loss of the former sanctuary, he has nothing but appreciation and praise for the fire fighters, community members, and churches who selflessly stepped forward.

"First Assembly of God, led by pastor Rusty Blann, a mentor of mine, was out here cooking food for first responders," Miller says. "Another local church brought out water, an AG church from Beebe, Arkansas, brought a financial gift to sow into our future, and so many other churches and people came through — hundreds of people coming in and out."

The fellowship hall, which was insured, was more of a multipurpose center for the church as it had a Sunday school wing, industrial kitchen, nursery, and an upstairs with additional classrooms.

"It was a huge building," Miller says. "One end of the hall was attached to the new sanctuary and the other end to the building that housed the church offices, youth sanctuary, and children's church." The cause of the fire has not yet been determined.

Although fire didn't initially appear to structurally damage the buildings on either side of the fellowship hall, Miller says both have heavy smoke and water damage — one report stating 200,000 gallons of water were used on the fire.

"We have to have the structural engineers come out, as we're not 100% sure what can or cannot be saved at this point," Miller states.

Faith Assembly had started meeting in person again, following the state's COVID-19 policies, with about 100 people attending on a regular basis. Pre-COVID the church saw up to 170 people.

"We have had several local AG churches who have offered their facilities to us," Miller says, "but we're looking for a location of our own as it may be a year or better process to rebuild."

However, this Sunday, church will be held on campus, with the rubble of the old sanctuary as Miller's backdrop.

"I will be casting vision and preaching on Nehemiah and how he rebuilt the wall so quickly," Miller says. "The old sanctuary was home to many memories, thousands of people have come through it and been touched by God . . ., but God has a plan — He spoke to my heart, 'You will rebuild this church bigger, better, stronger.' For right now, that has become our motto — people are excited about what God is going to do."

For those who may be interested in helping the church, Miller says they can connect to him and the church through the Searcy Faith Assembly Facebook page.