Church in Black and White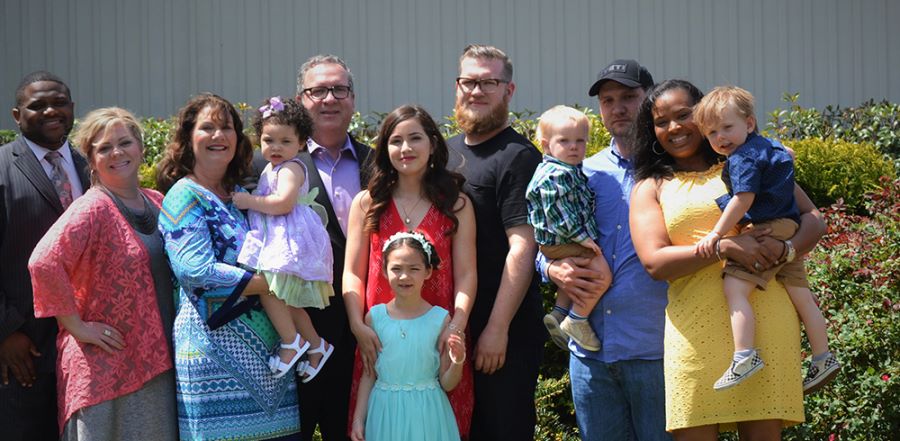 Don't miss any stories. Follow AG News!
On the surface, impoverished rural northeastern North Carolina looks much like it did in the Civil War era. Cotton fields line the roadway, at least where timber and swamps don't mount an incursion. Residents grow collard greens in their small gardens.
In other cultural ways, not much changed between Reconstruction and the Civil Rights Movement nearly a century later. Federal legislation enacted during the 1960s muted the overt reality of segregation. African-Americans now can drink at the same water fountains and sit in the same movie theater sections as whites.
But socially — and religiously — some antebellum attitudes remain entrenched. Legislation didn't adjust heartfelt generational traditions. The fact is, many white and black people in Hertford County still don't associate with each other.
Assemblies of God Pastor Wallace C. Phillips has shaken the status quo in the county and in the town of Ahoskie. Phillips, who is white, believes community reconciliation and healing can't take place unless residents worship together, whatever their skin color.
A quarter century ago, Phillips, an energetic, good-natured man with a booming voice, took over as pastor of Carpenter's Shop International Church. Before Phillips arrived, the church had gone through 11 pastors in 15 years, and dwindled to a dozen white attendees.
Today, Carpenter's Shop International Church is the most racially diverse congregation in the town of 4,910. About 300 people attend. Two-thirds of them are black, coinciding with the overall population of Ahoskie.
"After 25 years we've finally reached the place where the church is a mirrored reflection of the community," Phillips says.
During Sunday morning worship services at Carpenter's Shop, attendees interspersed in the pews don't seem to give skin hues a second thought.
The spacious church is open to the community seven days a week for such gatherings as hospice care meetings, food giveaways, concerts, and family birthday parties. That might not seem like a big deal most places, but for a town that has worshipped largely along racial lines, it's a radical concept. Phillips relates his experiences as the author of the books Just Plain Vanilla: A Pastor's Story and All Dressed Up and No Place to Go: Closed Doors at the Lord's House.
Through the years, Phillips has taken on additional ministry assignments. In May 2016, Phillips became a district executive presbyter, overseeing 33 congregations. Six years ago, he formed Barnabas 21, a nonprofit that allows Christian leaders to stay on properties donated to the ministry for a retreat or sabbatical. Two homes in nearby Edenton are full year-round with pastors and others from around the U.S. and the world seeking a month or two respite.
Phillips has lived in the region his entire 56 years, except for when he attended Southeastern University in Lakeland, Florida. He says Carpenter's Shop still faces tangible local opposition from those who don't want to see blacks and whites get along.
"The purpose of ministry is people, not selective people," Phillips says. "Racism is a spiritual problem, it's not a social problem. If you have a heart for God, then you realize all the ground at the Cross is level."
Phillips and his Caucasian wife of 35 years, Joy, have three children, who all learned to live peaceably with people from other races. Older son Josh married a Chinese-American woman, Cassandra, and they adopted a Japanese-American child, Alexi. Daughter Abigail married an African-American man, Jeremy Wheless. Younger son Zach is dating an African-American woman, Ashley Harris.
"The vision has intensified and taken on an international flavor, even though this is a small, rural area," Phillips says. Ivan Ndamukong, a molecular biologist researcher from Cameroon, has been attending Carpenter's Shop since 2013. Ndamukong, 39, says the congregation's diversity and Phillips' transparency stood out to him the first service he attended.
"Pastor Wallace shared how he worked through prejudice and how the Lord had worked a transformation," says Ndamukong, in his first semester teaching at Chowan University in Murfreesboro after conducting molecular biology research at East Carolina University Brody School of Medicine in Greenville. "He doesn't just talk about reconciliation; he lives it. You can see it in his interactions in the church and the community; you can see it in his children."
Ndamukong's wife, Louisa, is a physician in Ahoskie. They met at a high school Bible club as teenagers in Cameroon. Ndamukong is one of 19 students at the Carpenter's Shop-based School of Missions using Global University materials. He hopes to become more effective in sharing the gospel.
"I don't want only Africans or African-Americans who look like me to be comfortable with me," Ndamukong says. "I want to reach out to all people in spite of what I look like on the outside."
Meanwhile, Phillips laments that in some ways Hertford County is as segregated as ever.
"I would like to say racial tensions have diminished, but they haven't," Phillips says. "Not everybody in the South can embrace reconciliation. There are still a lot of white churches and a lot of black churches."