COMPACT Collegiate Collaboration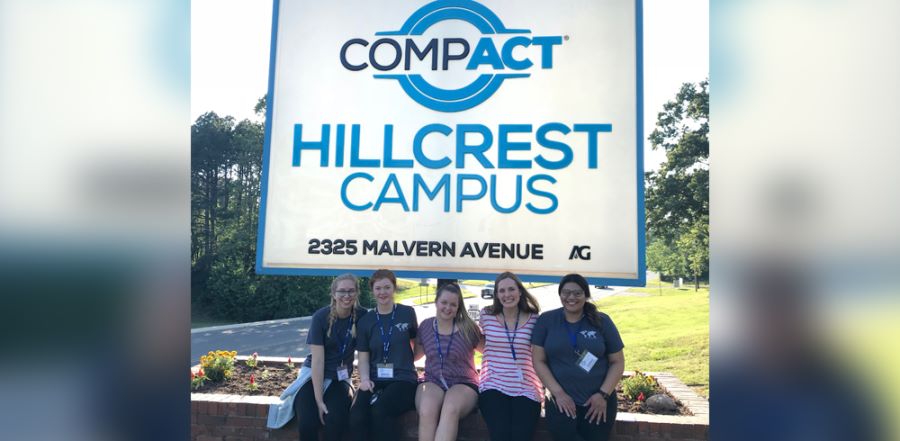 Don't miss any stories. Follow AG News!
Chelsea Mascareno had been a Sunday School teacher for 11 years. She studied sociology and social work at
Vanguard University
in California. She could recite textbooks and pass exams and lead a classroom. In 2018, Mascareno joined a weeklong outreach team at
COMPACT Family Services
, the Arkansas-based national child welfare agency of the Assemblies of God. It changed her life.
One evening during activities with elementary-age students at the Hot Springs center for kids in foster care, a young girl ran to Mascareno and started yelling. Her voice teeming with emotion, the child jumped up and down and screamed, "I'm going to be OK! I'm fine! I'm getting adopted!"
"I never forgot that moment," Mascareno says. "It shook me. It put everything in perspective."
Mascareno recently graduated from
Vanguard University
, the school in Costa Mesa affiliated with the
SoCal Network
of the AG, with a degree in sociology and a minor in social work. She says that her internship with COMP
ACT
brought her education to life. Now working for a nonprofit focused on preventing homelessness, Mascareno values the skills developed during her summer internship. She says she learned life-changing lessons in empathy that equipped her with skills needed for her career.
While internships have been commonplace at COMP
ACT
for years, Administrator Brian J. Page wants to do more to serve the foster kids living at the facility and further their educational experience. The agency has lacked the workers to make it happen.
But that is about to change.
Launching in the summer, Page, along with a Vanguard University team, are creating a program that applies the skills of university students to provide added support, energy, and ideas to the Arkansas child welfare facility. Under the new, enhanced student-developed internship program, COMP
ACT
will host students from Vanguard and other AG universities to focus on literacy, health, and wellness each summer.
Kayli Hillebrand, Vanguard's associate dean of international education and experiential education, says this internship program will open opportunities for students in many fields of study. She says students majoring in education can pilot a tutoring program to help kids learn to read at their age level. A kinesiology student could teach kids how to properly exercise — an essential life skill often linked to improved mental and emotional health.
Page echoes Hillebrand's vision and is hoping to see students with arts, music, and ministry backgrounds take interest in the internship program. He also anticipates students will find creative ways to better utilize the facility's gyms, library, greenhouse, pool, nature trails, and proximity to a national forest. He says students can dramatically help COMP
ACT
expand its ministry reach.
"Many kids at COMP
ACT
never had a parent read a book to them or demonstrate what a love for learning looks like," Page says. "Imagine the impact a student who is able to spend time with the kids and introduce them to a hobby or a love of nature could have. The opportunities are endless."
To make the expanded internship a reality, Vanguard students are working diligently to develop the curriculum and structure of what the summer commitment could look like. Hillebrand sees this development process as key to helping students learn planning and execution, as well as other ministry skills.
"This is really a win-win experience for our students," she says. "Those who are developing the curriculum are learning that they don't necessarily have to go to be part of furthering the mission of the Kingdom. That God uses every skill set and anyone who is willing is a great lesson to learn early in a career."
The internship planning and executing project is far from the first time
these two entities have collaborated
. Since 2015, Vanguard University has deployed students and staff to the Arkansas ministry center. The annual ministry team helps around campus, completes projects, and looks for ways to show kids the love of Jesus. Hillebrand says this internship collaborative program is simply another depiction of the school's commitment to the mission of the facility. She says the partnership is a good fit.
"Foster care is Vanguard's heartbeat, so it's truly our honor to work closely with COMP
ACT
," Hillebrand says.
As Page and his team prepare for this new step to launch before summer, they've bathed the process in prayer and are expectant for the results of the new program.
"My hope is their time on campus would further develop the callings on their lives and the dreams they have," Page says. I hope it broadens ideas of what they can do with a degree and give them opportunities to transform classroom knowledge into hands-on experiences."