Discipleship Legacy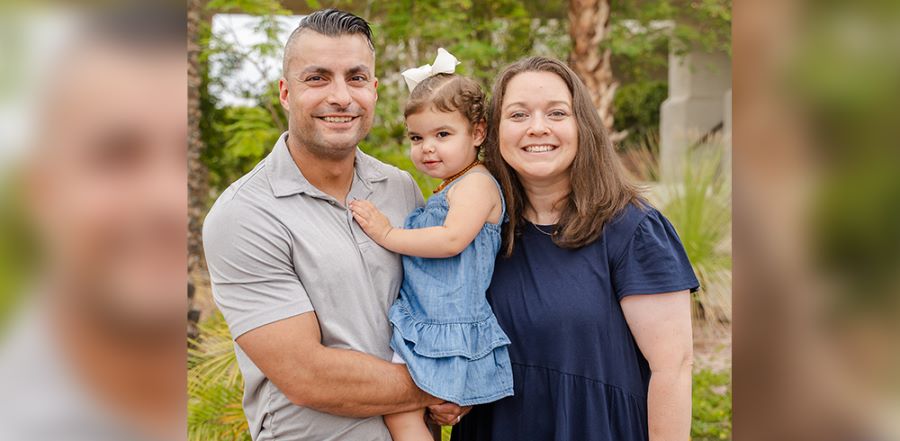 Don't miss any stories. Follow AG News!
Now in his fifth year as Chi Alpha Campus Ministries national training director, Alex Rodriguez is handling his responsibilities with aplomb.

His portfolio includes overseeing the annual Reach the University Institute, the annual Chi Alpha training conference and orientation for interns. He also is charged with directing the quadrennial Campus Missions Conference, where Chi Alpha directors, staff, and families gather for training and fellowship. The most recent get-together — in July in Phoenix — attracted a record 1,280 U.S. and world missionaries. The 37-year-old executive ministry team leader and U.S. missionary also is tasked with overseeing the Campus Missionary-in-Training internship program plus establishing core curricula for staff training.

Pastors habitually ask the muscular Rodriguez if he is paid as well as the retired 47-year-old baseball player with the same name who played 22 years in the American League and slugged 696 home runs. Like his baseball counterpart, the intense Rodriguez is a telegenic powerhouse.

The Chi Alpha A-Rod goes by his middle name. His first name is Daniel, but a plethora of Daniels in his kindergarten class prompted the switch. He grew up in the Houston area and his parents sent him to Christian schools because they wanted him to have a good education.

By the time he graduated high school, Rodriguez had memorized a multitude of Bible verses and knew an array of scriptural facts. But he viewed Jesus as a person in history, not a living Savior.

He wanted to take a break from religious instruction once he enrolled in college. In an effort to save money, he enrolled at the close-to-home and comparatively inexpensive Sam Houston State University (SHSU) in Huntsville, which had one of the largest Chi Alpha groups in the nation. But his girlfriend Abby (who has been his wife since 2009), invited him to a Chi Alpha small group meeting on campus. The language of the participants piqued his interest.

"People were speaking of Jesus in the present tense and how He talked to them," Rodriguez recalls. "This was a new experience for me."

Both Alex and Abby graduated in 2009 with kinesiology degrees. Alex originally intended to go into sports medicine to be an athletic trainer. But right after they married following graduation, the couple headed off to Central Asia as missionary associates on a Chi Alpha planting team. The ministry grew from seven to 70 followers during their time there. E. Scott Martin and his wife, Crystal, led the Central Asian team and discipled Alex and Abby for a year there.

After a stint on staff back at SHSU under the tutelage of U.S. missionaries Eli and Mary Gautreaux, Rodriguez planted the Chi Alpha chapter at New Mexico State University in Las Cruces.

Rodriguez gathered a capable team of 10 to help him launch at the campus, where half the students are Hispanic, as Rodriguez is.

"I did a lot of things wrong in the first year," the introverted Rodriguez reflects. "Everyone on staff had a job title, which created tensions." By year two, Rodriguez had dispensed with the job titles and told all his team to simply lead small groups. The chapter began to grow.

Chi Alpha has a place to meet on campus thanks to seed money provided by Radium Springs Family Worship Center, fundraising preaching events featuring Rodriguez, and the New Mexico Ministry Network making it a highlighted need. The combined efforts raised $100,000 as a down payment on a Chi Alpha student center at New Mexico State.

By the fifth year at the school, the Chi Alpha group had grown to 150 regular participants, making it the largest campus ministry at New Mexico State. Rodriguez felt a sense of accomplishment and satisfaction and saw no reason to leave.

But E. Scott Martin — who in 2014 became national Chi Alpha senior director — persuaded Rodriguez in 2018 to apply for the upcoming opening of national training director.

"In my time with him in Central Asia, I saw a young man with remarkable leadership potential who respected authority, paid honor to the Church, was hungry for the deeper things of God, and looked for the authentic gospel," remembers Martin, 59. "Alex had done an excellent job planting a team in New Mexico and we needed someone with his type of young leadership in a higher position."

Rodriguez sought the counsel of mentors, who split evenly whether he should remain in New Mexico or move to the national office in Springfield, Missouri.

Chi Alpha pioneer Harvey A. Herman urged Rodriguez to make the transition. Herman, a U.S. missionary who retired in January after 48 years of serving Chi Alpha in various roles, had been looking for a replacement for his roles as programming, training, and internship director.

Herman says Rodriguez gained much credibility because of interning at SHSU, committing to give a year at a university in a foreign country, and launching a now-thriving ministry in a tough environment at New Mexico State.

"Alex is successful in university ministry because people listen to him," Herman says. "He is an articulate and careful speaker who doesn't waste words."

Herman notes that Rodriguez conducted a retreat at Yale University, where Herman's daughter Sarah Malcolm is co-director with her husband, Rob.

"Alex is able to speak eloquently and effectively at an academically elite school as well as a small state school," Herman says. "He knows his individual audience."

NATIONAL ROLE
Rodriguez accepted the national position after listening to a sermon by AG world missionary Dick Brogden about seeking more of Jesus.

"Leaving the familiar and comfortable has led me to more of Jesus," Rodriguez says. "This job is the hardest thing I've ever done."

To make the transition easier, Rodriguez convinced four team members to transfer with him from the Land of Enchantment. U.S. missionary associate Sarah Aitken; appointed certified U.S. missionary Derek Lynn and his wife, Natalia; and Christina Winters. All have filled national support staff roles in Missouri.

Martin says Rodriguez has exceeded his expectations. He notes that the Chi Alpha group at New Mexico state is even larger than when Rodriguez served as director because Rodriguez discipled staff well.

As he looks to the future in his national role, Rodriguez is focused on ensuring that the divergent chapters are on the same page.

"Chi Alphas don't all look the same or behave the same," Rodriguez says. "My job is to cultivate a common culture across uncommon campuses."

His four priorities of training for healthy Chi Alpha campuses are:
Holy Spirit empowerment, including spiritual gifts and speaking in tongues
Cross-cultural missions
Healthy leaders
Disciple-making groups.
"These will manifest themselves in different ways at different campuses," Rodriguez says. "They are identical principles, but not necessarily identical practices."

As a Hispanic, Rodriguez also provides leadership diversity at the national level that the ministry is endeavoring to replicate on campuses around the country.

While the national training director portfolio is established, Martin wanted to give Rodriguez some leeway in other aspects of the job. Subsequently, Rodriguez is developing continuing education and professional development training for veteran campus directors.

As if he isn't busy enough, Rodriguez just finished writing the second book of a trilogy, Real Community: Learning to Love One Another. His first book is Real Devotion, while the third planned text is Real Responsibility. Rodriguez says the publications contain biblical truths he learned at SHSU.

Rodriguez says the prayers of many Chi Alpha friends are responsible for Abby giving birth to "miracle daughter" Wesley Kate two years ago after seven years of infertility. Abby remains involved in Chi Alpha, helping to process intern applications as well as assisting the personnel department with records coordination.

Martin considers Rodriguez a beloved younger brother.

"I knew he would excel because of his character, capabilities, and fruitfulness," Martin says. "He is an excellent analytic thinker and a brilliant writer."