Exhortation Times Two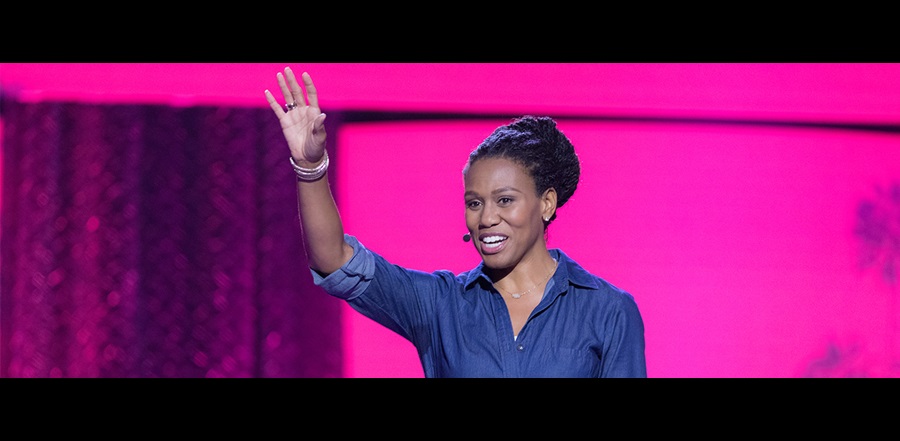 Don't miss any stories. Follow AG News!
A pair of powerhouse preachers ignited the crowd Monday night at the Influence Conference in the Anaheim Convention Center.
The audience of 5,600 frequently reacted with applause and encouraging shouts as Priscilla Shirer and Samuel Rodriguez delivered their sermons. Another 6,800 young people attended a youth service at the adjacent convention hall.
Priscilla C. Shirer, who leads Going Beyond Ministries based in Cedar Hill, Texas, exhorted listeners not to waste the treasures and talents with which God has entrusted them.
"How are you handling your assignment?" asked Shirer, focusing on chapter 9 in the Gospel of Luke detailing Jesus sending out the 12 disciples for ministry. "He has allowed us to partner with Him in this generation."
The 42-year-old illuminating Bible teacher who possesses a gleaming smile walked to and fro on the stage, seldom glancing at a note. She asked God to forgive church leaders for arrogance and hubris, for yielding to urges to be recognized and to impress people. Shirer, who also had a lead role in the 2015 motion picture War Room suggested effective ministry is just as essential from unrecognized Sunday School teachers as it is from the pastor on the platform with a microphone.
Shirer also cautioned church leaders not to embark on an assignment God hasn't made.
"What happened to the days when we honored the calling of the Holy Spirit above all else?" asked Shirer, author of New York Times best-sellers The Resolution for Women and Fervent: A Woman's Battle Plan for Serious, Specific, and Strategic Prayer. "The enemy hopes we will go in our own power and strength."
Shirer acknowledged that ministry can be tiring, but said Jesus will infuse His followers with power, just as He did for the disciples.
"Intimacy with Jesus is the key to being refueled," said Shirer, the daughter of Dallas megachurch pastor Tony Evans, who has hosted The Urban Alternative on Christian radio stations for more than 30 years. "Everything you need for your multitude is already in your hand."
In a rapid-fire delivery, Samuel Rodriguez, 47, dovetailed Shirer's message about God empowering His servants. He highlighted the 1 Kings 19 account of the prophet Elijah passing on the mantle to Elisha as Elisha plowed in a field.
"We are not the depressed news people, we're the good news people," said Rodriguez, who is president of the National Hispanic Christian Leadership Conference, the nation's largest Hispanic evangelical organization.
While he conceded the spirit of Jezebel is pervasive around the world, Rodriguez proclaimed the most powerful force today is still the Spirit of God. The ordained Assemblies of God pastor of New Season Christian Worship Center in Sacramento, California, exhorted ministry leaders to remain faithful in pushing the plow, breaking the ground, and sowing the seed, regardless of difficult circumstances.
"Today's complacency is tomorrow's captivity," Rodriguez said. "Truth mustn't be sacrificed on the altar of expediency."
Rodriguez reiterated that moral decadence shouldn't result in Christians exhibiting defeated and whiny attitudes.
"Do not embrace Jezebel's lies that Christianity in America is dead," Rodriguez declared. "Don't settle for manna in the desert when there is milk and honey in the Promised Land."
Rodriguez and his wife, Eva, also an ordained AG pastor, have been married 26 years. In January, Rodriguez became the first AG minister (and first Hispanic) to pray at a presidential inauguration.