Faith in the Workplace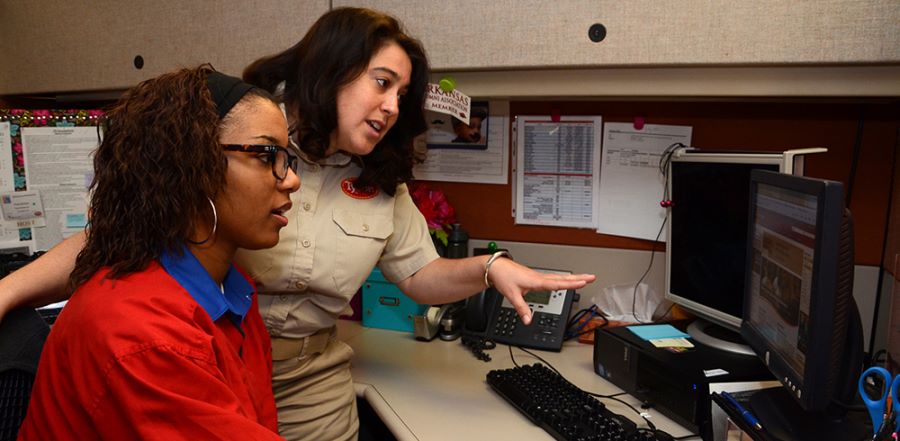 Don't miss any stories. Follow AG News!
Assemblies of God licensed minister and licensed marriage-family therapist Melissa K. Brannan will be featured in the upcoming two-hour Journey Films documentary CHAPLAINS on PBS. Brannan is a principal subject in a segment on chaplains in the workplace. 
Brannan is one of more than 100 marketplace chaplains at Tyson Foods, the nation's largest chicken, beef, and pork processor. The Springdale, Arkansas-based conglomerate employs more chaplains than any other company. Six of the chaplains are affiliated with the Assemblies of God. Brannan works two days a week (16-20 hours) at Tyson as one of three chaplains in the corporate offices.
Brannan's formal training is in marriage and family therapy. She opened a private practice in 2012 with offices in Huntsville and Springdale. However, she has worked at Tyson since 2009 in both plant and corporate contexts. Brannan considers herself bivocational and sees the chaplaincy post at Tyson as a natural complement to her training and interests.
"I love the opportunity to be able to put my ministry experience as well as education experiences in marriage and family therapy together," says Brannan, who holds a master's degree from Texas Tech University. 
Her role most often involves chatting with employees about their personal problems. 
"We look to meet the frontline needs of our people, talking about anything that will keep them from being focused on work," Brannan says. "No matter what position they work in, people face the same problems: money, health, family, stress." 
Personnel may need a listening ear, encouragement, referral to a pastor or another person of trust in their doctrinal perspective, or prayer. They may have discovered that their child has been using illicit drugs, or their marriage relationship has reached a boiling point over conflict.
The chaplaincy role also might include visiting a hospital patient, talking with a worker and family members at home, or assisting in a funeral. Although she is AG, Brannan advises employees of other faiths and with no religion. Theology doesn't always come up in providing care.
Not all employees Brannan interacts with feel comfortable discussing concerns and frustrations on site. The 2,500 people making a living at corporate headquarters have the chaplain's cellphone number. She might get a call at 6 a.m. or 10 p.m. 
John H. Tyson, former CEO and current chairman of the board, started the chaplaincy program in 2000 because he recognized how faith impacts the lives of the company's 100,000 "team members." The 61-year-old Tyson, grandson of company founder John W. Tyson, is a Christian.  
"Because faith is an important part of life for many people, we strive to be a 'faith-friendly' company, which means we treat people of all beliefs respectfully," says Gary Mickelson, Tyson Foods director of public relations. "We believe being faith-friendly contributes to a more positive and productive working environment. Faith isn't something people park at the door when they come to work."
Mickelson notes that Tyson Foods chaplains make themselves available by walking through production areas, break rooms, offices, and hallways of company facilities. A chaplain is viewed as a safe, neutral person who can be trusted. Many are bilingual, including three AG Hispanic chaplains.
"They're not there to force their faith upon anyone, but to provide a ministry of availability, helping team members with personal concerns," Mickelson says. "The feedback we receive and some of the analysis we've done indicates the program has a generally positive effect on employee morale and retention."
Besides her marriage and family therapy practice, Brannan plays piano on the praise and worship team at Huntsville's First Assembly of God, the church she attended as a child. Brannan, who turns 36 on April 11, will become an ordained AG minister in May. She then will pursue becoming an endorsed chaplain through AG U.S. Missions.