Finding Virtual Success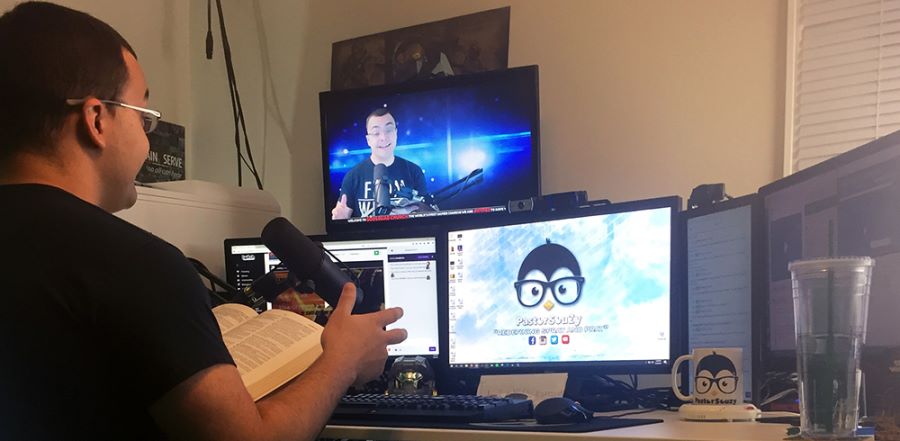 Don't miss any stories. Follow AG News!
The global number of people who play video games has risen to 1.8 billion. A year after the world's first gamer pastor Matt Souza launched the online GodSquad Church exclusively for gamers, 463 of them have received Christ as Savior through the ministry.
As word has spread about the virtual Assemblies of God congregation, Souza has spoken at churches and at the Fellowship's University of Valley Forge and Northpoint Bible College. Attendance for his weekly 8 p.m. EST Thursday gamer service has quadrupled. GodSquad, which features videogame-themed sermons, has connected with 87,000 people who play video games.
Souza, 25, under the gamer name PastorSouZy, is a bridge between the gaming community — an unreached people group — and the Church. He has an important message for both.
"Gamers are real people," Souza says. "We're not enabling people to play videogames. We're focused on ministering to the person sitting behind the screen, people who have been rejected by society. They need God's love. We need to embrace them as they are, and reach their souls for Christ."
To that end, Souza not only spends time developing friendships with gamers on Twitch.tv game sites, but he's also recruited more Christian gamers and gamer pastors. Pastors specializing in an array of videogames, along with Christians who play the games, hang out both in GodSquad Church and their own gaming chat rooms and interact with non-Christians while playing the games, watching others play, or listening to sermons. Through Twitch.tv, Souza shares the gospel with around 200 to 300 non-Christian first-time guests every day.
Gamer Dmetri Tabor learned of Souza's ministry when Souza spoke at a chapel service at Valley Forge, where Tabor, 20, is an English education major. One Valley Forge student gamer joined as a pastor while Tabor became a moderator of GodSquad's chat room.
"What impacted me the most (from Souza's message) is that gamers are quite literally a nation, yet there is nobody reaching them except for Pastor Matt Souza and the rest of the GodSquad Church," Tabor says. "God has placed on his heart exactly what the gamer community needs."
Souza's plan to plug those who come to faith into a local AG congregation hasn't fared as well as he hoped. Only about 10 percent of those who have accepted Jesus as Savior through the ministry have connected with a local body.
"A lot of the gamers think if they were to walk into the local church, they'd be looked down upon, rejected," Souza says. "For a lot of churches that's true."
That's why Souza wants to build a database of any church in the country that will embrace gamers.
His ministry has gained the attention of Twitch.tv elites. Souza submitted a video supporting the website's experiment with broadcasting politics, stating that it offers gamers a chance to hear the messages from the world outside their own circles. The directors of Twitch.tv quoted Souza on a weekly show viewed by thousands. Soon after, the creators of Twitch.tv took notice of another of Souza's videos, a bid to win tickets to the TwitchCon 2017 in Long Beach, California. Twitch.tv aired Souza's contest entry on its broadcast as an example of a "heartfelt" model video. In his entry, Souza noted that Twitch.tv gives him an opportunity to encourage gamers around the world.
"An actual pastor. That's cool," one broadcast panelist commented.
When Souza isn't livestreaming his own game or preaching sermons on GodSquad Church, he builds relationships with players on other gamers' channels. That's how he's connected with some top players of one of Twitch.tv's most popular games. Not only are elite players attending GodSquad church and promoting his livestream to tens of thousands of their own viewers, some have approached Souza for counsel.
"To get people who are normally against anything that has to do with God to say they're glad I'm here and talking about Jesus, that's a huge win for the gospel," Souza says.