Freedom Goals Realized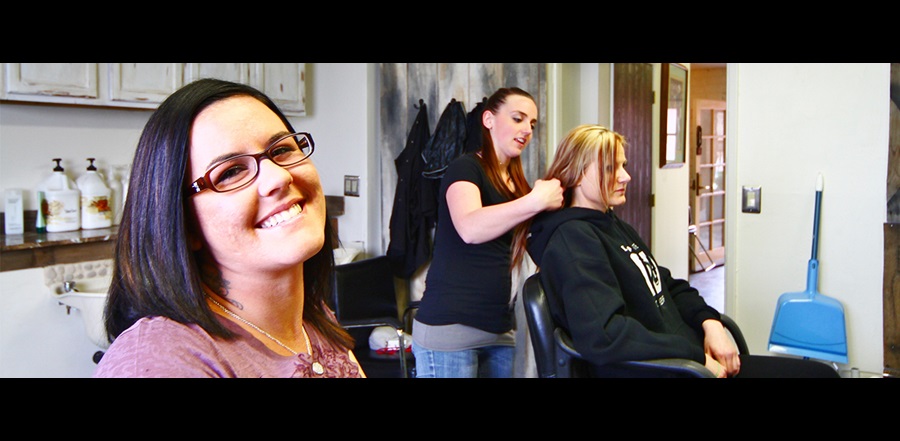 Don't miss any stories. Follow AG News!
Addicted to methamphetamines and with only an eighth-grade education, "Sarah", 24, had two options: serve two years behind bars for probation violation, or return to the Phoenix Dream Center's (PDC) human trafficking program, Where Hope Lives (WHL). She chose the latter.
"If it wasn't for this place, I would have never changed," Sarah says.
As a 14-year-old runaway, Sarah ended up in the hands of a sex trafficker and was then abandoned in Phoenix at age 18. She continued "working," and started doing meth at 23.
"I was trying to get sober, but I had nowhere to go," Sarah says. "Drugs ran me to the point that I had nothing. I couldn't even keep a hotel room."
Sarah went to WHL a few times, but wouldn't stay. In November 2016, she left without notifying her probation officer and landed in jail. Brian D. Steele, executive director of PDC, arranged her release — and that became the turning point for Sarah.
"These are the most amazing people in my life," Sarah says. "I was looking at two years in jail and Pastor Brian got me out. I needed to sit in jail for a week to get to where I wouldn't run from the program."
Part of the Assemblies of God's network of 267 Dream Centers , initially founded by Tommy Barnett in 1994, PDC began as a homeless outreach and discipleship program in 2006, operating out of an old Embassy Suites hotel. In 2008, Steele and other staff began doing ride-alongs with the Phoenix police and got an up-close look at human trafficking. Every weekend police arrested 13-, 14- and 15-year-old girls on prostitution charges.
"Our motto is to find a hurt and heal it," Steele says. "We readied some rooms and told the police to bring the girls to us."
Initially, PDC set aside four rooms, then a dozen. Eventually, PDC gutted 21 hotel rooms, brought in Phoenix's top interior designers, and created Dream Rooms that look nothing like the shabby hotel rooms in which these girls had met customers.
An implemented trauma-informed care model mandates a minimum stay of nine months and daily counseling. It first focuses on physical safety and health, then gives the women back their power of decision making, then reintroduces accountability, and finally education and transition. This same model has been adopted by other human trafficking recovery programs nationwide.
Though PDC's spiritual and biblical education doesn't require mandatory Christian beliefs, Sarah accepted Jesus as Savior, as many participants do.
"You can run from God, but you can only run so far when you're here," says Sarah.
Over the past seven years, PDC has added an accredited high school and a medical center to its campus, forged a partnership with nearby Grand Canyon University for program participants to earn college credit, and dedicated an entire wing of Dream Rooms to the 30 percent of women who come to WHL pregnant. To date, WHL has 48 beds in 21 Dream Rooms, with 420 women ages 14 to 26 graduated from the program.
WHL is PDC's flagship program, but the Center is the hub for 120 different outreaches and houses 450 homeless and at-risk youth every night. In 2015, PDC also launched Thrive, a foster care prevention program.
In consultation with the Arizona Department of Child Safety (DCS), PDC leaders learned that of the 20,000 children in the state's foster care system, 90 percent of the cases weren't related to abuse or violence, but what the state deemed as neglect — issues such as a broken refrigerator.
"A lot of that 90 percent involved families needing someone to help with counseling or material support," says Steele.
DCS now notifies PDC when families are at risk of having children placed in foster care due to material needs, and PDC taps into a network of 180 Assemblies of God churches for material donations. The program's delivery truck is out all day distributing food, furniture, and diapers. In its second year, Thrive kept 320 children out of foster care.
"We believe the local church is the answer, and we're the bridge helping the church engage with government entities and the community," Steele says.
What started as a discipleship program remains one. Sarah has earned her General Education Development diploma and now interns with PDC's human trafficking help line. She supports newcomers to the program and has testified before Arizona state lawmakers in an effort to pass a bill protecting victims of human trafficking.
Sarah is gearing up to begin college, with the goal of starting a career in victim's advocacy. Her desire is to help others the way she has been helped.
"They believed in me, and now I believe in myself," Sarah says.