From Virtual Life to Eternal Life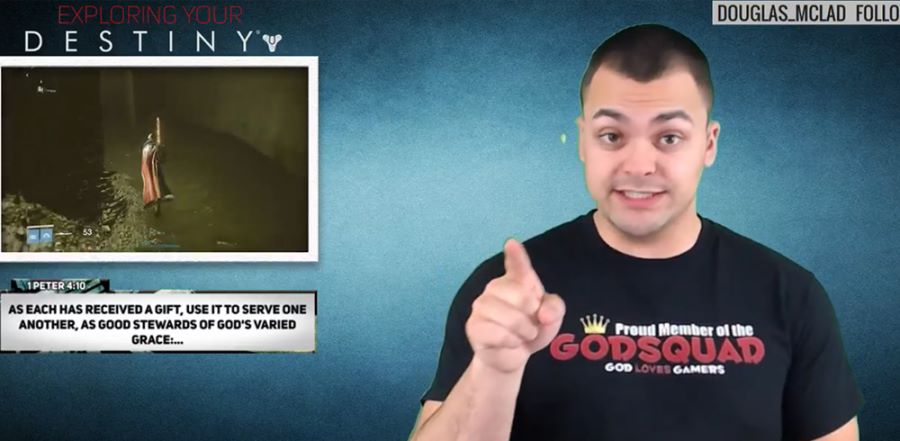 Don't miss any stories. Follow AG News!
An industry report notes there are more than 1.2 billion video "gamers" worldwide. Matt Souza recognizes that most of them don't know Jesus.
The Thursday before Easter, Souza, 24, a missionary from the AG Southern New England Ministry Network, planted the online GodSquad Church as the first church for gamers. With the slogan "From virtual life to eternal life," GodSquad is a Christian presence in a community fraught with darkness. Under the gaming name PastorSouZy, he has led 163 gamers to make salvation decisions for Christ.
Souza, who began playing video games with his dad at the age of three, says kids and adults are drawn to gaming for the same reasons.
"When you're 12 years old you can jump into the virtual world, take on all the bad guys, and save the world," says Souza, who lives in Connecticut.
The ministry is via Twitch.tv, a social video platform and community for gamers. Each month, its 350 million viewers make it the fourth most-viewed website in the world. Gamers visit the site to talk about video games and watch others play. According to the technology company Quantcast, the average gamer is 33.
Eighteen months ago, Souza created his own live Twitch.tv channel where viewers could watch him play Halo and type questions to him via chat, which Souza answers verbally. Soon he wondered why he couldn't begin to tell questioners about God's plan for their lives as they watched him play.
Right after that, he met a teenage gamer whose username was "Satanxoxo666."
Souza recollects that in the chat the gamer told him God isn't real. Souza responded by explaining the gospel and telling the gamer that God really loved him. Satanxoxo666 became the first gamer Souza led to salvation in Christ.
Within six months, Souza learned to preach while playing an excellent game and led 80 people to make salvation decisions for Christ.
He began to recruit others to minister to players of other games. Now Souza, as a full-time professional broadcaster/streamer, leads a team of full-time and part-time pastors and volunteers who share Christ while engaging with players watching their Twitch.tv channels for other popular games, including Call of Duty: Black Ops 3, Rainbow Six Siege, Naruto Shippuden Ultimate Ninja Storm, League of Legends, and Minecraft.
TOS-COMPLIANT OUTREACH
GodSquad Church complies with Twitch.tv's terms of service. The church, categorized as a "gaming talk show," broadcasts a still picture or video of a game at all times.
For each 8 p.m. Eastern Standard Time Thursday service (a day chosen so not to compete with physical church services on Sundays and Wednesdays—the aim is to plug them into a local church via the AG directory), Souza wears a T-shirt from a different game. A type-in chat occupied by congregants runs on the right of the screen. GodSquad pastors and volunteers are virtual altar workers who receive prayer requests, offer God's love and judgment-free friendship, and monitor the chat to help with questions or needs. At a late April service, for example, one GodSquad Church congregant shared distress about his mother who had been subjected to domestic abuse. GodSquad pastors respond on the general chat, via private message or both.
Live worship includes a band and on-screen lyrics with an inset of games being played. They also take an offering, which helps go toward buying top-notch equipment of the caliber expected by high-tech gaming audiences. GodSquad Church also supports an Assemblies of God World Missions media missionary family in Spain.
A late April service averaged 35 in attendance. Throughout the hour-long program, people come and go as they're checking out the God-centered gaming talk show. A growing number are staying. One regular that Souza led to salvation in Christ is a 30-something computer engineer in the Netherlands, six time zones ahead, who sets his alarm to attend GodSquad Church and post-service fellowship.
All sermons tie into both games and Scripture. Games provide abundant message illustrations. For example, Souza's three-week series centered on the game Destiny included messages on finding, exploring, and fulfilling one's destiny. Every message ends with a presentation of the gospel and virtual altar call.
Early on when Bill Button, 61, heard Souza's proposal for the world's first gaming church, the church planting director for the AG Southern New England Ministry Network expressed skepticism.
"I had no idea the potential of what he was doing," Button says. "Once he showed the fruit of his labor, I got excited. These people are not going to come to our churches until they make the connection Matt is making, and then he's directing them to our churches. It's phenomenal!"
Souza and his staffers are raising financial support. As video and sound quality is important in reaching this population, Souza wants to upgrade equipment to industry standards, hence they're raising $25,000 "so when people come on Twitch, they're not turned off by low-quality equipment," he says.
Because GodSquad Church airs when West Coast gamers typically are just getting off work, Souza hopes to add evening services that cater to every U.S. time zone. Also, because many Asian gamers on the opposite end of the globe need to hear the gospel, Souza eventually aims to incorporate services in different languages.