God's Not Done with Me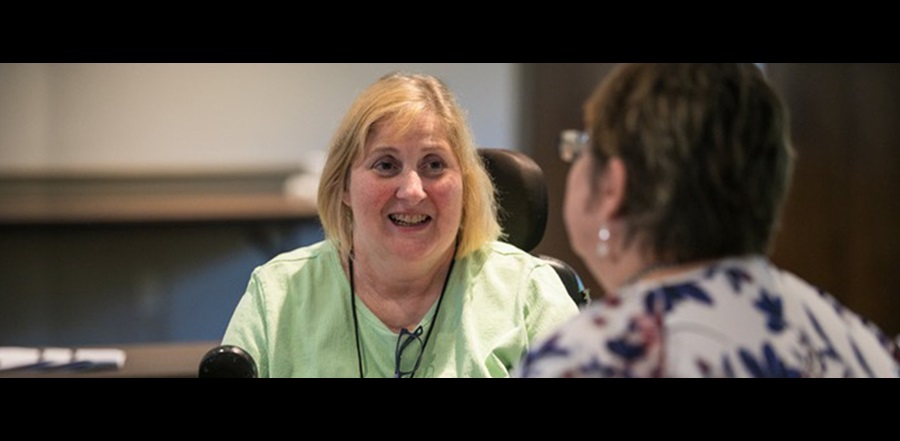 Don't miss any stories. Follow AG News!
Robin Sweetman Kettering met her husband, Jeff W. Kettering, at the University of Valley Forge, where they both felt a call to full-time ministry. After graduation, their future looked bright as they became pastors of Newville Assembly of God in Pennsylvania.
But in 1996, seven years into their ministry in the rural borough of 1,300 residents, life took a dramatic turn when Robin began experiencing vision problems and numbness in her feet. Initially, she blamed a new pair of sneakers for the discomfort. But the following year she received a diagnosis that changed her life forever: multiple sclerosis.
"At first, I would get discouraged," confesses Robin, 57. "But I kept pressing on."
Multiple sclerosis is an often unpredictable, disabling disease of the central nervous system that disrupts the flow of information within the brain, and between the brain and the body. Symptoms include numbness, tingling, vision problems, cognitive disturbances, and disabling fatigue.
Jeff cares for many of Robin's needs. Others pitch in to help by driving Robin to doctor's appointments and cooking meals.
"We use humor to diffuse the tenseness of the situation," says Jeff, 59. "My wife prayed for a man with character, and she got a character."
Two decades into the diagnosis, Robin is unable to use her legs. A sling lifts her in and out of bed each day, and she is losing the use of her right hand. Writing and using the computer becomes harder by the day.
"Being in a wheelchair has slowed me down," she admits. "But I ask God for wisdom, and I'm learning how to overcome my limitations."
Robin also draws sustenance from God's Word. Two scriptures from the Gospel of John are especially meaningful. John 9:2-3 is the account of a man born blind from birth, a disability Jesus says occurred so the works of God could be displayed in him. John 11:4 contains a similar message in which Mary and Martha come to Jesus because their brother Lazarus is ill. Jesus explained that the sickness would result in the glory of God.
Robin says as she read these verses one day God reignited her confidence in His presence.
"OK, Lord," she began to pray. "You be glorified in this."
And so He is.
Jeff shares the story of a neighbor thanking him and his wife for their testimony example. While Robin's life is a shining example of perseverance and the grace of God, she admits it's tough.
As the disease progressed, Robin learned to adapt. When fatigue left her unable to pray with others at the end of the service each Sunday, she instead began to greet the 140 regular attendees in the foyer as they entered the building, asking how she could pray for them.
"Getting overwhelmed drives you to the Lord," Jeff says.
Despite the progression of her disease, Robin knew God still wanted to use her.
"When I was raising my kids, I would pray, 'Lord, I know you've called me to be not only a pastor's wife, but also a minister. Not long ago, Robin says she heard God prompting her to seek ministerial ordination. That happened last year.
Although she preached and taught more before her health deteriorated, Robin still speaks to women's groups, and ministers to members of the congregation.
Her life speaks loudly to those outside the church as well. When her neurologist announced retirement plans, Robin asked if she could pray for him. With her husband at her side, Robin prayed for the doctor, and tears began to roll down his cheeks. He quickly left the room.
One of the nurses, seeing the neurologist's tears, approached Robin and asked, "Will you pray for me, too?"
Despite her increasing restrictions, Robin continues to persevere, using each interaction she has with others as an opportunity.
"My goal is to touch other people's lives," says Robin. "God isn't done with me yet."