High-Velocity Discipleship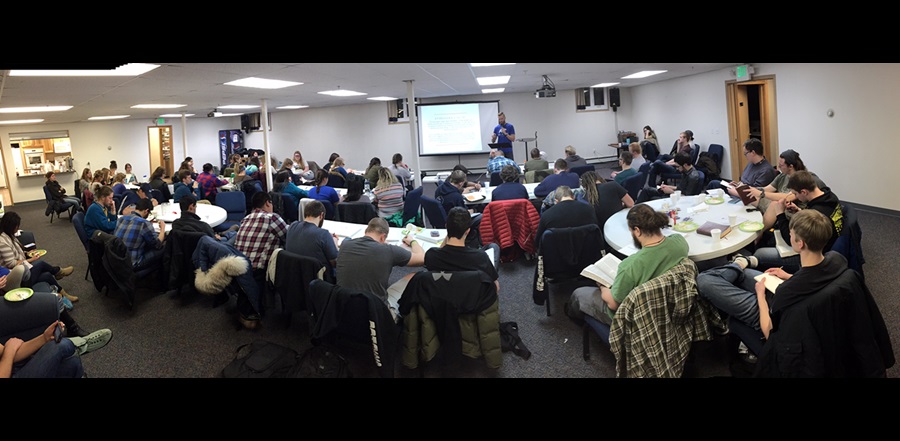 Don't miss any stories. Follow AG News!
The explosive power of discipleship through Chi Alpha Campus Ministries chapters is impacting students at University of Alaska campuses in Fairbanks and Anchorage, according to U.S. missionary Paul D. Burkhart, Chi Alpha director for the Alaska Ministry Network. Membership in the two chapters has surged to almost 400, ranking Chi Alpha as the university's largest student organization.
Burkhart and his wife, Crystal, launched the Last Frontier's first Chi Alpha program in 2014 at the University of Alaska Fairbanks (UAF) after serving nine years as Assemblies of God world missionaries in Southeast Asia.
"We are a discipleship movement, modeled after Christ and 2 Timothy 2:2," Burkhart says. "Transgenerational discipleship strives to make reproducing disciples."
The Burkharts serve a geographical area twice as large as Texas. While only 740,000 people live in Alaska, 25 percent are under the age of 18. Alcohol abuse is rampant, which feeds into epidemic levels of domestic violence and sexual assault. The problem contributes to the state's high suicide rate, which is more than double the national average.
Initially, the couple invited three UAF students whom they met at local AG churches to an outreach meeting in their home. Surprisingly, an additional 11 uninvited students showed up, including a young man knocking on the front door asking, "Is this the place where Christians are meeting?"
Burkhart and team members not only share Christ on campuses, but also in isolated Alaskan villages. Almost 20 percent of UAF's nearly 10,000 students are Alaskan natives and American Indians.
After the first year — when Burkhart baptized five new Christians in a makeshift tank in his garage — the ministry transitioned from the Burkhart residence to multiple discipleship groups and worship services on the UAF campus. Discipleship training began with eight students, who began leading small groups the following year.
Burkhardt challenges leaders to evangelize their friends, which has resulted in more than 100 baptisms. Thus far, 120 young adults have been trained to be disciple makers. Burkhart and the 14-member Chi Alpha team believe their primary role is encouraging and coaching small group leaders and students to lead others to Christ. Early in the ministry during a worship service altar call, he challenged 20 student leaders to evangelize their friends.
"A lot of apprehensive young men and women had never done that before," he says. "But 20 leaders led 21 people to Christ that night. It changed everything."
Similar results have happened at the Chi Alpha chapter at the University of Alaska-Anchorage (UAA), planted by U.S. missionary Steve A. Pavek, assistant director of the Alaska Ministry Network's Chi Alpha.
"I am completely blown away by the response and openness of students who are hungry for being part of a healthy community with Jesus," Pavek says.
The UAA chapter has 32 small groups with 200 participants. The groups are gender-specific to foster deep levels of relationships.
Pavek relates a story of a Chi Alpha member meeting a young man with a troubled background from the Kenai Peninsula at the student union building. One week later he accepted Jesus as his Savior, and within five months he prayed with another student to make a salvation decision. He is now a small group leader and has discipled a dozen students.
"Young people are looking for something real in a culture consumed by the digital world," Pavek says. "Many of them have never met someone their age who is genuinely and passionately serving Jesus. When they come to Chi Alpha they see this for the first time and are attracted to it."
Another Chi Alpha tenet that Burkhart and Pavek stress is that students carry the burden of leading people to Christ off campus — and for the rest of their lives. For example, they are partnering with AG U.S. missionaries to take the gospel to the more than 100 remote villages in Alaska without a consistent Christian witness, as well as to posts overseas. In addition, Alaska Chi Alpha is working toward planting new chapters at the University of Alaska-Juneau and Kenai Peninsula College in Soldotna.
This summer, over 100 students will travel to India, Thailand, and Myanmar for short-term missions, plus minister in Native villages in Alaska.
"We have visited numerous villages, and spent hours in prayer and fasting, believing for God to open doors for indigenous ministry into the forgotten communities of Alaska," says Burkhart. "We are beginning the stages of a discipleship movement and realizing the vision God has birthed in us to reach the unreached and underserved in the last frontiers of Alaska and the world."