Historic Rains Flood Communities, Most AG Churches Spared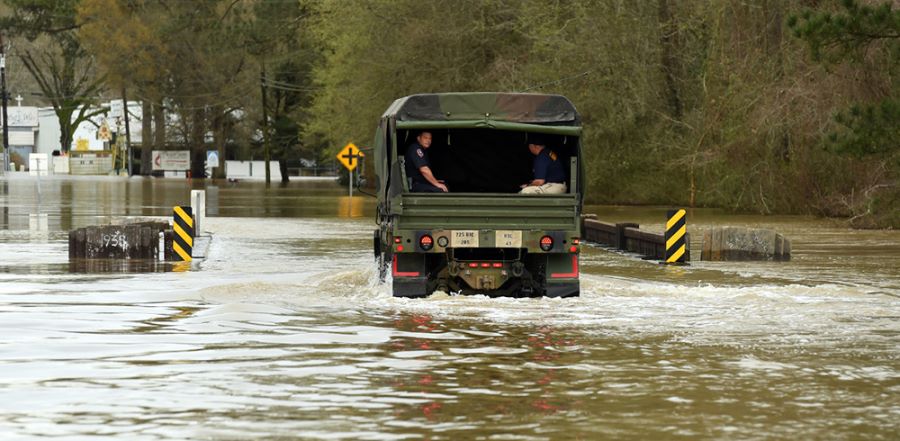 Don't miss any stories. Follow AG News!
Despite setting rain total records for the month of March in just three days in some areas of Louisiana and Mississippi, and heavy rains in East Texas and Arkansas this past weekend, only a couple Assemblies of God churches have been reported damaged. However, with some rivers still yet to crest due to heavy rains upstream, the possibility for additional flooding still exists for later this week.
Bethel Assembly of God in Monroe and The Assembly in West Monroe, Louisiana, where in excess of 20 inches of rain fell over the weekend, were the only two churches that had informed their district office of flood damage.
According to The Assembly staff in West Monroe, the church had up to four feet of water in its new School of Urban Missions/daycare center, which was slated to open in just a few weeks. The church, which was renovating a nursing home to house the school/daycare, had taken a boat into the building to survey the damage over the weekend. Now that the waters have receded, crews are already removing the ruined carpeting and drywall.
No churches in districts of Arkansas, North Texas, South Texas, Mississippi, South Central Hispanic, and Southern Latin district have reported flooding, while the Texas Louisiana Hispanic district could not be reached.
But despite the relative good news for churches, districts are reporting that church members have experienced great losses due to the deluge. Robert Bingham, disaster response director for the Mississippi District, says he's preparing several hundred five-gallon "flood buckets" filled with essential cleaning items to deliver around the state to homes that are coping with flood damage.
AG churches that do experience loss due to disasters, such as flood or fire, are encouraged to contact AG Disaster Relief at 417-831-2182 or see disasterrelief.ag.org.
Image used in accordance with Creative Commons 2.0 license. Photo credit: The National Guard, Flickr