Infertility Diagnosis Overridden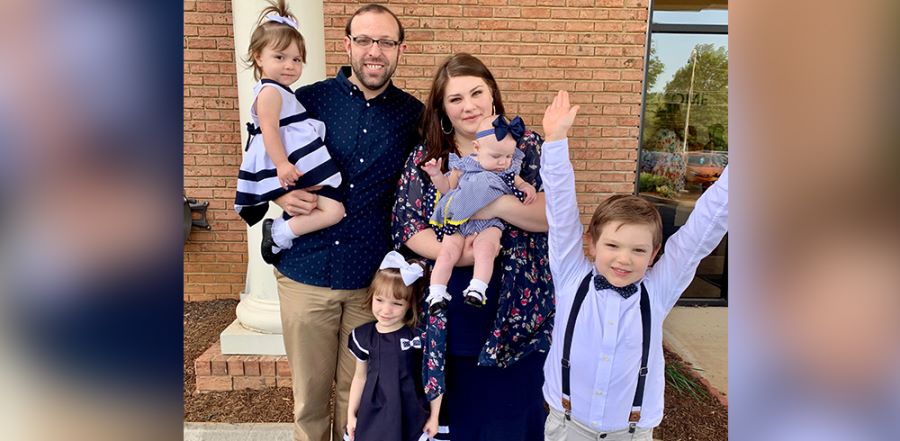 Don't miss any stories. Follow AG News!
As a senior studying music and contemporary worship leading at
Trinity Bible College
in Ellendale, North Dakota, Heather D. Steinbach started experiencing overwhelming mood swings, irregular monthly periods, and extreme weight gain. Doctors diagnosed her with
polycystic ovarian syndrome
, which explained her symptoms. But she also received a prognosis of infertility.
After graduating in 2006, Steinbach married Trinity Bible College sweetheart Craig A. William. Both are now 37.
However, for the first eight years of marriage, the couple struggled with the emptiness of infertility. During the span, three of Heather's younger adult siblings each married and became pregnant soon after their nuptials. While not being able to conceive, she watched her siblings be blessed with a total of seven children.
Despite dealing with depression because of the infertility, Heather William never lost hope. As the worship pastor at
Westgate Christian Fellowship
in Knoxville, Tennessee, and a licensed AG minister, she led numerable services, welcoming the presence of Jesus and inviting the heartbroken, like herself, to draw near.
William also participated in a small group with Julie M. Cherry, a Christian counselor who prayed for healing, wisdom, and direction as Heather and Craig strove to conceive.
"The desire to increase their family was always there as a prayer focus," says Cherry, 44. "We never stopped seeking God on their behalf in this area."
In their quest to increase their family, the Williams opened their home to children in the foster care system. After completing the home certification process, the Williams fostered five children over three years.
Meanwhile, Cherry also wrestled with the desire for another child. She and her husband, Chris, already had two biological children, but understood the great need for adoptive homes. However, Cherry says she didn't have enough faith to believe she could love an adopted child in the same way she loved her two biological daughters. She didn't want to put an adopted child in that situation.
All that changed for Cherry as God put pieces of the puzzle together through a series of events. When her husband's job took the family overseas for a summer, Julie, Chris, and their children daily ministered to a young, malnourished girl. That experience opened Cherry's heart to the truth that she could, indeed, love an adopted child as much as her biological daughters. Seeing how the Williams open their home to foster care placements likewise convinced Cherry adopting wouldn't be as overwhelming as she once thought.
"Stepping through open doors isn't always that easy, but watching Heather and Craig gave me the boldness to start down that road, too," Cherry says. The Cherrys adopted two biological brothers.
Amid fostering and infertility, God also created a new heart in William. A trio of babies were due among her siblings in three consecutive months. Putting her faith into action, she started buying gifts for the newborns of her siblings.
"Something changed in me as I purchased each baby item," William says. "I was no longer just getting gifts out of obedience to the Lord, but I was doing it with joy and anticipation." William shipped large packages full of baby items to family members in Nebraska and North Dakota, and helped host a shower for a sibling living nearby.
Still, she did not conceive.
Then, miraculously, after eight years of heartbreak, hoping, fostering, and praying, William became pregnant for the first time and gave birth to a son, Paul, who is now 6 years old. Three other biological children followed: Abigail, 4, Leanna, 2, and Rebekah, 7 months.
"I was told I would never have children, and now I'm a mom to four kids," William says. "No matter how hopeless a situation might seem, our God is faithful and able."