Loving Her Neighbors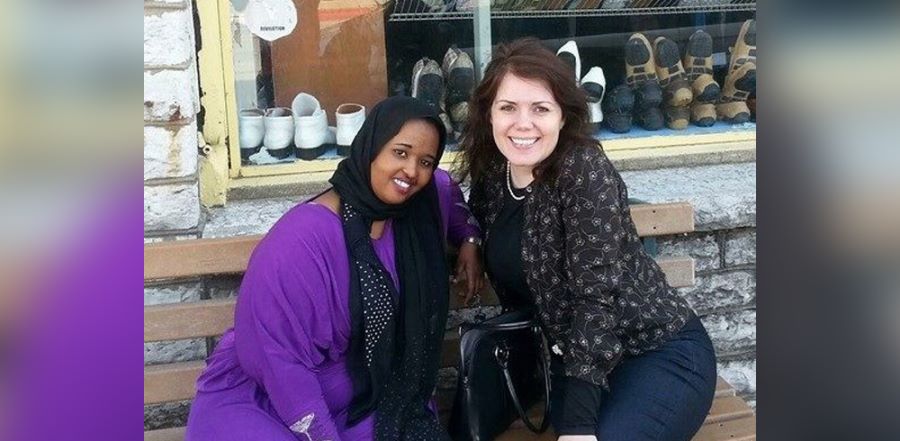 Don't miss any stories. Follow AG News!
Kari M. Hoggard watched her adopted neighborhood in Rome change almost overnight in 1989, the year the Berlin Wall fell. She was 13 years old, and she had no idea she would experience one of the greatest refugee migrations of the 20th century.
Hoggard was 8 years old the year her parents, Terry Hoggard and Ruthanne DelTurco Hoggard, began their first term in Italy as Assemblies of God world missionaries.
"The wall fell in Berlin, then there were cracks in the wall, metaphorically, in Hungary, the Czech Republic, and Berlin," says Hoggard, 43. "We saw so many individual families and communities migrating into Western Europe."
As an adolescent, she didn't understand the technical rights of a refugee, but she did understand the large crowd of newcomers to be her neighbors — and her friends.
"We befriended them," Hoggard recalls. "We went to clubs together, did sports together, went to school together."
Hoggard graduated from Evangel University in 2003. She attended graduate school at Washington University in St. Louis when government agencies resettled a large number of Bosnian refugees in the city. She eventually became the resettlement director of a regional refugee resettlement center through the U.S. Committee for Refugees and Immigrants.
"I was teaching citizenship courses in that resettlement center, so all those things fell into place," she says. "I saw the common thread."
Hoggard says she had no idea at the time refugee work would be a vocation.
"I was just being friendly and working alongside people in a really practical way," she says. "You want them to see in your life the best ideas about Christianity and democracy. You want them to feel welcome."
Hoggard spent eight years in St. Louis working with refugees. She became comfortable beginning conversations on how to assist refugees and to integrate foreigners as part of a faith-based community.
After moving to Springfield, Missouri, Hoggard accepted a position as a research adviser at Convoy of Hope in 2017. She researches best practices among displaced people groups.
"What exists in Convoy is a desire, particularly in the core programming, in community health, women's empowerment, and nutrition programming specifically, to engagevulnerable people, displaced people around the world," Hoggard says.
Steve Donaldson, senior director of Rural Compassion for Convoy, says Hoggard's knowledge base has helped him with outreach to small towns with refugee populations.
"Kari's been a big part of helping train me and give me wisdom," Donaldson says. "She's diplomatic. She doesn't push things. With these new populations, it creates so many emotions and thoughts for people who have lived in the community for generations. She has the ability to be patient and allow people time to process and adjust."
Hoggard is collaborating with AG National Women's Ministries to develop curriculum useful for churches and women's groups as a resource on how to minister to refugees and the foreign-born in transition.
"Displacement is not just a geography that they move from one place to another," she says. "It's a loss of community, and there's a grief process from that loss; they left a physical place of home and safety that they identified as theirs. They are forced into this resettlement process where they have a new identity, a new community, and they have to call on resources to do that."
Hoggard says Christians have an opportunity to learn in the transition with refugees and display trustworthiness.
"The Church is called to be above politics, above the polarity, and we can be in that space of reconciliation and do so with integrity," she says. "That's where their human need is. That's the most direct point from point A to point B in reaching them with the gospel."
Hoggard says everyday decisions for refugees — such as where to send their children to school, or what doctor to frequent — are made easier with a network of people they can trust. These community relationships can then lead to an understanding of Jesus.
"There is discipleship, even with the unchurched, that can happen in a way that is inviting them into the gospel," Hoggard says.