Modern-Day Lazarus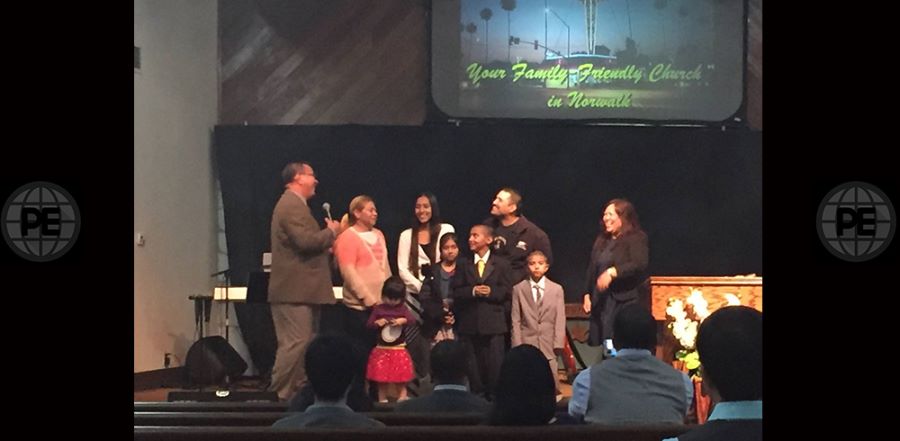 Don't miss any stories. Follow AG News!
It's not every day that God performs a miracle right in front of your home.
Pastor Eric Angeles was preparing for a church board meeting in his Bellflower, California, home on a Saturday morning when he heard a loud thud, followed by shouting.
Angeles opened the door to see a young boy lying completely still on the street. A pickup truck had just hit the boy, knocking him 50 feet. Multiple onlookers rushed over to check for a pulse.
"He was lifeless," says Angeles, pastor of New Hope International Christian Church in Norwalk. "His eyes and mouth were open, but he was motionless."
The pastor's wife, Ruth, and daughter, May, both rushed out of their home to see how they could help. The nine-year-old boy's parents and sister also had heard the thud and already were next to the boy crying.
"When I saw the boy, I immediately asked if I could pray for him," Ruth says. "I prayed in the name of Jesus. 'Lord, just bring back life into this boy. Perform a miracle right in front of our eyes.' "
Ruth Angeles says the Lord impressed upon her to call out the child's name. The Hispanic boy's sister, Brianda, identified him as Leonel. Ruth started shouting, "Leonel! Leonel!'"
Eric says the Holy Spirit urged him to embrace the distraught father, Leonel Montanez, and say, "Llame el nombre de Jesus," even though he didn't understand Spanish.
"I later found out that it meant, 'Call on the name of Jesus,' " Eric says.
That's when Ruth noticed the boy's eyes blink once.
"I announced that he was alive and asked everyone to call on the name of Jesus," she recalls. "Even the man who hit him and other relatives were kneeling around the boy crying and calling on the name of Jesus."
After five times of calling out Leonel's name and the name of Jesus, the boy began gasping for air on that December morning.
"It was the first time I've ever seen that kind of miraculous intervention," Angeles says. "I've seen healings, but from the dead, rising back up? I never experienced that before."
The incident reminded Angeles of the account of Lazarus in John 11 when Jesus called him out of the tomb three days after his friend died.
"The doctors said Leonel wouldn't be able to walk for months," Angeles says. "But he was running two weeks later. It was a miracle."
Leonel's family lived just down the street from the Angeles family. After the Montanez family took Leonel home from the hospital after only four days, they all accepted Jesus as Savior. Angeles says the miraculous recovery of their son softened the parents to the gospel.
Angeles invited the family to share the story at New Hope International. The parents don't speak fluent English, but their 17-year-old daughter, Brianda, translated.
"First of all we want to say thank you to everybody that prayed," Derenice Montanez, Leonel's mom, shared with the congregation through her daughter. "We are very thankful that he survived."
"We know that our Heavenly Father is true," the boy's dad said. "We want to thank Him. We met Him at that moment."
Brianda also offered gratitude.
"Thanks to everybody who prayed for my brother because the Heavenly Father heard the prayers and is right here with us," she said.
Although doctors told the family it would take a month for Leonel to be strong enough to go home — and at least six months before he could walk again — in reality he regained all his faculties within two weeks.
His injuries included a broken hip, ribs, dislocated shoulder and collarbone, a fractured skull, blood clots, and a fractured spine.
When a doctor called it miraculous that Leonel was alive, Derenice Montanez told him God had His hands on her son.
Leonel stood tall on the church stage next to his family, and when asked if he wanted to speak, a big smile came across his face and he simply said, "Thank you."