Network to Freedom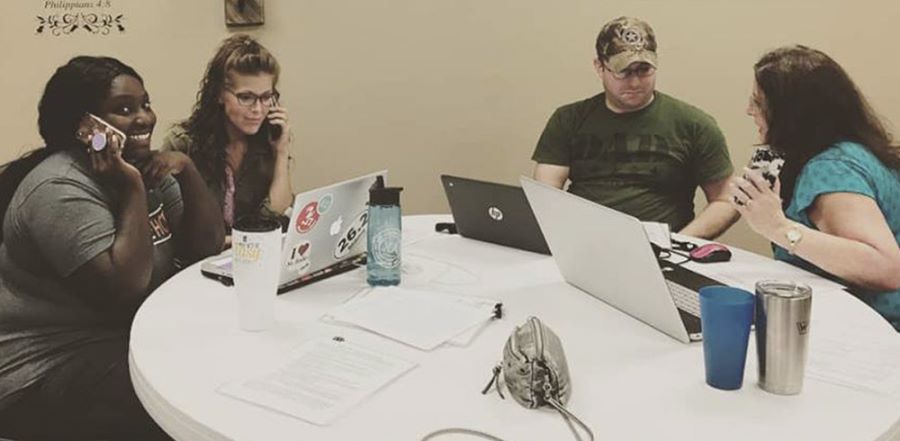 Don't miss any stories. Follow AG News!
Working in Chicago's juvenile court system for 18 years, attorney Kaitrin Valencia suspected that many young people she assisted, some as young as 11, lived as victims of human trafficking.
She became aware of complex networking among traffickers to deceive victims and to move them far from any support or way to seek help. As Valencia realized rescue efforts could be similarly networked to find victims and to transfer them to safety, such light bulb moments led to the founding of
Skyway Railroad
.
Licensed as an attorney in Illinois and Tennessee, Valencia started her career in Chicago as a juvenile probation officer. Repeatedly witnessing teen girls brought to court by considerably older men, she knew something didn't look right. After her tenure in the justice system, eventually as a deputy chief, she took a leap of faith into full-time ministry as executive director of the
Chicago Dream Center
, a ministry of
New Life Covenant Church
. Her husband, Emilio, an administrator for the Chicago Public Schools, pastored the church's bus ministry for over a decade.
Sensing a call to duplicate the Dream Center model, the couple moved in 2016 to Memphis, Tennessee, and became involved at
First Assembly Memphis
. Although Skyway Railroad had its early roots in Chicago, the ministry officially became a 501(c)(3) nonprofit with spiritual covering from First Assembly.
ADDRESSING MULTIPLE CONCERNS
Skyway Railroad traces its inspiration to the Underground Railroad, which used networked safe houses to lead escaped slaves to freedom from the late 19th century to the Civil War. Addressing the complex and often interconnected factors of poverty, addiction, trafficking, crime, and health, Skyway Railroad connects nonprofits across the nation, including several
U.S. Missions
ministries, to help make assistance accessible. Valencia participated in the November 2020
National Trafficking Summit
at the Assemblies of God national office in Springfield, Missouri.
The core of the ministry's local efforts is a call center at First Assembly Memphis, operating the second and fourth Fridays of each month. Trained volunteers pull advertisements from escort service websites and enter the information into a database. Other volunteers make life-changing calls to the females — often underage girls — mentioned in ads for sexual services. They identify and report ads involving suspected minors, and they screen for signs the person is being coerced. When phoning from the ministry's hotline number, volunteers first ask if it is safe to talk, because a pimp or client may be present. If safe, the caller offers opportunities to connect further or to arrange a way out. Each conversation ends with an offer of prayer.
Relationships may develop over time through emails or encouraging text messages from the hotline number. Sometimes an actual rescue is arranged, the team meeting the victim at a public safe place. The information goes into a database, and networking begins; the rescued victim may need detoxification, want to contact family members, or need to relocate a safe distance from former bad influences and traffickers.
Tom H. Lindberg, First Assembly senior pastor, says the church is glad to partner with Skyway Railroad, provide space for the call center, and encourage adherents to become involved. A ladies' group meets regularly to pray for the volunteers.
"We're an outreach-focused church," Lindberg says. "We urge our congregation to pray, volunteer, and give."
Memphis, at the convergence of interstate highways 40 and 55, has high rates of trafficking and some of the nation's highest crime and poverty rates. Networking is critical because trafficking happens everywhere; no demographic is exempt. Some outreach and rescue efforts are in rural communities, popular with pimps looking to purchase less expensive land and houses as a remote hub.
Detection is not as likely in less densely populated areas, and law enforcement has more territory to cover. Females may recruit other girls for "job opportunities," particularly tempting in settings where actual jobs may be scarce. Traffickers frequently ply victims with addictive drugs to keep them dependent. Another trend is pimps intentionally impregnating victims, creating legal child custody barriers to leaving the state.
The Memphis call center has completed over 370 phone connections since 2018, and conducts twice-weekly "Church on the Streets," in which volunteers go into the city's high-crime areas to distribute food, clothing, and toiletries, as well as to share the gospel.
ON-SITE OUTREACHES
Skyway Railroad also coordinates outreach to strip clubs and bars, and mission trips to major sports events, which draw traffickers to sell women and girls to the influx of high-end clients at the venue. Skyway Railroad volunteers are trained to identify victims being trafficked into the host city on airplanes and at bus stations, and to watch for opportunities to offer prayer, gift bags, rescue, or transportation to safety. The Super Bowl is a huge draw, although with limited attendance due to COVID-19, this year's rescue efforts focused on popular party venues across the country rather than sending entire teams to Tampa, Florida.
In Valencia's experience, only a small percentage of pimps and club owners have been threatening or dangerous to volunteers. Teams often find themselves ministering to the men, who usually don't mind female volunteers reaching out with care packages to dancers and those being prostituted. That's because there is a steady stream of vulnerable young people in the wings.
"For every girl we rescue, pimps are just going to replace them," Valencia laments. She therefore considers it crucial to address the demand side of the equation.
"The enemy has deceived so many men," she says. "So often, it starts with pornography. What takes place is pure evil, but nobody is beyond redemption. We need godly men to help reach the ones exploiting vulnerable women."
Males play an important part in outreach by gathering near clubs to engage arriving clients in conversation.
Voices Outside the Stadium
, one of Valencia's books helping publicize and support the ministry, is a compilation of encounters during mission trips to sporting events. In one example, a volunteer pastor noticed a nervous man outside a strip club, obviously distressed about whether to enter. Striking up a conversation, the pastor learned of the would-be patron's identity as a youth pastor addicted to pornography. The youth pastor explained his appearance at the business as the "next logical step" of feeding his obsession. Instead, that moment of redemptive accountability served as the divine intervention the man needed to admit his sin and to seek help instead of entering the strip club.
Valencia credits her career in juvenile courts with helping prepare her for ministry to sex trafficking survivors.
"You need thick skin to witness horrifying police reports and graphic stories of trauma," Valencia says. "I've seen volunteers suffer secondary trauma from hearing the atrocities, leading to resentment against all men, since most victims are women. But I've also seen God heal survivors who miraculously forgive their trafficker of unimaginable torture."
The God-sized vision for Skyway Railroad includes helping anti-trafficking ministries address challenges and improve outcomes through a united national network. Goals include more collaboration (as opposed to "ministry silos"), improving shared databases with help from a grant from Give Camp Memphis, and expanding the faith-based community's capacity for funding through coordination. Valencia speaks at churches about the need and offers training.
"With training we provide, even a small rural church can establish a call center," she says. "If they don't have local resources for follow-up placement, centers can make referrals to the Skyway for possible assistance."
Despite the networking, there is a shortage of Spirit-filled safe houses for women, and an even greater need for housing minors and women with children. Presently using land owned by a volunteer, biblical and practical lessons are being taught by Skyway Railroad volunteers through gardening, canning produce, and caring for farm animals.