New Church Plant Merges Music and Message in Nashville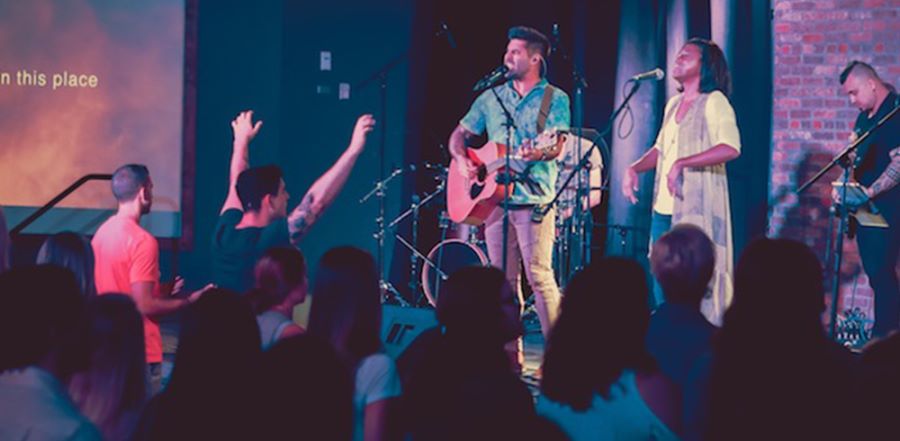 Don't miss any stories. Follow AG News!
Kurtis and Sarah Parks launched Bridges Nashville church plant in September 2018 in the South Broadway District of downtown Nashville, Tennessee. The church meets in a music venue called "The Listening Room," which is one of Nashville's premier singer/songwriter spots.

Growing up as a pastor's kid, Kurtis Parks began leading church worship at age 13 and went on to pursue a career in the music field. Prior to this church plant, he had served as worship leader at National Community Church in Washington, D.C.

"Nashville is Music City, and Sarah and I love it," Parks says, "and having previously lived here from 2005-2010, we had a desire to return and influence its culture by merging music with message. We believe when we teach Scripture and story through songs, we worship in Spirit and truth! Our services are a liturgy of music, where we live out Colossians 3:16 (NIV): 'Let the message of Christ dwell among you richly as you teach and admonish one another with all wisdom through psalms, hymns, and songs from the Spirit, singing to God with gratitude in your hearts.'"

Although Nashville has been referred to as one of the fastest-growing business districts in the U.S., this area is also home to low-income neighborhoods and a large homeless population. Bridges Nashville, located a mile from low-income project housing, is a community-driven church. They partner with organizations and schools in the area to provide ministry and service.

"We reach people who are homeless through our SERVE small groups weekly," Parks says. In fall 2018, Bridges Nashville partnered with The Bridge Ministry, which has been serving the homeless in this city for more than 14 years, to provide over 500 backpacks filled with school supplies for area students.

At Thanksgiving in 2018, Bridges partnered with 2nd Harvest Tennessee in a food drive. At Christmas, they partnered with a lower income school and hosted a toy drive, setting up a gift shop where parents could shop for free and choose gifts for their kids.

The AGTrust Matching Funds helped with the start-up needs at Bridges, including the purchase of a trailer, production gear, instruments, marketing tools, kids Bible curriculum, and ongoing expenses.

"We want to say a huge thank you to AGTrust partners and Church Multiplication Network for the Matching Funds provided," Parks states. "Through your generosity, lives are being changed, salvation stories are being written, and eternity is being impacted.

"Our prayer is that the people of Music City will be transformed one life at a time by an encounter with Jesus, and through relationship, discipleship, and worship," Parks says.
Currently, 510 church plants like Bridges Nashville have received Matching Funds to help with startup expenses, thanks to AGTrust and Church Multiplication Network.