Open Doors Despite Gang Lines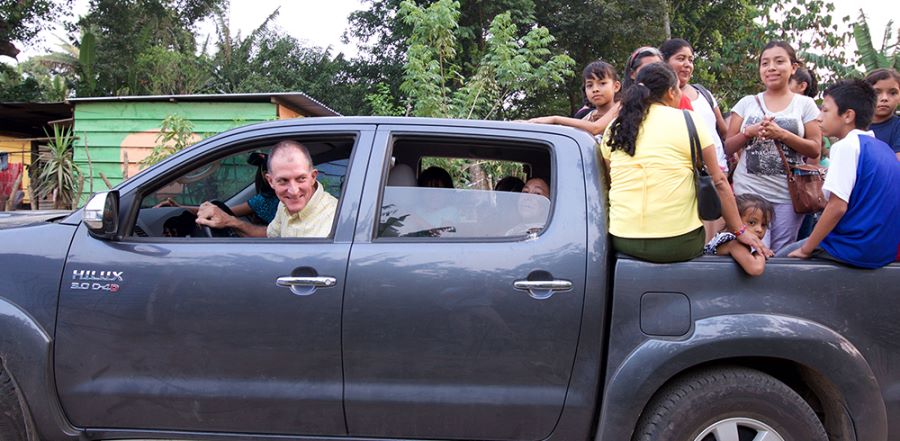 Don't miss any stories. Follow AG News!
Following is a report from Kenton Moody, an AGWM missionary in El Salvador, who is finding success in reaching people for Christ, even when it includes doing what others dare not —crossing gangs lines.
For the past three years,
La Puerta Abierta
(Open Door Church) has been on the dividing line between the infamous MS-13 and 18th Street gangs in Santa Ana, El Salvador. Despite being told our church could never have success because the people would not cross gang lines, we have found that not to be true.
Just this past Sunday, we had our annual picnic at an off-sight location. Praise God, there with us were members of both gangs and their families in church, singing, and later eating together. Our church has more than 100 youth and about 125 children who attend our four weekly services. We've never had an issue other than a gang member who tried to hide from police in our church service. Unbeknownst to many who were there, the police simply walked in and took him into custody on the back row.
Our walls have never been painted with graffiti. No one has ever tried to break into the church or rob anyone. At our Center of Hope, we teach homework reinforcement, English, computer technology, cosmetology, baking, cooking, and music. Hundreds of people visit our campus each week. Our medical/dental clinic at the church serves the local area with excellent care, charging a minimal price for the services. Those who can't afford it get free care sponsored by the church. The clinic's laboratory processes blood analysis and other tests. We are the only clinic in this area. We also have built more than 400 small homes for needy families over the years in these gang areas, and gang members have helped us build the homes.
Speed the Light
, a student-initiated Assemblies of God program that raises funds for needed equipment, has helped us immensely with three larger trucks, as well as two pickups we use to bring in people from the area. The principal reason for this is not transportation, but rather safety due to the crossing of gang lines which is prohibited, sometimes with lethal force. God has given great favor as our trucks cross the lines loaded with people wanting to come to church. My route in my pickup takes about 30 minutes and enters approximately seven communities. I've been stopped many times by gang members in route, but simply asked to "flip my lights" to let them know I'm not the police. They have always been respectful and have never caused an issue.
Our Hosanna School is one of only a few schools where students from different gang territories can attend classes. When I talked with local gang members about that, they told me, "We know what you're doing, bringing others in, and we respect you. Just tell students to respect us and not show or flip any gang signs."
We have 430 students from Kinder 4 through the second year of high school. Students pay a minimal cost of up to $4 a month. We give a free meal, help with uniforms and shoes, school supplies and books, and teach computer technology, English, and Bible from kindergarten on up. All our teachers are dedicated Christians, and even the police have noted the violence in our area has dropped since the school started and has grown.
I always told myself that prison ministry was not my gifting and that I should focus on helping the poor. As I read
Hebrews 13:3
two years ago, "Remember those in prison as if you were their fellow prisoner," God spoke to me and said, "It may not be your gifting or ministry, but it IS MINE and I want you to get involved." I did and started going to the main prison in town that has 5,500 prisoners.
I am amazed by what God has done. In the Apanteos Prison, an Assemblies of God church, broken up into 11 sectors of the prison, has more than 900 members. I've been with them as hundreds stood in the blazing sun singing worship to God with their hands raised, tears rolling down their tattooed faces. They are free!
We started working in the youth prisons as well, specifically in El Espino (the Thorn) in Ahuachapan. One of my leaders has been going weekly for over a year. Seeing hundreds of young men, some as young as 13, imprisoned with no immediate hope of legal assistance or even a visit from a family member, moved our hearts. We are planning to start a rehabilitation home for gang members still considered "rescuable" by the overloaded justice system. According to a University of Southern Florida and USAID study last year, one of the only effective ways to leave the gang is through an evangelical church. Gang members who publicly profess to be Christians are still considered part of the gang, but they are allowed to "stand down" and serve God. If they fail, even in a small way, the gang will take their revenge.
Recently in our youth prison outreach we had 10 young men decide to follow Christ. At another service and visitation, there were 21 there, praying, many on their knees, weeping before God and their fellow gang members. Many of those have their gang affiliation tattooed on their head, face, or chest. They reached out for my hand, embracing me with a hug.
We believe the gang rehabilitation center will offer a way out for those who want to change. We've already trained staff in the Living Free program (missionaries David and Marie Turner from Panama came to do the training) and have permission to take this program to all four youth prisons. El Salvador's director of youth prisons came to our training. We have also trained a leader to help start a Teen Challenge modified program dealing with the issues these young men face. Our goal is to purchase property and build the housing, kitchen, chapel, and other buildings near our church to provide a spiritual covering. We have been in touch with U.S. Federal Prison personnel working out of the U.S. Embassy who have expressed a desire to work with us. I have been invited to meet with several police chiefs from across the nation to present the faith-based approach to bring peace to our nation.
El Salvador is one of the most dangerous countries in the world due to gang-on-gang violence. Yet God has given us great favor and many wonderful opportunities. One of my greatest challenges is to encourage the church not to look at reality, but to trust God for transformation. As we have specifically prayed for the communities around us, we have seen changes and spiritual progress. Last year, our police outreach connected us with 330 policemen in training. We're scheduled to do another one in October with Oficiales de la Paz, from Colorado Springs.
We are believing for property, construction teams and funds, and continued revival in the prisons.
This is the hand of God. Our team members are simply His instruments, still learning a new culture — the gang culture. We love people, knowing that is what God has called us to do.