Prison Chaplains Grapple with COVID-19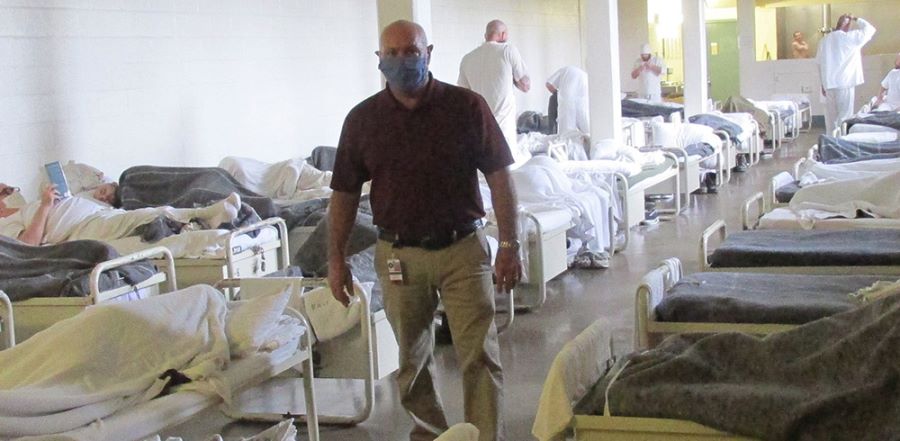 Don't miss any stories. Follow AG News!
Along with many other Americans, Jim W. Babcock went back to the office this week. But while most returning workers are merely resuming schedules following weeks of shelter in place precautions, Babcock emerged from 14 days of quarantine because of contracting COVID-19.

Babcock's office also is a bit different than the typical setting. He is full-time senior chaplain endorsed by the Assemblies of God at the Arkansas Department of Corrections maximum security prison in Gould, officially known as Cummins Unit. Despite preventative measures, 900 inmates out of a population of 1,950 have tested positive for the novel coronavirus.

"It is really hard to contain when the men live together," says the 61-year-old Babcock, who notes that 85 percent of the prisoners typically are confined to barracks rather than individual cells.

Currently, the facility has been divided into positive and negative barracks in an effort to keep the disease from spreading further. The seriously ill are in a special ward formerly
designated for get-togethers with visitors from the outside. Eight inmates have died during the pandemic.

Like nursing homes and meatpacking plants, correctional facilities have become one of the most contagious environments for COVID-19 because of tight quarters. A recent Council of State Governments Justice Center analysis showed that those living inside state prisons are 3.75 times more likely to be infected than the general population.

Although he is still weak, Babcock is again performing as many of his chaplain duties as feasible — although interaction with inmates has been greatly restricted. Despite wearing gloves and a mask, as well as wiping down nearly everything in the workplace, Babcock contracted COVID-19 because of the close proximity to those already infected. He says the coronavirus mimicked common flu signs, but it didn't move into his lungs.

"I don't have symptoms anymore," says Babcock, who has been a chaplain at the unit for almost a decade. He relates well to the men — about one-fourth of them serving a life sentence — because he is a former alcoholic, drug addict, and felon himself. His gruff demeanor has played a role in earning the respect, although beneath the rough exterior is a compassionate heart for inmates he hopes will find Jesus, as he did 32 years ago. In addition to his chaplain role, Babcock next month will take over as pastor of First Assembly of God in McGehee, Arkansas.

Babcock says while church services and Bible studies have been suspended at the penitentiary, inmates still can access teachings via a video feed. His dedication to the men is evident in less-than-ideal surroundings.

"We can take all the precautions in the world, but we're still going to come in contact with the guys," says Babcock, who supervises two other chaplains at Cummins Unit. "We do what we have to do as chaplains." Babcock hopes precautions taken are flattening the curve at the facility.

LOCKDOWN MODE
Still, prison ministry is greatly restricted across the nation, including at Missouri Eastern Correctional Facility. John M. Essary, an Assemblies of God chaplain for 31 years, for the past two months has been without the 60 volunteers who help him run religious programs.

"We have no volunteers, no services, no visitors," says Essary, the only chaplain at the prison 35 miles southwest of St. Louis that houses 1,035 minimum- and medium-security offenders. No inmates have contracted the coronavirus there, but that hasn't kept the institution from adapting lockdown techniques.

"Prisoners are keenly aware that the only way they will get it is if it comes in from the outside from one of us," says Essary, 69.

Essary laments that he can't conduct worship services for a handful of prisoners, even though 150 gather at one time in the cafeteria and 200 can be in the gymnasium simultaneously. The chaplain did manage to take Communion to housing units on Easter. Meanwhile, he is encouraging the residents to pray with each other and share Scripture among themselves as much as possible.

UNABLE TO WORK
AG chaplain Joseph T. Beadle is even more limited in his function as the lone Protestant chaplain at Fishkill Correctional Facility in Beacon, New York. Fishkill also has a Catholic priest, Jewish rabbi, and Muslim imam serving the 1,600 medium- and maximum-security convicts.

With New York state sustaining both the highest number of infections and deaths in the U.S. from the coronavirus, Beadle — a cancer survivor with a weakened immune system — has been unable to go to work since March 12. There are 80 active cases of virus, with those inmates isolated in a separate housing unit. The penitentiary is providing masks to all detainees.

"I can't do hands-on ministry," says Beadle, who has been at Fishkill for 3½ years. "We can't have gatherings of any kind. There are no services or Bible studies." He hopes to return to duties by May 26, although outside volunteers still will be banned.

A pair of inmates have died from COVID-19, along with a member of the medical staff. Beadle, 61, performed one of the prisoner funerals.

Beadle hopes the men in his care are growing in their faith, regardless of a lack of chaplain guidance, volunteer religious programming, and formal church services. One asset is the fact that all prisoners before the crisis hit received iPad tablets. Inmates have access to Scripture and religious teaching materials on their devices, and the capability of downloading praise and worship music.

"To live out one's faith in the prison system can be challenging, and the pandemic has highlighted the importance of discipleship training," says Beadle, who retired as a Federal Bureau of Prisons chaplain prior to employment with New York Corrections. "Everything we've done — from providing devotional literature to organizing prayer accountability groups — has prepared the men for this time when they don't have face-to-face meetings."
Lead Photo: After being quarantined, Chaplain Jim Babcock returned to work Tuesday and is ministering to inmates who also have contracted COVID-19.