Relaunch Opportunity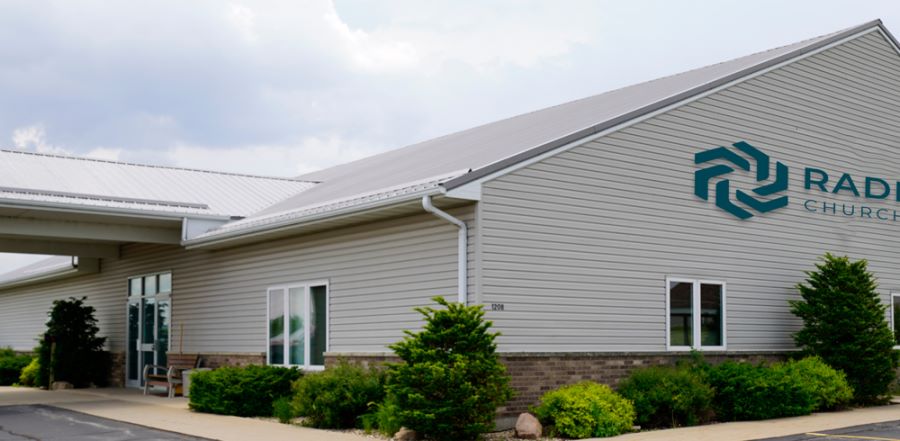 Don't miss any stories. Follow AG News!
Cedar Rapids First pastor Brian W. Pingel has dealt with massive disruptions the past couple of years. Initially, fallout from the coronavirus limited services and seating at the eastern Iowa church.

Then, in August 2020, a worse crisis happened, as a derecho — straight-line winds that ripped through at 120 miles per hour — damaged the church, including the roof of the 1,100-seat sanctuary. This month, after multiple delays in the past 1½ years, the congregation finally returned to services in the sanctuary. The ultimate cost of repairs totaled $6 million.

"I feel as though I have a degree in chaos management," says Pingel, who actually earned a doctorate in ministry from Assemblies of God Theological Seminary.

Pingel, who became Cedar Rapids pastor in 2016, hasn't let such obstacles deter him from a priority of spreading the gospel. As an Iowa Ministry Network (IMN) sectional presbyter, Pingel realizes more Assemblies of God churches have been closing than opening in the region. He figured Cedar Rapids First, which affiliated with the AG in 1949, needed to help reverse the trend.

"We're an old legacy church, we need to bear fruit," says Pingel, 52. "While the strategic timing doesn't seem right, we're not going to stop what God has started, no matter how difficult the challenge may be."

After concentrated prayer, Pingel saw an opportunity to reopen an AG church in the small town of Manchester, 45 miles north of Cedar Rapids. In July 2020, the IMN closed the church, which had dwindled to a dozen regular worshippers by the time the pastor retired. The IMN gave ownership to Cedar Rapids First — which will rechristen itself as Radiant Church on Easter.

At the time, the Manchester donation hardly seemed like a godsend. The deteriorating building flooded repeatedly. When not waterlogged, mice and mold occupied the structure.

Then a blessing occurred.

An adult day-care center that closed permanently because of COVID-19 offered to swap its property on the other side of town with the church. No longer able to maintain the 10,000-square-foot facility, the day-care center proposed selling its property — worth $600,000 — for $150,000 in exchange for the dilapidated church. The business wanted the building because of its location in the middle of property it already owned. After the transaction, the day-care foundation demolished the church to make way for a parking lot.

Meanwhile, Manchester Radiant has received a well-built structure with a commercial kitchen, ample parking, modern restrooms, and reconfigured seating space for 250 attendees.

Manchester Radiant is scheduled to open in May.

Manchester Radiant also has a long-term agreement with the owner of a building in the middle of town to be used as a youth center. The church obtained $13,000 in grants from two county organizations to improve such amenities as sound equipment and carpeting.

The church, in conjunction with Youth for Christ, will bring much-needed programs to the community's children and youth, who currently have few choices in afterschool activities to pursue. The facility will have a place where kids can hang out, do homework, and purchase simple cafeteria items.

Even with the favorable building proceedings, Pingel spent a year trying to find a pastor for the Manchester campus. Pingel, a graduate of North Central University and later an associate professor at the AG school in Minneapolis, finally connected with former student Michael B. Netherton. Since graduating in 2014, Netherton had spent nearly all his time as youth and associate pastor of Mount Olivet (now Bethel's Rock) in his native Apple Valley, a Twin Cities suburb.

At first, the idea of moving to small-town Iowa didn't appeal to Netherton. Manchester, with a population of 5,065, is the county seat and largest town in Delaware County, where 17,488 residents live. The county includes Dyersrville — the filming location for the 1989 motion picture Field of Dreams — 20 miles due east of Manchester.

But once Netherton, an ordained AG minister since 2017, visited Manchester with his wife, Kelsey, and found a vibrant community, he changed his mind.

"After a lot of prayer we truly felt called," says Netherton, 29. "There is no Spirit-filled church in the whole county."

Netherton and Pingel recently attended a Church Multiplication Network Launch training event to help in their planning efforts.

While the Cedar Rapids church assumes the financial risk, Netherton is busy getting to know Manchester, building relationships, and organizing small group meetings. He and Kelsey have purchased a house there. Cedar Rapids Radiant will send attendees to help establish kids' ministry and a worship team for up to a year. Manchester Radiant already is operating a community food pantry.

"We're making a long-term commitment on our end with finances and personnel," Pingel says.

Meanwhile, Cedar Rapids Radiant has just committed $5 million for a new building for children and youth activities in the city of 137,710.

Kelsey Netherton also is from Apple Valley originally. Although Kelsey and Michael both grew up attending AG churches and lived only 2 miles from each other, they didn't meet until after graduating from college while serving as camp counselors at the Minnesota District Lake Geneva Christian Center. They have two children, 3-year-old Kayson and 1-year-old Hazelyn.
Bottom Photo: Michael Netherton (left) is ready to launch a campus with the help of Brian Pingel.