Safe Zone for Kids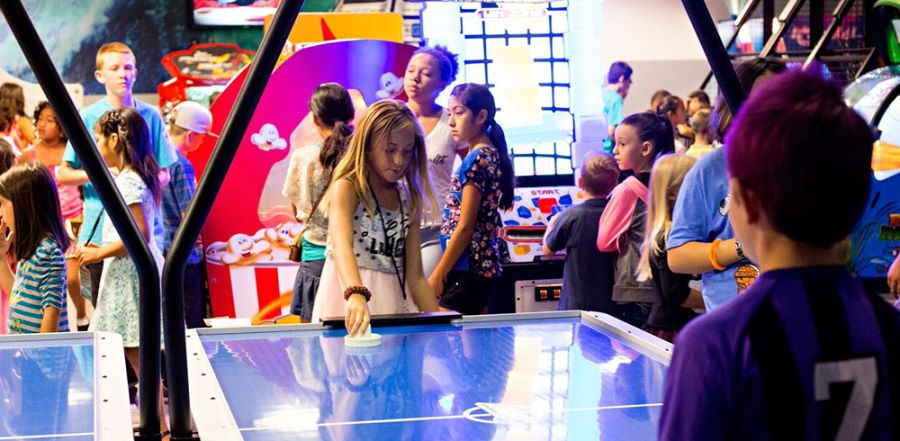 Don't miss any stories. Follow AG News!
A California church's continued investment in its children's ministry is not just impacting children within the church for Christ, but kids and their families across the city of 201,165 as well.  
A couple of years ago, Glen Berteau, senior pastor of The House Modesto, an Assemblies of God church in Modesto, felt led to do more to reach the children of his city. He had read several articles about kids as young as elementary school age being introduced to drugs and gang life. He wanted to provide a safe place for youngsters to play and be influenced for Christ.
His dream led to the addition of a space-themed children's play facility at the church with the leadership and creative help of Children's Pastor Brett Visser. The play facility, which is just one component of the Kidspace children's ministry, includes a five-level indoor play land, rock climbing wall, two-level arcade, café, and a dozen birthday party rooms.
Macaroni Kids, a website dedicated to finding the best family facilities and activities for children in California's Central Valley, recently recognized the play facility as the top indoor kids venue and birthday party venue in the city. However, Visser and Berteau's primary mission for the facility remains making it a top venue to draw families in need of a Savior to the church.
"We have numerous families attending the church now because of Kidspace and they have been introduced to Christ," says Visser.
Before the play area opened in 2013 (and prior to the addition of Visser to the staff), the House's children's church attendance averaged about 250 children at weekly children's church services. That number has now grown to as many as 1,200 kids at children's services.
Visser says the children's ministry is positioned to grow even more and attract more families. The play facility is open into the evening seven days a week and is free for children to access before weekend services. Parents can work out in the church's fitness center, relax in the café or enjoy a date night while their children play within the play space.
In addition, church staff host several events throughout the year and invite children from across the city to play for free. One group includes the kids served by the church's Nineveh Outreach park ministry, which helps those in need get back on their feet.
In addition to reaching the children in the city, a priority remains nurturing the children within the church as they grow in their relationships with Christ, Berteau says.
He believes many churches spend time and resources improving adult ministries and programs to the detriment of children's ministry.
"A very high percentage of children, once they leave children's church, they leave the church," he says.
Berteau's continued vision is that Kidspace will continue to value children and be a place of hope for a generation in the city.