Samson's Career Pop-Up Closet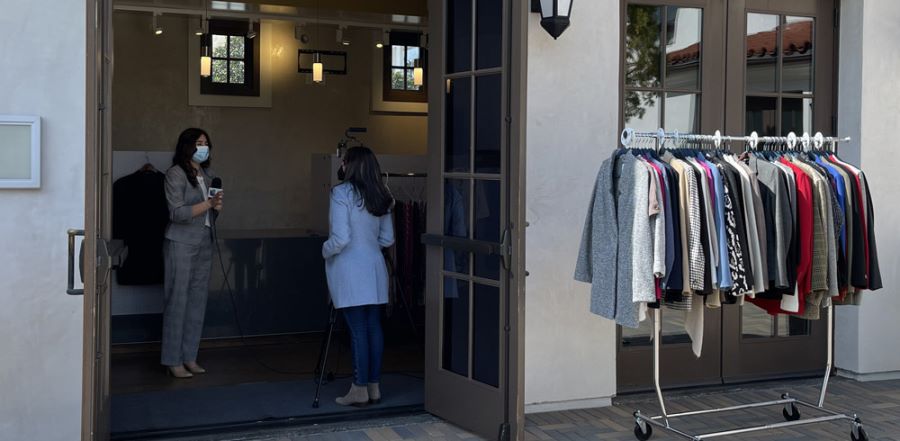 Don't miss any stories. Follow AG News!
Battling an economic downturn throughout California and an uncertain job market in the midst of a pandemic,
Vanguard University
has announced the institution's first-ever career closet to provide enrolled students with the free professional attire they need to succeed in job interviews and internships.
Samson's Career Pop-Up Closet
opened its doors Feb. 2 on the Costa Mesa campus. The new service operates in conjunction with Career Services and Vanguard's Living Well Community Resource Center, which provides for additional student needs via a full food pantry including personal hygiene amenities
Students are guided through the process on how to prepare for and stand out during an employment opportunity, which begins with a meeting with Career Services. Then, students schedule an appointment with one of Samson's Career Pop-Up Closet's personal shoppers, comprised of a team of volunteer faculty, staff, and students. The personal shopper pulls outfits for each student's specific sizes, and a student photographer can be available to capture a headshot for the student's LinkedIn profile and other professional online platforms. Further, a "borrow rack" will be stocked with blazers for students to use for career fairs on campus, and a voucher for a free accessory will be rewarded to students for every career fair they attend.
The pop-up shop, which includes clothing, accessories, shoes, and belts, allows students to shop secondhand professional clothing donated from staff, alumni, and community members for the purpose of attending interviews, internships, and networking opportunities. Several retailers have donated clothing and even training sessions for personal shoppers on how to measure guests.
Camille Jacome, a senior studying marketing at Vanguard, is interning at Samson's Career Pop-Up Closet with hopes to empower fellow classmates for success after graduation.
"Our collaboration with Working Wardrobes motivated us to brand the experience at Samson's Career Pop-Up Closet with shopping bags, tissue-wrapped clothing for an elevated look, and even special prearranged attire selections for each student's specific size," Jacome says. "We want to make students feel good, look good and be ready for the next step."
Vanguard President
Michael J. Beals
says this is a step in the university adapting during COVID-19 as a way to provide students with necessary tools to be successful beyond graduation.
"As we gather clothing donations from professional closets — including my own donations — and create partnerships with local organizations, I know this innovative initiative will support our graduates as they enter an uncertain job market," Beals says.