Sharing the Journey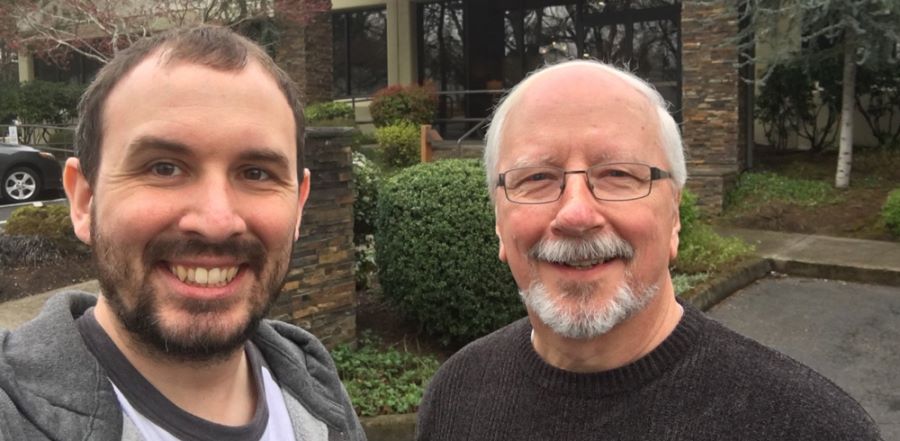 Don't miss any stories. Follow AG News!
D. Alan Baker planned on pastoring locally for life before God took him on a trek around the world and back to an office in Orlando, Florida, where he now spends hours on the phone coaching young ministers through Journey Pastoral Coaching.
Baker, 62, accepted Christ in high school, after two friends invited him to a church service in Hamilton, Ohio. He attended the AG's Southeastern University in Lakeland, Florida, where he met his wife, Tricia. After pastoring in Indiana, Baker received his master's degree in biblical literature from Assemblies of God Theological Seminary in Springfield, Missouri.
He and Tricia served as Assemblies of God world missionaries for 20 years, working in France and Belgium before returning to the United States. In 2010, Baker became missionary-in-residence at Central Bible College (CBC) in Springfield, where he met weekly with class presidents and campus leaders for mentorship.
As students began graduating from CBC, they began calling Baker to coach them in their ministry. In 2014, Baker began Journey Pastoral Coaching as a full-time resource to young ministers.
"Journey is a coaching community," he says. "It's the opportunity to come in and experience being a part of a coaching community."
Baker says Journey's model includes both his weekly mentoring sessions with members and monthly peer coaching sessions between members. Adherents don't pay for the services; they earn them by investing in each other through peer coaching, submitting monthly homework, and being faithful to their call session times.
"Coaching is really about influence," he says. "It's finding ways to help people find their own answers and trusting God to lead them."
Baker says he doesn't recruit members for Journey. Most potential participants hear about the ministry online or by word-of-mouth. Current Journey followers come from 20 states and four nations and serve in multiple denominations. Tricia Baker also is available for counseling calls for wives of Journey members and the seven women currently in coaching.
Josh R. Havens, Global University information technology software developer and co-founder of the online resource platform Daily Growth Discipleship, discovered Journey online six years after sitting in Baker's classes at CBC.
"I was depressed and anxious, feeling like I wasn't contributing anything to the kingdom of God," Havens says. "It was a really dark night of the soul. It turned out the relational approach to coaching was exactly what I needed in that moment."
Havens says Baker didn't focus on techniques to overcome depression, but instead helped him recognize his worth as a child of God. Havens has been a Journey participant for the past five years and now assists Baker with supplemental coaching.
"The relationship [Baker] forms with the members of Journey allows for us to talk about life in open and honest ways," he says. "It allows for us to ask and talk about the hard questions we are dealing with because the relational approach builds trust in a way a coaching or mentoring relationship that's focused on techniques doesn't."
According to Baker, ministers, particularly young ministers, can deeply struggle with isolation, causing many to leave the ministry within five years of getting credentialed. He also is concerned about the growing average age of AG ministers. According to AG statistics, 63 percent of the Fellowship's ministers are 50 or older. The median age of an AG minister is 56, compared to 45 three decades ago.
Baker wrote When the Call Comes: A Funeral Guide for Pastors after answering numerous questions from young ministers about how to help congregants through death grief care.
Photo: Josh Havens (left) has benefited from D. Alan Baker's instruction.