Staying with Mom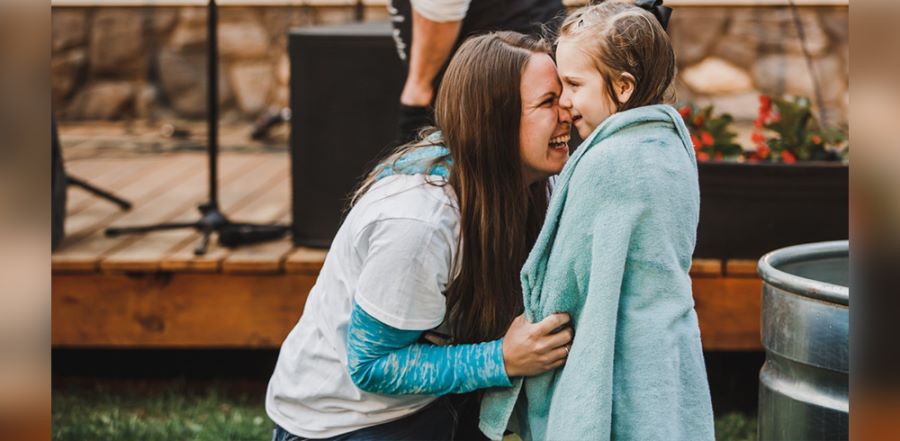 Don't miss any stories. Follow AG News!
Autumn Haren gave birth to her daughter Alexa while in prison and spent only a few moments with her until the infant was whisked away to live with a relative.

"I entered incarceration pregnant, gave birth handcuffed to a bed, and then the staff took my baby away," explains Haren, 31. "This moment was supposed to be one of the happiest of my life, but I wasn't sure if I was ever going to see Alexa again."

By the time she turned 21, Haren already had racked up felony charges, which labeled her as a threat to society. Any further crimes committed, even petty ones, would result in a yearlong prison sentence. She struggled with heroin addiction from her late teens to her early 20s, and only stopped abusing during her pregnancy because of incarceration.

"That was God's grace because I would have used drugs all the way through my pregnancy," Haren reflects. "God used that time to wake me up."

After her pregnancy, Haren entered a 30-day rehabilitation program and served the remainder of her sentence on house arrest. For the next three years, Haren was clean — by the world's standards.

"I maintained medicated sobriety: I was on lithium, Adderall, Xanax, and other prescriptions our society says are supposed to help an addict," she recalls. "But then I relapsed harder and ended up in jail."

However, one night something awakened inside Haren.

"All I could hear in my head was, My God is an awesome God," Haren remembers. "What I now know was the Holy Spirit said, You have to try."

Another woman in Haren's jail pod had the phone number for Beauty for Ashes Women and Children's Home, an Adult & Teen Challenge center in Fredericksburg, Virginia. She assumed getting a bed at Beauty for Ashes would be unlikely because of the waiting list.

Cindy L. Zello, Beauty for Ashes executive director, and her husband, Michael, both A.G. U.S. missionaries, started Beauty for Ashes in 2015. The ministry took the unprecedented step of holding a bed for Haren for almost a month. A judge granted Haren's release on bond to rehabilitate at the program, warning her not to mess up.

The kindnesses shown to Haren upon her arrival shocked her.

"Pastor Cindy gave me flowers and a stuffed animal and said, 'Welcome home,'" Haren recalls. "Cindy sat down and actually ate dinner with me. Then she showed me a bed for my daughter, a bed for me, a dining room table, and a kitchen area. Who was I to get all this?"

A GIFT OF TIME
"We encourage all our moms to relinquish the past," says Zello, 57. "This discipleship program is not 'doing time.' This is a gift of time." And that time includes a roller coaster of emotions for the mothers and children.

Three days after Haren entered Beauty for Ashes, her daughter Alexa, 3 years old at the time, joined her. All went well for a couple of days until Alexa had a full-blown meltdown. After much screaming, Alexa crawled under a bed, refusing to come out. Haren had no experience in what to do and stood frozen in humiliation. Zello and another director approached.

They explained that Haren wasn't a bad parent, but rather that Alexa didn't understand the limits placed on her because she wasn't accustomed to being on a schedule.

After a couple hours of coaxing, Alexa emerged from under the bed. From that instance, Haren began learning about mothering from a caring staff who walked through all the ups and downs with much grace.

"Women who come to Beauty for Ashes and say yes to God's changing work are some of the bravest women I know," Zello says.

LIONESSES AND LAMBS
Valiant mothers populate the other Teen Challenge Women and Children Homes across the United States, including Hoving Home Lioness and the Lamb in Garrison, New York, run by Chelsea Strothoff. Strothoff, 35, trained at several Teen Challenge Women and Children centers, including Beauty for Ashes, before starting her own as part of the existing Hoving Home.

Open since 2019, Lioness and the Lamb has been the site of seven babies born to mothers and has celebrated a dozen graduates, all of whom have remained sober and are serving Jesus. More than 30 children have come through the home. This year, the home is serving six families.

Strothoff's parents, Jacqueline and Robert Strothoff, met and married after they had attended faith-based recovery programs; Jacqueline started the Teen Challenge women's home in Providence, Rhode Island, and Robert started the Teen Challenge Providence men's home. They served and led in Teen Challenge homes for the better part of Strothoff's life.

Chelsea Strothoff earned a psychology degree and has studied mental health and counseling to better serve the women and their families.

Adult & Teen Challenge women and children homes make an impact not only amid the opioid crisis and widespread abortion availability, but also in foster care. A common reason children are removed from their homes is because they have a substance-abusing parent.

"Our homes give parents an opportunity to raise their own kids," Strothoff says. "We address substance abuse so that a mom can actually parent her own child."

Strothoff recalls a mother who phoned even before Lioness and the Lamb officially opened, saying she planned to abort her baby because she couldn't find help anywhere and she didn't want to drag a child through the streets. Strothoff's team took her in, and she gave birth to her child — her third born during her addiction, though she had lost custody of her first two. While at Lioness and the Lamb, the mother devoted herself to Christ, graduated from the program, and regained parental rights to all her children. Today she lives with her three children in New York.

"She's loving being a mom and a huge light to the people in her community," Strothoff says. "I don't know how many times I've heard that these women are the worst thing for their children."

Hoving Home has additional campuses in Nevada, California, North Carolina, and New Jersey. Since 2016, Beth Greco, 52, has been CEO/president of the Garrison location. A graduate of Hoving Home herself, she has a powerful testimony and a passion to help women overcome addiction and be reunited with their families.

"Children heal as their moms are healing," says Greco, who has worked in recovery for 31 years.

Women and children embark on a one-year program and then are offered a second year of transition to get on their feet and embrace independent living while still having a safety net.

The mother of the first baby born at Hoving Home is now the child-care director and has since regained custody of her two sons.

"God transforms some people pretty quickly, and He takes others on a longer journey of restoration," Greco says. "If we settle into what His plan is for our life and not for the person next to us, it's a pretty graceful transformation."

FULL CIRCLE
Back in Virginia, Alexa Haren is now a healthy 6-year-old girl. Autumn graduated from the Beauty for Ashes 18-month discipleship program in 2021 and now works as house supervisor for the ministry.

"Beauty for Ashes saw me through everything I never thought I could do," Haren says. "Now I get to go into the community that I used to be a danger to, and I can help people." Haren is attending Ascent College, part of the Potomac Ministry Network, working toward a degree in counseling.

In January, Alexa's schoolteacher asked the child about her dreams for life. Alexa drew a picture and captioned it, "When I grow up, I want to teach people about God." This declaration drew much gratefulness from Haren, Zello, and the rest of Beauty for Ashes staff.

Impressively, 95% of the women with children who enroll end up staying in the program, and 12 moms have chosen life for their unborn children since the opening of Beauty for Ashes.

"Because of Beauty for Ashes, I will never ever again feel that I'm not my daughter's mom," Haren says.

The Adult & Teen Challenge center in Arizona also has stories of remarkable restoration of mothers with their children.